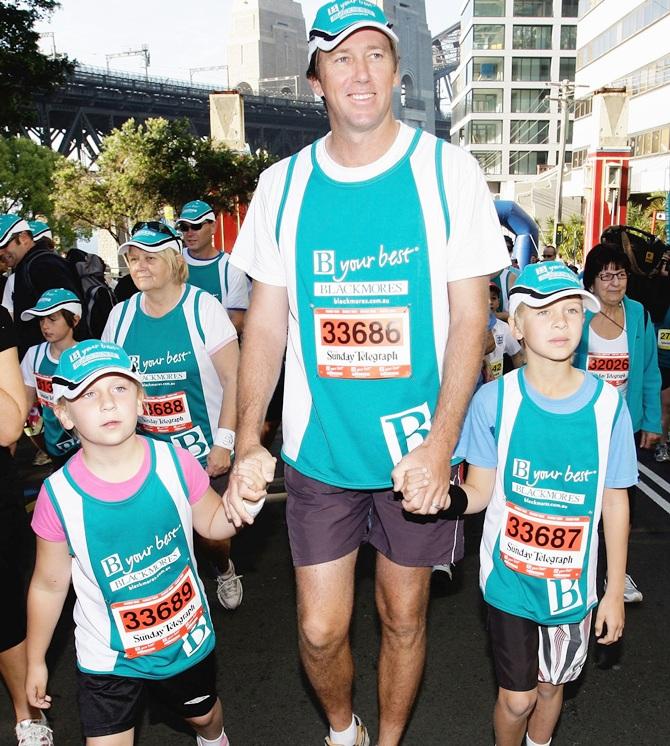 Glenn McGrath with his son James and Daughter Holly. Photograph: Brendon Thorne/Getty Images
Impressed with the skill-set of young speedsters at the MRF pace academy in Chennai, Australian pace legend Glenn McGrath said hunting for stronger bodies from the northern part of India can be the answer to the nation's thirst for producing more fast bowlers.
The 6 feet 5 inch-tall pacer who dominated the cricketing world, bagging 563 wickets in 124 Tests during his 14-year-long career, is unable to diagnose India's inability to produce a constant stream of pacers but is hopeful with the current crop.
"It (MRF pace foundation) was originally set up 28 years ago to find bowlers who can bowl good pace and express bowlers. And I think to be a fast bowler in India is as tough as it gets. Now, why there have been no bowlers who can bowl up to 150-plus I am not sure," McGrath said.
"But if you look at the top of India, people are actually physically bigger and stronger. Maybe, looking for more fast bowlers from that region can be a good option, because you look just across the border and they produce fast bowlers all the time.
"It's quite amazing, I don't know whether genetics plays a role. If you have got a bowler who is 6 feet four and above, strong, he is going to get that bounce which a guy who is under 6 foot is not going to get. So I think being taller does help, but it's not a pre-requisite. Look at Dale Steyn, he can still bowl fast and is the best in the world," he added.
Praising Kapil Dev and Zaheer Khan for bringing fast bowling into the barren pitches of India, McGrath said: "I think India is still a tough place to play for Australia. I don't think they play spin that well. To be a successful fast bowler in India and when you travel to Australia and start bowling on those wickets, it's like Christmas. Guys like Kapil Dev led the way, and Zaheer Khan is another exceptional bowler. These guys found how to get wickets in Indian conditions."