'I feel if we were allowed to play that match today, the players will approach that game differently'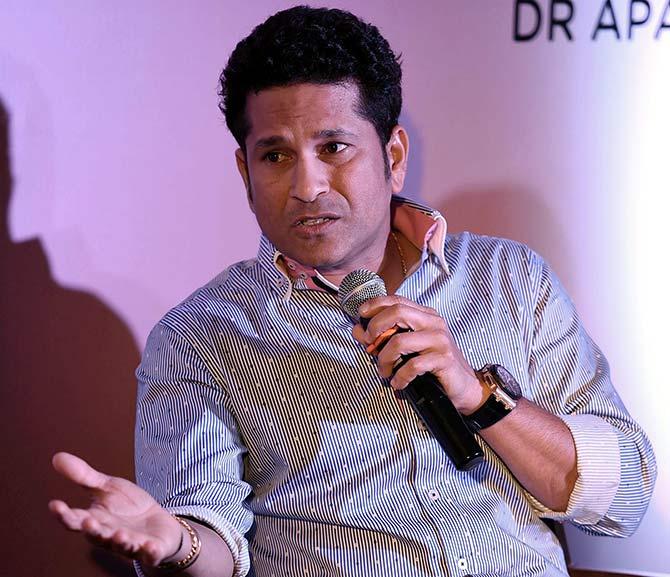 IMAGE: Cricket legend Sachin Tendulkar. Photograph: PTI
Cricket icon Sachin Tendulkar feels the advent of Twenty20 has changed batsmen's approach to chasing big scores in ODIs, something that would be of help if India were to replay the lost 2003 World Cup final against Australia.
India lost the 2003 World Cup final against Australia by 125 runs in Johannesburg. Australia had scored a mammoth 359-2 and the Indian batters put up a dismal show to be bundled out for 234.
Asked about the loss, Tendulkar said, "I feel if we were allowed to play that match today, the players will approach that game differently."
"We were all charged up, we went out to field and right from over one, it was that big moment, unbelievably charged up. (If the) same players are given an opportunity, we will approach it (that game) differently," Tendulkar said.
The 44-year-old was speaking to reporters in Mumbai after the highlights of his upcoming biopic "Sachin: A Billion Dreams" was shown to the media.
"(Players would have approached) differently only because of introduction of T20, in those days 358 (359) looked (a) herculean task, it will be today as well but it will be closer than 2003," he said.
"We have also on number of occasions got 325-340 runs and that is because the format has changed, the rules have changed a little bit. The conditions have also changed (than) what we got there, I just feel the mindset has changed because of introduction of T20 and the calculations are different," explained the former right-handed batsman.
Meanwhile, Tendulkar also heaped praise on Raj Singh Dungarpur, the former BCCI president and chairman of selectors, saying he helped him in his early days.
"Raj bhai clearly told me focus on your exams, you are not going to West Indies (in 1989). This was during semi-finals of Ranji Trophy, we were playing Delhi and I was having a net session in the morning.
"(I) clearly remember Raj bhai walking up to me and said Sachin, after this Ranji Trophy, you focus on your SSC exams. You will play for India, but you are not going to West Indies. Raj bhai has always been extremely supportive. Raj bhai has played huge role in my life," remembered the master-blaster.
He also said his children Sara and Arjun have given a thumbs up to the upcoming film, which is set to release on May 26.
"For the world I am cricketer, but for them I am their father first, so how they react was important for me, when their reaction was positive, I said James (Erskine) has done a good job," he quipped.
The star batsman also revealed that his coach Ramakant Achrekar will watch the movie on Wednesday.
"Sir will be watching the movie tomorrow. Without him, nothing can happen," he added.