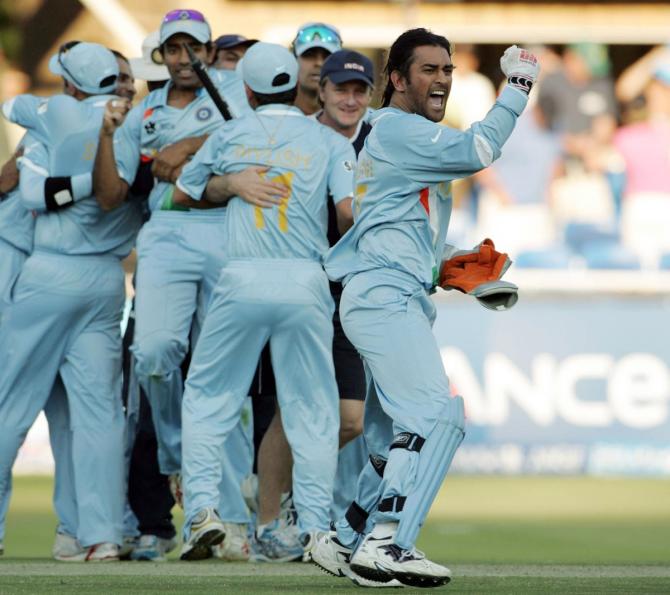 On this historic day in 2007, the iconic wicketkeeper-batsman MS Dhoni embarked on his journey as India's captain, forever altering the landscape of cricket in this fervent nation.
His captaincy debut coincided with the electrifying clash between arch-rivals India and Pakistan during the ICC T20 World Cup in 2007, a match that would etch his name in cricketing history. Despite India's modest total of 141/9 in 20 overs, the game ended in a dramatic tie, eventually decided by a thrilling bowl-out.
This auspicious beginning marked the inception of Dhoni's captaincy era, one characterised by his cool composure, unwavering trust in emerging talents, and unconventional decisions that would set new standards in cricket leadership. Under his stewardship, the young Indian team clinched the inaugural ICC T20 World Cup by defeating Pakistan in the final by a margin of five runs.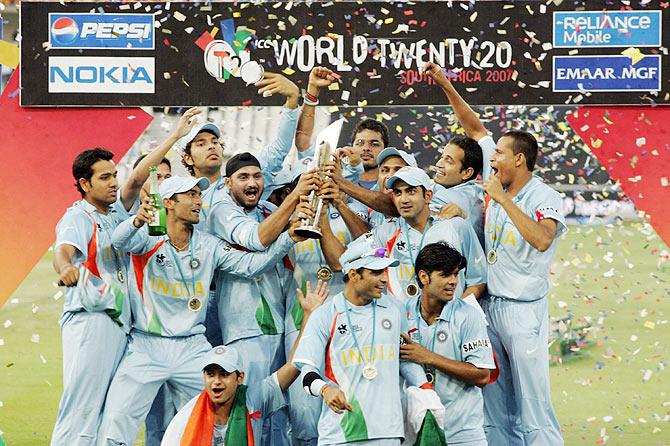 Dhoni's tenure as captain saw India scale remarkable heights. The pinnacle was reached in 2011 when India triumphed in the ICC Cricket World Cup after a 28-year-long wait, with Dhoni himself sealing the victory in the final against Sri Lanka with an unbeaten 91*, including the unforgettable winning six. The Men in Blue also secured the prestigious ICC Champions Trophy in 2013, and under his leadership, India reclaimed the Asia Cup in 2010, ending a 15-year drought.
His captaincy legacy is marked by qualities such as calmness, unshakable faith in young talents, a penchant for positivity, and a willingness to take calculated risks. The careers of several budding stars, including Rohit Sharma, Shikhar Dhawan, Virat Kohli, Ravichandran Ashwin, and Ravindra Jadeja, flourished during Dhoni's reign, where he became the only captain to secure all major ICC titles and elevated India to the summit of Test Rankings in 2009.
Dhoni led India in 60 Test matches, boasting 27 wins, 18 draws, and 15 losses. His 45.00% win percentage surpassed Sourav Ganguly, making him India's most successful Test captain at the time. He excelled as a batsman-captain in the longest format, amassing 3,454 runs at an average of 40.63, including five centuries and 24 fifties.
In the ODI format, where Dhoni thrived both as a captain and a player, he led India in 200 matches. Among these, he secured 110 victories, with a remarkable win percentage of 55.00%. His 6,641 runs in ODIs as captain, averaging 53.55, featured six centuries and 47 fifties, with a top score of 139 and a strike rate of 86.21.
In the T20I arena, Dhoni captained India in 72 matches, claiming 41 wins with a win percentage of 56.94%. While notching 1,112 runs in T20Is as captain at an average of 37.06 and a strike rate exceeding 122, he fell short of a half-century, with his highest score being 48*.
In total, Dhoni led India in 332 international matches, the most by any captain. This remarkable tally included 178 wins, 120 losses, six ties, and 15 no-results, reflecting a commanding win percentage of 53.61%. Throughout these games, he accumulated 11,207 runs in 330 innings at an average of 46.89, boasting 11 centuries, 71 fifties, and a top score of 224, all while maintaining a strike rate exceeding 76.
His influence extended to franchise cricket, particularly in the Indian Premier League (IPL), where he represented and captained the Chennai Super Kings (CSK) and the Rising Pune Supergiant (RPS). Dhoni clinched an impressive five IPL titles with CSK in 2010, 2011, 2018, 2021, and 2023, in addition to securing two Champions League T20 titles in 2010 and 2014.
Even amidst the heavy responsibilities of captaincy, Dhoni's batting prowess remained undiminished while representing his franchises. In 250 IPL matches, he amassed 5,082 runs at an average of 38.79, striking at 135.92. This tally included 24 half-centuries, with his highest score standing at an unbeaten 84*. He presently ranks as the seventh-highest run-scorer in IPL history.
MS Dhoni's indelible mark on Indian cricket as a captain, player, and leader of men makes him an enduring legend and a source of inspiration for generations to come.