Rajneesh Gupta presents glimpses of India-England Test history.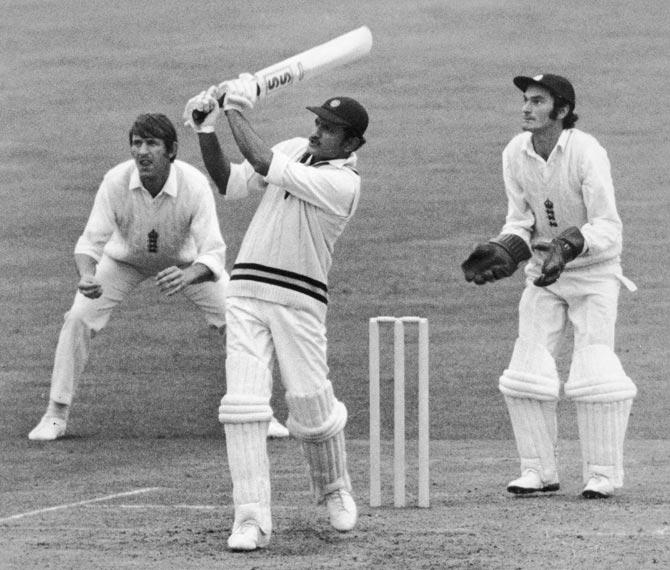 IMAGE: India's captain Ajit Wadekar in action during the third Test against England at the Oval in London, August 1971.
India won the Test and the series 1-0, the first time it had won a series in England.
Photograph: Leonard Burt/Central Press/Getty Images
India and England, whose rivalry stretches nearly eight decades, face off in a five Test series, starting in Rajkot on November 9.
The two teams first played each other at Lord's in 1932, when Douglas Jardine's England beat the visitors, who were led by C K Nayudu, by 158 runs.
India and England have played 112 Tests against each.
England have 43 wins and 21 losses.
Interestingly, England have a good record in India too, winning 13 Tests against 15 losses while 27 matches ended in draws.
On the other hand, India have won just six Tests in England and have lost as many as 30 of them.
The record for the highest individual innings between the two teams belongs to Graham Gooch who stroked a magnificent 333 against India at Lord's in 1990.
For the Indians, the best score against England is held by Vinod Kambli who scored 224 in Mumbai in 1992-1993.
The record for the best bowling figures is also held by another Englishman, the great Fred Trueman who took 8/31 at Manchester in 1952.
Rajneesh Gupta presents glimpses of history from India-England Tests:
Synopsis of matches:
| No. | Dates | Venue | Innings1 | Innings2 | Innings3 | Innings4 | Result |
| --- | --- | --- | --- | --- | --- | --- | --- |
| 1 | June 25-28, 1932 | Lord's | England 259 | India 189 | England 275/8 declared | India 187 | England won by 158 runs |
| 2 | December 15-18, 1933 | Bombay Gymkhana | India 219 | England 438 | India 258 | England 40/1 | England won by 9 wickets |
| 3 | January 5-8, 1934 | Calcutta | England 403 | India 247 | India 237 | England 7/2 | Drawn |
| 4 | February 10-13, 1934 | Madras | England 335 | India 145 | England 261/7d | India 249 | England won by 202 runs |
| 5 | June 27-30, 1936 | Lord's | India 147 | England 134 | India 93 | England 108/1 | England won by 9 wickets |
| 6 | July 25-28 1936 | Old Trafford | India 203 | England 571/8d | India 390/5 | | Drawn |
| 7 | August 15-18, 1936 | The Oval | England 471/8d | India 222 | India 312 | England 64/1 | England won by 9 wickets |
| 8 | June 22-25, 1946 | Lord's | India 200 | England 428 | India 275 | England 48-0 | England won by 10 wickets |
| 9 | July 20-23, 1946 | Old Trafford | England 294 | India 170 | England 153/5d | India 152-9 | Drawn |
| 10 | August 17-20, 1946 | The Oval | India 331 | England 95/3 | | | Drawn |
| 11 | November 2-7, 1951 | Delhi | England 203 | India 418/6d | England 368/6 | | Drawn |
| 12 | December 14-19, 1951 | Brabourne Stadium, Bombay | India 485/9d | England 456 | India 208 | England 55/2 | Drawn |
| 13 | December 30 1951-January 4, 1952 | Calcutta | England 342 | India 344 | England 252/5d | India 103-0 | Drawn |
| 14 | January 12-14,1952 | Kanpur | India 121 | England 203 | India 157 | England 76/2 | England won by 8 wickets |
| 15 | February 6-10, 1952 | Madras | England 266 | India 457/9d | England 183 | | India won by an innings and 8 runs |
| 16 | June 5-9, 1952 | Headingley | India 293 | England 334 | India 165 | England 128/3 | England won by 7 wickets |
| 17 | June 19-24, 1952 | Lord's | India 235 | England 537 | India 378 | England 79/2 | England won by 8 wickets |
| 18 | July 17-19, 1952 | Old Trafford | England 347/9d | India 58 | India 82 | | England won by an innings and 207 runs |
| 19 | August 14-19, 1952 | The Oval | England 326/6d | India 98 | | | Drawn |
| 20 | June 4-8, 1959 | Trent Bridge | England 422 | India 206/9d | India 157 | | England won by an innings and 59 runs |
| 21 | June 18-20, 1959 | Lord's | India 168 | England 226 | India 165 | England 108/2 | England won by 8 wickets |
| 22 | July 2-4, 1959 | Headingley | India 161 | England 483/8d | India 149 | | England won by an innings and 173 runs |
| 23 | July 23-28, 1959 | Old Trafford | England 490 | India 208 | England 265/8d | India 376 | England won by 171 runs |
| 24 | August 20-24, 1959 | The Oval | India 140 | England 361 | India 194 | | England won by an innings and 27 runs |
| 25 | November 11-16, 1961 | Brabourne Stadium, Bombay | England 500/8d | India 390 | England 184/5d | India 180/5 | Drawn |
| 26 | December 1-6, 1961 | Kanpur | India 467/8d | England 244 | England 497/5 | | Drawn |
| 27 | December 13-18, 1961 | Delhi | India 466 | England 256/3 | | | Drawn |
| 28 | December 30, 1961-January 4, 1962 | Calcutta | India 380 | England 212 | India 252 | England 233 | India 187 runs |
| 29 | January 10-15, 1962 | Madras | India 428 | England 281 | India 190 | England 209 | India won by 128 runs |
| 30 | January 10-15, 1964 | Madras | India 457/7d | England 317 | India 152/9d | England 241/5 | Drawn |
| 31 | January 21-26, 1964 | Brabourne Stadium, Bombay | India 300 | England 233/9d | India 249/8d | England 206/3 | Drawn |
| 32 | January 29-February 3, 1964 | Calcutta | India 241 | England 267 | India 300/7d | England 145/2 | Drawn |
| 33 | February 8-13, 1964 | Delhi | India 344 | England 451 | India 463/4 | | Drawn |
| 34 | February 15-20, 1964 | Kanpur | England 559/8d | India 266 | India 347/3 | | Drawn |
| 35 | June 8-13, 1967 | Headingley | England 550/4d | India 164 | India 510 | England 126/4 | Enggland won by 6 wickets |
| 36 | June 22-26, 1967 | Lord's | India 152 | England 386 | India 110 | | England won by an innings and 124 runs |
| 37 | July 13-15, 1967 | Edgbaston | England 298 | India 92 | England 203 | India 277 | Eng won by 132 runs |
| 38 | July 22-27, 1971 | Lord's | England 304 | India 313 | England 191 | India 145/8 | Drawn |
| 39 | August 5-10, 1971 | Old Trafford | England 386 | India 212 | England 245/3d | India 65/3 | Drawn |
| 40 | August 19-24, 1971 | The Oval | England 355 | India 284 | England 101 | India 174/6 | India won by 4 wickets |
| 41 | December 20-25, 1972 | Delhi | India 173 | England 200 | India 233 | England 208/4 | England won by 6 wickets |
| 42 | December 30 1972-January 4, 1973 | Calcutta | India 210 | England 174 | India 155 | England 163 | India won by 28 runs |
| 43 | January 12-17, 1973 | Madras | England 242 | India 316 | England 159 | India 86/6 | India won by 4 wickets |
| 44 | January 25-30, 1973 | Kanpur | India 357 | England 397 | India 186/6 | | Drawn |
| 45 | Febuary 6-11, 1973 | Brabourne Stadium, Bombay | India 448 | England 480 | India 244/5d | England 67/2 | Drawn |
| 46 | June 6-11, 1974 | Old Trafford | England 328/9d | India 246 | England 213/3d | India 182 | England won by 113 runs |
| 47 | June 20-24, 1974 | Lord's | England 629 | India 302 | India 42 | | England won by an innings and 285 runs |
| 48 | July 4-8, 1974 | Edgbaston | India 165 | England 459/2d | India 216 | | England won by an innings and 78 runs |
| 49 | December 17-22, 1976 | Delhi | England 381 | India 122 | India 234 | | England won by an innings and 25 runs |
| 50 | January 1-6, 1977 | Calcutta | India 155 | England 321 | India 181 | England 16-0 | England won by 10 wickets |
| 51 | January 14-19, 1977 | Madras | England 262 | India 164 | England 185/9d | India 83/9 | England won by 200 runs |
| 52 | January 28-February 2, 1977 | Bangalore | India 253 | England 195 | India 259/9d | England 177 | Ind won by 140 runs |
| 53 | February 11-16, 1977 | Wankhede Stadium, Bombay | India 338 | England 317 | India 192 | England 152/7 | Drawn |
| 54 | July 12-16, 1979 | Edgbaston | England 633/5d | India 297 | India 253 | | England won by an innings and 83 runs |
| 55 | August 2-7, 1979 | Lord's | India 96 | England 419/9d | India 318/4 | | Drawn |
| 56 | August 16-21, 1979 | Headingley | England 270 | India 223/6 | | | Drawn |
| 57 | August 30-September 4, 1979 | The Oval | England 305 | India 202 | England 334/8d | India 429/8 | Drawn |
| 58 | February 15-19, 1980 | Wankhede Stadium, Bombay | India 242 | England 296 | India 149 | E 98/0 | England won by 10 wickets |
| 59 | November 27-December 1, 1981 | Wankhede Stadium, Bombay | India 179 | England 166 | India 227 | England 102 | Ind won by 138 runs |
| 60 | December 9-14, 1981 | Bangalore | England 400 | India 428 | England 174/3 | | Drawn |
| 61 | December 23-28, 1981 | Delhi | England 476/9d | India 487 | England 68/0 | | Drawn |
| 62 | January 1-6, 1982 | Calcutta | England 248 | India 208 | England 265/5d | India 170/3 | Drawn |
| 63 | January 13-18, 1982 | Madras | India 481/4d | England 328 | India 160/3 | | Drawn |
| 64 | January 30-February 4, 1982 | Kanpur | England 378/9d | India 377/7 | | | Drawn |
| 65 | June 10-15, 1982 | Lord's | England 433 | India 128 | India 369 | England 67/3 | England won by 7 wickets |
| 66 | June 24-28, 1982 | Old Trafford | England 425 | India 379/8 | | | Drawn |
| 67 | July 8-13, 1982 | The Oval | England 594 | India 410 | England 191/3d | India 111/3 | Drawn |
| 68 | November 28-December 3, 1984 | Wankhede Stadium, Bombay | England 195 | India 465/8d | England 317 | India 51/2 | India won by 8 wickets |
| 69 | December 12-17, 1984 | Delhi | India 307 | England 418 | India 235 | England 127/2 | England won by 8 wickets |
| 70 | December 31 1984-January 5, 1985 | Calcutta | India 437/7d | England 276 | IndiaI 29/1 | | Drawn |
| 71 | January 13-18, 1985 | Madras | India 272 | England 652/7d | India 412 | England 35/1 | England won by 9 wickets |
| 72 | January 31-February 5, 1985 | Kanpur | India 553/8d | England 417 | India 97/1d | England 91-0 | Drawn |
| 73 | June 5-10, 1986 | Lord's | England 294 | India 341 | England 180 | India 136/5 | India won by 5 wickets |
| 74 | June 19-23, 1986 | Headingley | India 272 | England 102 | India 237 | England 128 | India won by 279 runs |
| 75 | July 3-8, 1986 | Edgbaston | England 390 | India 390 | England 235 | India 174/5 | Drawn |
| 76 | July 26-31, 1990 | Lord's | England 653/4d | India 454 | England 272/4d | India 224 | England won by 247 runs |
| 77 | August 9-14, 1990 | Old Trafford | England 519 | India 432 | England 320/4d | India 343/6 | Drawn |
| 78 | August 23-28, 1990 | The Oval | India 606/9d | England 340 | England 477/4 | | Drawn |
| 79 | January 29-February 2, 1993 | Calcutta | India 371 | England 163 | England 286 | India 82/2 | India won by 8 wickets |
| 80 | Febuary 11-15, 1993 | Madras | India 560/6d | England 286 | England 252 | | India won by an innings and 22 runs |
| 81 | February 19-23, 1993 | Wankhede Stadium, Mumbai | England 347 | India 591 | England 229 | | India won by an innings and 15 runs |
| 82 | June 6-9, 1996 | Edgbaston | India 214 | England 313 | India 219 | England 121/2 | England won by 8 wickets |
| 83 | June 20-24, 1996 | Lord's | England 344 | India 429 | England 278/9d | | Drawn |
| 84 | July 4-9, 1996 | Trent Bridge | India 521 | England 564 | India 211 | | Drawn |
| 85 | December 3-6, 2001 | Mohali | England 238 | India 469 | England 235 | India 5/0 | India won by 10 wickets |
| 86 | December 11-15 ,2001 | Ahmedabad | England 407 | India 291 | England 257 | India 198/3 | Drawn |
| 87 | December 19-23, 2001 | Bangalore | England 336 | India 238 | England 33/0 | | Drawn |
| 88 | July 25-29, 2002 | Lord's | England 487 | India 221 | England 301/6d | India 397 | England won by 170 runs |
| 89 | August 8-12, 2002 | Trent Bridge | India 357 | England 617 | India 424/8 | | Drawn |
| 90 | August 22-26, 2002 | Headingley | India 628/8d | England 273 | England 309 | | Ind won by and innings and 46 runs |
| 91 | September 5-9, 2002 | The Oval | England 515 | India 508 | England 114/0 | | Drawn |
| 92 | March 1-5, 2006 | Nagpur | England 393 | India 323 | England 297/3d | India 260/6 | Drawn |
| 93 | March 9-13, 2006 | Mohali | England 300 | India 338 | England 181 | India 144/1 | India won by 9 wickets |
| 94 | March 18-22, 2006 | Mumbai | England 400 | India 279 | England 191 | India 100 | England won by 212 runs |
| 95 | July 19-23, 2007 | Lord's | England 298 | India 201 | England 282 | India 282/9 | Drawn |
| 96 | July 27-31, 2007 | Trent Bridge | England 198 | India 481 | England 355 | India 73/3 | India won by 7 wickets |
| 97 | August 9-13, 2007 | The Oval | India 664 | England 345 | India 180/6d | England 369/6 | Drawn |
| 98 | December 11-15, 2008 | Chennai | England 316 | India 241 | England 311/9d | India 387/4 | India won by 6 wickets |
| 99 | December 19-23, 2008 | Mohali | India 453 | England 302 | India 251/7d | England 64/1 | Drawn |
| 100 | July 21-25, 2011 | Lord's | England 474/8d | India 286 | England 269/6d | India 261 | England won by 196 runs |
| 101 | July 29-Aug 1, 2011 | Trent Bridge | England 221 | India 288 | England 544 | India 158 | England won by 319 runs |
| 102 | August 10-13, 2011 | Edgbaston | India 224 | England 710/7d | India 244 | | England won by an inn and 242 runs |
| 103 | August 18-22, 2011 | The Oval | England 591/6d | India 300 | India 283 | | England won by an innings and 8 runs |
| 104 | November 15-19, 2012 | Ahmedabad | India 521/8d | England 191 | England 406 | India 80/1 | India won by 9 wickets |
| 105 | November 23-26, 2012 | Mumbai | India 327 | England 413 | India 142 | England 58-0 | England won by 10 wickets |
| 106 | December 5-9, 2012 | Kolkata | India 316 | England 523 | India 247 | England 41/3 | England won by 7 wickets |
| 107 | December 13-17, 2012 | Nagpur | England 330 | India 326/9d | England 352/4d | | Drawn |
| 108 | July 9-13, 2014 | Trent Bridge | India 457 | England 496 | India 391/9d | | Drawn |
| 109 | July 17-21, 2014 | Lord's | India 295 | England 319 | India 342 | England 223 | India won by 95 runs |
| 110 | July 27-31, 2014 | Rose Bowl | England 569/7d | India 330 | England 205/4d | India 178 | England 266 runs |
| 111 | August 7-9, 2014 | Manchester | India 152 | England 367 | India 161 | | England won by an innings and 54 runs |
| 112 | August 15-17, 2014 | The Oval | India 148 | England 486 | India 94 | | England won by an innings and 244 runs |