Chandrakant Pandit ended a successful three-year partnership with Mumbai as coach of its Ranji Trophy team to take up a similar position with Maharashtra this season.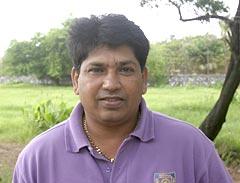 After two barren years, Mumbai got its act together under the guidance of Pandit, and Paras Mhambrey's leadership, to emerge 2002-03 Ranji champions.
The following year, they went on to retain the crown after settling for a draw with Tamil Nadu in the final though the hat-trick couldn't materialise this year as Mumbai went down to Punjab in the semi-final.
But the Mumbai Cricket Association's refusal to acknowledge his good work and a host of other reasons forced the former India wicket-keeper to quit in disgust earlier this month.
Pandit, whose first stint at player management was when he was appointed captain-cum-coach of Madhya Pradesh, spoke with Special Correspondent Deepti Patwardhan about his time in the Mumbai dressing room and his new assignment.
Why did you decide to leave Mumbai?
When I came to know that the Mumbai Cricket Association had offered Sandeep Patil a job to coach Mumbai, it was really hurting. I didn't know why, after doing well for three seasons with the Ranji team, they wanted to find a replacement.
After that, I had offers from Rajasthan, Bengal, Assam and Tamil Nadu. When I left I didn't exactly know what my plans for the future were, but I had decided to quit. So I decided to keep an open mind about it and hear out teams that were interested in me.
What made you choose Maharashtra over other teams?
I had not got an offer from Maharashtra when I left Mumbai. It came only about 15 days ago. But when Ajay Shirke (Maharashtra Cricket Association president) told me that I could decide the terms and conditions of the contract I was really happy. I thought that they really wanted me. As a sportsman, that's the kind of respect you want.
Also, it will be similar culture working with the Maharashtra team. I know some of the players, since they play the Times Shield in Mumbai.
For how long have you been contracted by Maharashtra?
It is only for the next season for the time being. Even I did not want to commit for too long at the moment. I have to find out whether I like coaching there.
Did Mumbai's loss against Punjab in the Ranji Trophy semi-final precipitate your decision?
I have played enough cricket to know that such things happen in the game. It was only one bad session that cost us the match.
Basically, our top order batting had been a problem throughout; I think we were lucky to survive three seasons with that. But all I can say is that it was unfortunate.
The team has also been unhappy with the curator at the Wankhede stadium in Mumbai. Is it true that you didn't know which pitch the Mumbai team would be playing on till the morning of the match against Punjab?
I think most Ranji teams have been facing this problem. But some attention needs to be given to this problem.
The MCA asked us to communicate our problems in writing, but we cannot keep doing that all the time. The officials were well aware of the fact that we were having this difficulty.
I also had to change my team sometimes on the morning of the match because of it.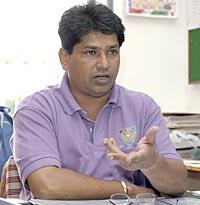 Why is it that three senior Mumbai players are also leaving the team at almost the same time as you?
Every individual had his own problems, or all of us could have the same problem. It could be that they are getting better money with different teams or they have been facing the same problems as I have.
Maybe, they feel they haven't been treated well by the Association. In the end, everyone takes their own decisions for their own reasons.
Can this trigger a trend in India's domestic cricket, where teams are ready to spend the money to buy the best players, like what happens in the club football market?
It can, and there is nothing wrong with the trend. The BCCI provides every association with money to develop their cricket and the state teams can utilise this money for buying players.
The money factor is important, but I think the players have been earning well for the last two, three years after the BCCI increased the match fees. Some teams have sponsors too, so the players have been making good money.
How do you look back at your stint with Mumbai?
I think the greatest achievement for me, as a coach, was that I was able to earn the respect of the players.
The atmosphere in the dressing room was fantastic and I had a great rapport with the players.
When the job was given to me a lot of people thought I was accepting it at a wrong time. The team wasn't doing too well and most of the seniors, like Sachin Tendulkar, Sameer Dighe, Jatin Paranjape and Ajit Agarkar, were missing. I took it up as a challenge. At this level the coach needs to guide the team more than anything else because, all said and done, the coach can't go and play himself.
So, I thought, despite so many setbacks, winning the Ranji Trophy was a great team achievement. I also think we were lucky that year, because the opening partnership wasn't clicking and regularly we found ourselves six, seven wickets down without much score. But we kept surviving and were finally able to solve the problem.
Of the current lot, which of the youngsters do you think will champion Mumbai's cause in the coming decade?
Ten years is a long time. I don't think any of them will be around ten years down the line.
There are good players, and best of luck to them, but I don't think they can survive so long.
So, is it also a wrong time when you are leaving Mumbai?
We have been playing together and have tried our best to get the juniors involved in every team activity. We have built a strong team and it is up to them now how they cope with the new coach and different ideas.
I don't think they should have too much of a problem doing that.
Darren Holder has been appointed as the Cricket Director by the Maharashtra Cricket Association. How have they distinguished your role from his?
I have been appointed as the high performance coach. I will be looking after the age-group cricket as well as the Ranji teams.
Holder will help in programming and developing new strategies. But we will travel together with the team.
Photographs: Jewella C Miranda