Ajit Wadekar recalls how India turned the tables on the the West Indies and won a historic victory.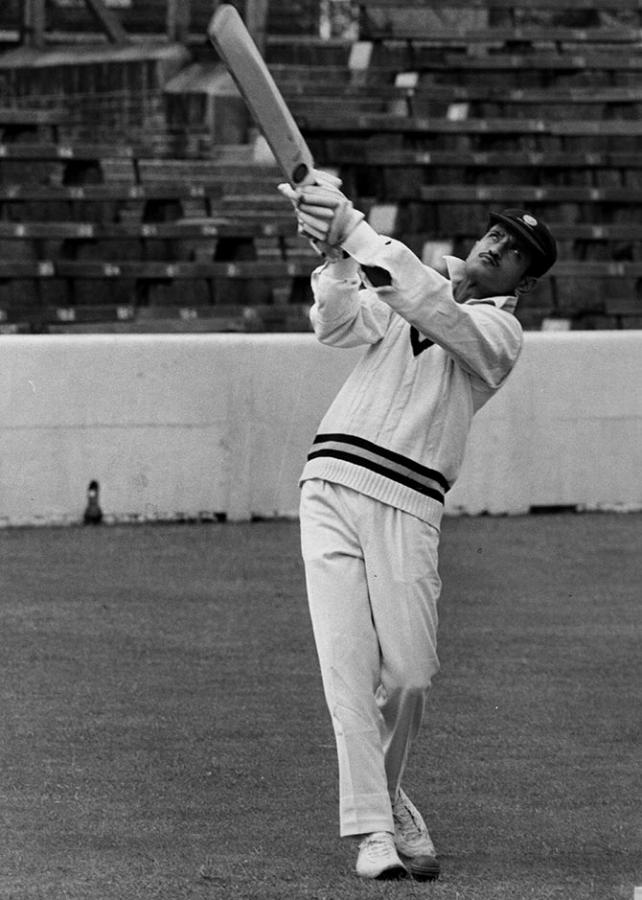 Ajit Laxman Wadekar -- the 'Professor', as he is known in cricket circles, -- had raised the profile of Indian cricket from has-beens to one of the best while he was captain of the Indian team.
As captain, he led India to its first-ever victorious series against the West Indies and back to back series wins against England, first away, then at home.
Wadekar -- in a chat with Rediff.com's Ashish Magotra in 2002 -- recalled the events of the 1971 West Indies series, which, in a way, changed the face of Indian cricket.
The last time we visited the West Indies in 1962, we were hammered 5-0...
Not only in 1962, but even before that, when we visited the West Indies, we were always hammered 5-0.
So, when the team got selected and I became the captain, everyone predicted that we will get a bashing, 5-0 or something like that. I don't think they said anything new, because that was what they expected.
When you became captain were you expecting to become captain?
I wasn't expecting the decision at all; in fact, it was a huge surprise.
The fight was between (Mansur Ali Khan) 'Tiger' Pataudi and (Chandu) Borde. Just to convince you that I never thought of captaining the side, let me tell you about an interesting incident that took place.
Pataudi, the captain, and myself were good friends, and I said, jocularly, "Tiger, you are going to be the captain; see that I am in the team."
I wasn't doing too well in domestic cricket and I had just two or three centuries.
Tiger laughed and said, "Not to worry, Ajit. If I am the captain, you will be certainly there in the team. But, there is one condition: If you become the captain, you see that I am in the team."
I said, "Done."
So, when I became captain, we had just shifted to Prabhadevi (south central Mumbai) and we (his wife Rekha and I) had gone to buy some curtains.
When we came back there was a huge crowd. I was naturally intrigued, and I asked them whether someone got promoted, because that was supposed to be the State Bank officers' quarters.
And one of them said, you have been promoted to captain.
I was really taken aback. I immediately rang up Pataudi, and 'Tiger' said he would think it over and get back to me.
Next morning, 'Tiger' rang me up and said, "Ajit, I am sorry, but I will not be available."
So how did you take that?
As a captain, I was quite experienced. Bombay had been winning under my captaincy for three years.
I had an analytical mind. I knew what was going wrong with the Indian team because I was in the team since '66.
So, why were we not winning?
We were getting young players into the squad, like (Gundappa) Vishwanath, (Eknath) Solkar and others, but at the same time we were trying to play too attractive cricket.
I could see that because the Bombay team, those days, was very professional. We used to play for the team; winning the match was our goal.
Whereas the Indian team was more inclined to play attractive strokes and entertain the crowd. It is not that they didn't want to win.
But the result of the strokes was that we used to please the crowd, but the match used to be over in three days. So that was the main thing.
All Test matches have a five-day duration. So you have to at least try and play as many sessions as possible and only then do you have a chance of winning.
As captain, how were you going to change this?
I think the team that got selected was a good mixture of youth and experience.
Sunil Gavaskar, a young, promising, cricketer at that time. I also had very experienced players like Salim Durrani and (M L) Jaisimha; good spinners in (E A S) Prasanna, (Bishan Singh) Bedi and S Venkatraghavan, but we had no fast bowlers.
But, I think, you must play the game according to your strengths. Abid Ali and Solkar and the rest were there just to take the shine off the ball.
Bedi normally would bowl his over in around 1.5 minutes and the West Indian fast bowlers would take around 6/7 minutes.
So we were getting fewer balls to face. I told Bedi to take his time and even if he was criticised, I would take the blame.
The English journalists were very fussy and they started shouting that Bedi was wasting time. But I said we are still bowling more overs than the West Indies.
We couldn't finish our over in 6-7 minutes; the maximum we could stretch it to was two minutes.
If Gary Sobers or Rohan Kanhai were to get so many more deliveries to play, then they would wreck havoc.
Another thing we concentrated was on the fielding. Luckily, we had good fielders like Solkar, Venkat, Abid Ali and myself.
We put a lot of emphasis on catching because we used to hear a lot of stories from old-timers, that earlier we had a lot of good spinners like Vinoo Mankad, Ghulam Ahmed and Subhash Gupte, and if we would have had good fielders we would have won a lot of matches.
During those days, I believe that they used to keep the old players in the slips so that they didn't have to run too much.
In our case, if you dropped a player like Gary Sobers, Rohan Kanhai or Clive Lloyd, you had it; they would go on to get a hundred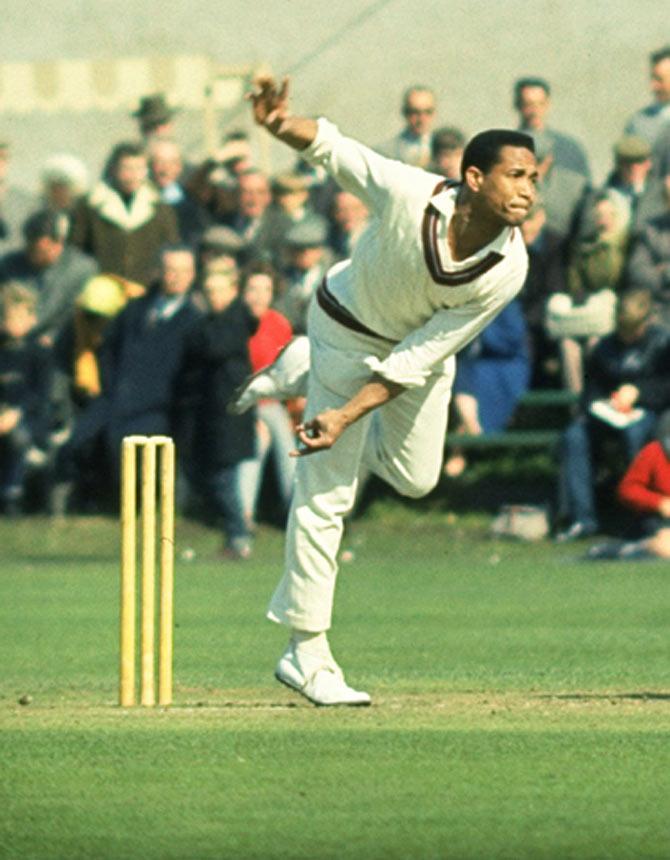 How was it playing with Gary Sobers?
Sobers was my idol. I had seen him before I became an international cricketer. And I used to love him.
He was a three-in-one man: A batsman, a fielder and a bowler. He was a natural.
When I played my first Test in Bombay against the West Indies, I was a big flop (grins). At that time he saw me practicing in the nets.
He came to me and said, "Young man, are you playing this Test?" I said, "Yes." And he asked my name.
Then he looked at my shoes, which were in pretty bad shape, and asked me whether I planned to play international cricket in those shoes.
I said, "Yes, these are my lucky shoes and I have been getting a lot of runs with them."
Cricketers are, after all, a superstitious lot. So I told Gary, I am going to play in them. And he asked me what the size of the shoes was. I said 9 ½, and he said that's my size.
He had this girlfriend Anju Mahendru. So on his way to visit her, he dropped in at my place. I used to live at Shivaji Park.
Only my mother was there and she wouldn't know who Gary Sobers, Rohan Kanhai or Geoff Boycott was.
My mother asked him what he wanted. Gary told her he had come to meet her son who was playing in the Test tomorrow and gave her a pair of new shoes, telling her that I must play in the new shoes.
I played with the shoes, but I was a big flop.
I went up to Gary and told him, "Thanks for the shoes, but look at the result." Of course, I said it jocularly.
Then, when we landed in the West Indies, he had come to the airport to receive the team. They had this rum-punch at the airport. I didn't know what it was; it was so sweet and all.
Gary sort of said be careful, it has something in it. I said, "Like what?" and he said: "Rum."
I told Gary that he was my idol, but on the field he could expect no favours, though off the field he could, of course, always have a beer on me.
Unfortunately, or rather fortunately for us, he had not been getting runs in domestic cricket and he had to be the captain.
In the first Test match, the first day of the match was rained off. And it so happened that we were leading by more than 150 runs in the first innings and there was only one day left.
There was no chance to win as such, but I wanted to put some psychological pressure on them. So I asked the team whether we should enforce the follow-on.
Most of the boys replied in the negative and wanted to have some batting practice in the middle.
But I insisted that we must put some pressure on them and we can always have batting practice in the nets.
This would be the first time that India would be enforcing a follow-on against the West Indies.
So I went straight to the West Indies dressing room, instead of sending the message to the umpires, and asked, "Mr Sobers, would you like to bat?"
He looked surprised and asked me whether I was enforcing the follow-on, and did I know the rules.
There should be at least a 200-run deficit. I said, "Perhaps you forgot to read further. It also says that in a match, which has been curtailed by a day, the deficit has to be a hundred and fifty runs."
Sobers sat there in a state of shock and asked again: "Are you sure?"
I said, "I am," and he could clarify with the umpires, "but you are going to bat."
Everyone was stumped, completely.
This was the first time India was enforcing a follow-on; all the players started looking at each other. They did not expect that.
How could it happen, coming from India!
And then he called the umpires and they confirmed what I had said.
The match was drawn, but psychologically we had gained the edge.
There was another strategy that we were successful in implementing.
The West Indies brought in Jack Noreiga, an off-spinner. He was quite good, could turn the ball and was getting a lot of wickets in domestic cricket.
But their best off-spinner was Lance Gibbs who had a lot of wickets to his credit and could have been really dangerous.
So in the match against the Board President's XI, we gave Noreiga as many wickets as possible, all the while ensuring that we do not lose the match.
So in the first innings he got six wickets, and in the second innings, he got seven or eight. And the West Indian selectors were in a fix. They had to pick him for the Tests.
In the first Test, he didn't have to bowl too much. But in the second Test, the wicket was really turning and Gibbs would have really troubled us.
We could play this guy easily and that's where our winning streak started.
But didn't he take a lot of wickets in the second Test?
He did. But the ball was turning like a top and a more experienced bowler like Gibbs could have wreaked havoc. He could -- rather should -- have had a world record, but it was quite easy to play him.
The third point that we tried to take advantage of was the fact that they were all great, attacking batsmen.
So we tried to curtail them, and make them lose their patience. And this is exactly what happened.
We put a lot of pressure on them. Their flow of runs dried up and they got out trying to play extravagant strokes.
I think, enforcing the follow-on in the first Test match did the trick.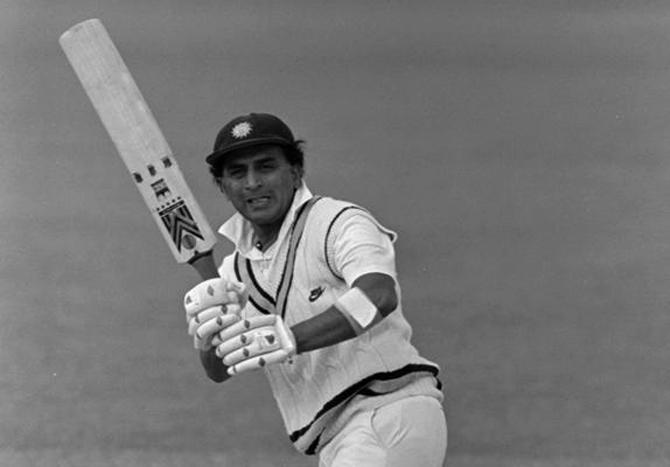 Were you really expecting a youngster like Sunil Gavaskar to come out in his first Test series and score runs in almost Bradmanesque proportions?
I was expecting him to score runs, but certainly not in the manner he did.
He played for the team. There is one small incident that comes to mind instantly.
In the last Test, where he scored a double century, I told him to stay in, as the rest of the recognised batsmen were in the pavilion already.
He used to really listen to the captain's order. So he tried to stay there. His concentration was so immense that he lost track of everything else.
Abid Ali came in at number 7 and the new ball was taken. Abid used to open for his state. It so happened that Abid was very quick between the wickets.
He would take a run off the last ball and face the new ball again. In the process, Abid got out and the drinks break was taken.
Govindraj, from the same state as Abid Ali, came in with the drinks and in frustration, he said, "Sunny, aap ne kya kiya? Abid ko jyaada strike diya, who abhi fresh aaya tha. Dekho hamari team ki kya haalat ho gayi (What did you do Sunny? You gave Abid all the strike, and see what state our innings is in)."
It was at this point that the gravity of the situation struck Sunny. He was very disturbed and in the 45 minutes before tea he tried to throw his wicket. Luckily, he survived.
When he came in for tea, he was furious; he wasn't talking to anybody.
I went up to him and asked him, "Sunny, what are you doing? You want us to lose?" And then he started crying, "Sorry captain, I didn't mean that. Govindraj told me that Abid lost his wicket because of me. I was concentrating so much on my batting that it didn't occur to me that Abid was fresh at the wicket and the new ball had been taken."
Any other interesting incident that you remember?
In the second Test match, we had Salim Durrani in the team. Clive Lloyd was batting and I thought there were a few rough patches outside the batsman's off-stump.
Lloyd was beginning to play Bedi, who was bowling, well. So I thought of bringing on Salim, who had a good, faster, delivery.
But I told him, "Listen, you have to try and bowl in the patch." And then I positioned myself at short mid-wicket.
As soon as I did that, the next ball, Lloyd tried to hit straight, but the ball came straight to short mid-wicket.
It came like a bullet, but came straight.
Gary Sobers was in next. The next ball pitched in the rough patch and turned almost at a right angle and bowled Sobers.
Sobers was out for a duck!
That was, perhaps, the turning point of the series and the match.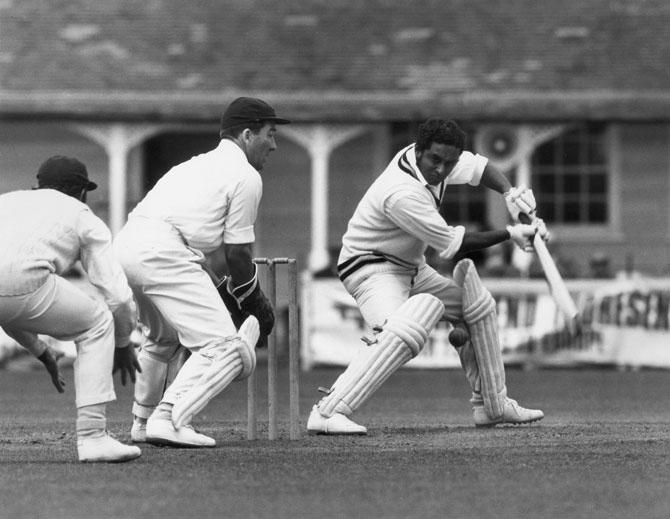 You had wanted Dilip Sardesai in the team. You fought for his selection and he performed so well...
The selectors were not so keen on selecting him because they thought he was over the hill.
He wasn't getting too many runs in domestic cricket either; in and out of the Indian team. But I had a lot of faith in him, having played with him for so many years.
I think his innings also gave us a lot of confidence. Not only to Sunil Gavaskar, but the rest of the batsmen too.
We now knew that we could play the fast bowlers too. We were five down in the first Test match and that double century was just fabulous.
That paved the way for the victory. I haven't seen a knock like that! We were 5 for 60-something.
How did you manage to get him into the team?
Before the selection, I went to Vijay Merchant and told him, "You did the trick for me by your casting vote (it was Merchant's vote that titled the scales in Wadekar's favour for the captaincy). I want you to do the trick again. I told him, "I want Dilip Sardesai in the team. He would be an asset to the team. I want some experience and I have played with him."
Merchant told me, "You should have told me earlier." But, in the end, he got Sardesai in the team and, luckily, he struck form from day one.
Was the team even thinking about winning the second Test, or was it more like let's try and draw.
It was a turning track and we had the best bowlers.
When I saw the wicket, it looked as if it might turn.
I thought this was our chance to turn the tide and win.
We were looking for an opportunity and this was it.
If we were not going to win on a spinning track, when were we going to win?
Do you think Venkat's style of bowling was more effective in the West Indies than Prasanna's?
Venkat was a great asset to the team, in the sense he was a good batsman. He was a very good fielder with great confidence in his abilities.
He could keep one end tight, and if there was turn in the pitch, he could become a difficult bowler to play.
When you think back, what do you attribute the victory to?
We had good fun. We played like a team.
Proper planning, strategy, the psychological battle being won by us, the brilliant batting feats of Sardesai and Gavaskar and, not to forget, the brilliant fielding.
There were many incidents. Same match (second Test). 'Ekki' Solkar) came out to bat and Sobers was bowling.
'Ekki' was all at sea and he couldn't lay bat on ball. The ball lost its shape and the umpires called for another ball and tossed it to Gary.
Gary took the ball and went up to his bowling mark. 'Ekki' stopped the match for a while and said, "Captain, can I have a look at the ball?"
Gary was taken aback. He said it's the same. But 'Ekki' was adamant and said he must see the ball, whether it was a brand new one.
Then Gary got the hang of what was happening and said, "What difference is it going to make to you? It's not even touching your bat,"
So 'Ekki' gave it back to him, saying, 'You bowl your stuff, I'll bat my stuff.'
This interview was first published on Rediff on April 18, 2002.