'Ravindra is probably the best all-rounder in India today.'
'He is a thinking spinner. He uses both his fingers and mind when bowling.'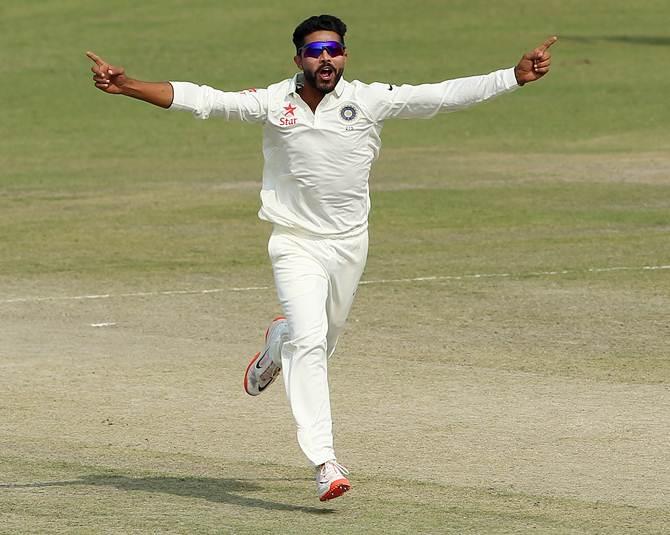 IMAGE: Ravindra Jadeja celebrates a wicket in the Test series against South Africa. He ended up with 23 wickets from the four Tests. Photograph: BCCI
A leading architect of India's 3-0 Test triumph over South Africa was Ravindra Jadeja.
Out of favour just before Hashim Amla and his side arrived in India, the Saurashtra all-rounder returned to the Test team on the strength of a stellar bowling show during the Ranji Trophy season. By taking 37 wickets in Saurashtra's first three Ranji matches, he made the national selectors take notice.
They knew there was no better left-arm spinner in the country than Jadeja, who turned 27 on December 6, to forge a lethal combination with off-spinner Ravichandran Ashwin in the mission to destroy the formidable South African batting on Indian dust bowls.
Almost throughout the Test series he bowled to the letter and finished with 23 wickets. The strong showing has enhanced his reputation as a cricketer and true match-winner.
One man who knew that Jadeja was capable of all this and much more is Sitanshu Kotak, his former Saurashtra team-mate and current coach.
Kotak has known Jadeja since his junior days. Jadeja has literally grown up in front of Kotak, who often played the role of friend, philosopher and guide to the young cricketer.
The former Saurashtra left-handed batsman discusses with Haresh Pandya the reasons for Jadeja's smashing comeback.
What would you ascribe Jadeja's resounding success with the ball against South Africa to?
To his sheer talent. Ravindra is a natural spinner in the classical mould. He is one of those spinners capable of exploiting the conditions, including the nature of the pitch, to his advantage.
Most of the wickets in the Test series against South Africa were more conducive to slower bowlers. A spinner like Ravindra could not possibly have asked for more.
What do you like most about Jadeja the spinner?
He is a thinking spinner. He uses both his fingers and mind when bowling. A spinner, nay any bowler for that matter, has to use his mind to make the most of his skills.
If you have noticed Ravindra always bowls very intelligently and keeps the batsman guessing. He knows how to play on the batsman's weaknesses and bowls accordingly.
Would he have been equally successful if there were no turning tracks?
I think so. Maybe not as successful in terms of number of wickets, but he wouldn't have been less effective. You could see his determination and hunger for success right from the first ball he bowled in the series.
Throughout the series he bowled with passion. He appeared to be trying to prove a point or two. He repeatedly dismissed South Africa's frontline batsmen.
Do you think it was right for to prepare pitches to help our spinners?
I see nothing wrong. It is our prerogative as hosts to prepare any kind of wickets we want. Spin bowling continues to remain India's strength, so it is but natural that we prepare wickets conducive to our spinners.
When we travel abroad, they give us green tops to play on because they suit their fast bowlers more. It is as simple as that.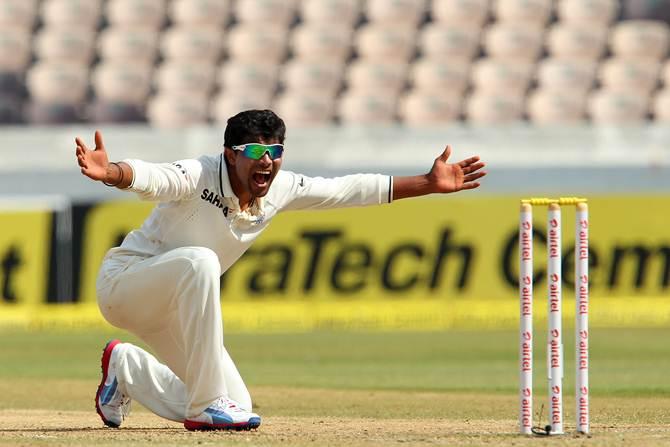 IMAGE: 'Throughout the series he bowled with passion. He appeared to be trying to prove a point or two,' says Sitanshu Kotak. Photograph: BCCI
The wicket in the Nagpur Test seemed a bit under-prepared. The ball began to turn prodigiously from the first session itself. The ICC has criticised the Nagpur wicket...
I don't think it was an under-prepared wicket. It was just about as good as the ones you saw in Mohali, Bangalore and Delhi. It was helpful not only to the spinners, but fast bowlers as well. How beautifully, threateningly even, Morne Morkel bowled in both the Indian innings.
It's just that these South Africans are a little vulnerable against quality spin bowling. And they aren't among the few people who are complaining about the wickets. It's some critics, including former players, who appear to have a problem or two.
It is said spinners hunt in pairs. Do you think bowling in tandem with Ashwin has helped Jadeja?
Yes, definitely. Both Ashwin and Ravindra are in good form and complement each other when bowling in tandem.
Why only spinners? All bowlers love to hunt in pairs. It's heartening that Ashwin and Ravindra have formed an effective pair of spin bowlers. There seems to be good understanding between them.
Importantly, their captain Virat Kohli knows well how to make judicious use of his spinners.
Will Jadeja be able to bowl so well outside the subcontinent, where the wickets are hard, green and bouncy?
He is a thinking spinner. He knows how to bowl according to the nature of the wicket. The success against South Africa must have done his confidence a world of good. So this will always be a big plus for him. And he has his captain's confidence in his ability.
What more can a young player ask for? I am sure Ravindra will maintain his level of success overseas too.
Though he played a couple of good innings, there was a feeling that he could have contributed more with the bat. How do you view Jadeja's batting?
Ravindra is probably the best all-rounder in India today. He is a force of nature.
He is equally talented in the three major departments. Whether bowling, batting or fielding, he puts his heart and soul into it. He is always in the game.
Yes, he played a couple of valuable innings at crucial junctures. In what was essentially a low-scoring series, Ravindra's 30s were vital to India's eventual victories.
He is such a talented batsman that I'm sure a Test century or two are just round the corner.
Was he frustrated when he was out of the Indian team?
No, not all! He is a positive person.
His whole approach is endearingly positive and sporting: 'If I'm in the Indian team, I must be deserving of my place; if I'm not in the team, there must be reasons for the selectors to drop me.'
He told me he was determined to come back into the Test side. And after he took 11 wickets against Tripura and 13 each against Jharkhand and Hyderabad in Saurashtra's first three Ranji Trophy matches in Rajkot, there was no reason for the national selectors to keep him languishing in domestic cricket.
But all those wickets came on specially prepared dust bowls in Rajkot. Jadeja took only one wicket in Saurashtra's fourth match, against Services at the Palam A Ground, Modern Sports Complex, Delhi. Wasn't it because that match was played on a sporting pitch?
It was part of Saurashtra's strategy to prepare turning tracks in Rajkot. But not just Ravindra, other spinners also benefited from those pitches.
As for the wicket in Delhi, it was more seamer-friendly than spinner-friendly. So the seamers got more overs to bowl than the spinners.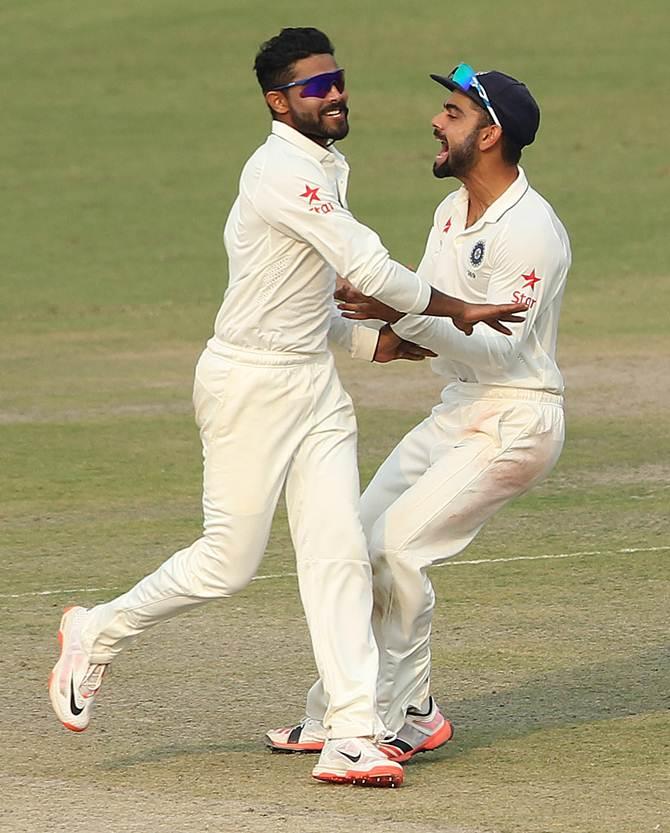 IMAGE: 'He has his captain's confidence in his ability. Ravindra is an all-wicket and all-format player. What we have seen against South Africa is just a tip of the iceberg,' says Sitanshu Kotak. Photograph: BCCI
As Saurashtra's coach, what advice did you give Jadeja when he was struggling to stage a comeback into the Indian team?
Both Ravindra and Cheteshwar Pujara are so talented, mature and disciplined that they hardly need any advice now.
All I told Ravindra was to keep performing consistently well. There has never been any doubt about his talent.
I always feel that he has the ability to win matches on his own as an all-rounder.
But mere talent doesn't help. It has to be backed by a solid performance. This is precisely what he did in Saurashtra's first three matches this season.
Do you think Ravindra should return to India's One-day and Twenty20 teams as well?
I'll be hugely surprised if he isn't made a regular member of India's Test, One-day and Twenty20 teams. You just can't keep such a talented player away from any of the three formats.
Ravindra is an all-wicket -- not just spinner-friendly -- and all-format player.
What we have seen against South Africa is just a tip of the iceberg. Ravindra has plenty of talent with the ball and bat. His best is yet to come, both as a bowler and as a batsman.
Cheteshwar Pujara continues to get good starts, but is increasingly failing to convert them into big scores, as he used to do at the beginning of his Test career. Why?
If you are talking about his performance in this series against South Africa, don't forget that most of the Tests were low-scoring. Cheteshwar did play a big innings in Mohali. He didn't get a single innings in the rain-affected Test in Bangalore, but in Nagpur and Delhi he played quite well and was out to exceptionally good deliveries when looking set to play big innings.
He never gives the impression of not trying. You will never find him throwing his wicket away with a reckless shot.
Pujara has of late been losing his stumps or finding himself sharp in front of the wicket. Has some flaw been detected in his much acclaimed technique? Is there some scope for improvement in his footwork?
I don't think there is any flaw in his technique nor do I see any scope for improvement in his footwork.
Cheteshwar is just as good a batsman as he has always been. It is just one of those things that he hasn't been as prolific and consistent with the bat as in the recent past. Sometimes you should give some credit to bowlers too.
Nothing much should be read in Cheteshwar's seemingly little scores by his own high standard of scoring.
As they say, form is temporary and class always tells. I am sure Cheteshawar will soon regain his original touch and start plundering runs in the manner only he can.