'I really miss it. Playing for the country. Nothing gets bigger than that.'
'That's why I am playing in domestic cricket. I am bowling a lot of overs, trying to contribute with the bat, just because I want to go one step ahead.'
IMAGE: Irfan Pathan celebrates taking a wicket for the Delhi Daredevils against Mumbai Indians during IPL 6 in 2013. Photograph: BCCI
Once touted as the future of Indian fast bowling, now reduced to watching the action from the sidelines, Irfan Pathan has stared both triumph and desolation in the face.
Who can forget the 19 year old ripping through Adam Gilchrist's defence in the Adelaide Test with a quick swinging yorker in 2003?
And who can forget his hat-trick in the first over of the Karachi Test against Pakistan in 2006?
The Baroda fast bowler, who claimed 100 wickets in 29 Tests and 173 wickets in 120 ODIs, was a key member of the Indian bowling attack till 2008-2009 before injuries and loss of form saw him struggle.
Irfan returned to the Indian team in 2012 before another injury compelled an exile from the national side these last two, three years.
Now 31, despite a controversial omission from the Baroda team at the start of the season, Irfan has not lost hope of wearing India colours again.
Fourteen wickets and 139 runs in three matches in the Ranji Trophy followed by a superb all-round showing in the Mushtaq Ali Trophy where he finished as the highest wicket-taker with 17 wickets in 10 games while scoring 200 runs at an average of 40 have boosted his hopes of making it to the Indian team for the World T20 at home in March-April.
In a freewheeling conversation with Harish Kotian/Rediff.com on the sidelines of the Mushtaq Ali Trophy in Mumbai last week, Irfan Pathan reveals how he coped with the disappointment of being dropped from the Indian team and what inspired his comeback in domestic cricket this season.
Does it feel good to be back in top form with both bat and ball?
Mashallah, I am really happy with the way things are going. The way my season started as well, with a six-wicket haul against Gujarat in the Ranji Trophy. Since then things have been pretty good.
I am bowling well, I am batting well. The important thing is that I have been able to control both the swings (with the ball), which is actually making me quite comfortable while bowling because if you have just one swing sometimes you become predictable and people line you up.
I really believe that the other swing, which I am doing right now, it will only get better and better.
At the moment, the way I am bowling and getting zip, I am able to hit the batsman on the pads and that is when I personally feel I am in the game.
I am scoring runs at crucial times and that is making me feel good about my cricket. I just want to continue doing that.
Would you say you are back to your best bowling rhythm and the ball is coming out of your hand and pitching where you want it to?
That comes with experience. You also need to be in the right frame of mind and in your best shape in terms of fitness. If all that comes together, you will be able to do that.
I could say with that experience I am able to control the ball nicely. And as you see with any bowler, the more he bowls, the better he gets. I bowled a lot of overs this season and that has helped me a lot.
Since I started playing for Baroda I have tried to bowl 20, 25 overs in each innings. You keep repeating the same thing again and again, it becomes your second nature and then it all comes down to how you control the ball.
And Mashallah, I feel I have that control with the ball now. Even in this T20 tournament I have tried to swing the ball both ways as much as I could whenever required.
Sometimes in T20 you can't do that too much and you need to rely on variations as well. I thought the pitch at the Wankhede stadium was really good and you could control the swing.
I am happy with the bowling control I have right now and I want to keep building on it. I don't want to stop here.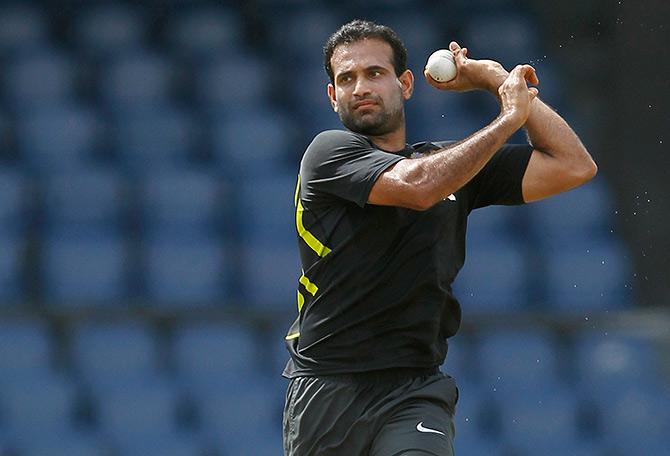 IMAGE: Irfan Pathan bowls during a practice session. Photograph: Dinuka Liyanawatte/Reuters
And physically, are you in the best shape you have been?
I would say this is the best fitness I have had in the last few years. I worked really hard for it before the season as well.
I want to thank my physio Ashish Kaushik who helped me out and some doctors as well in terms of making the programme to improve my fitness.
I feel this is the fittest I have been. After this Mushtaq Ali Trophy I will get more time to work on my fitness and that is going to be fantastic. I have bowled long spells in the Ranji Trophy and I have also been able to run quick between the wickets.
Unfortunately, Baroda has not qualified for the Ranji Trophy knockout rounds, so I will get that time to work on my fitness. I will not only work on my fitness, but work on my batting and bowling as well and keep playing matches.
Do you still consider yourself an all-rounder? Or are you focussing on making a comeback to the Indian team as a fast bowler?
That is a very good question. You know whenever I come on to bowl, I am just thinking that I will bowl as the lead bowler for Baroda. And only when you think like that will you be able to pick up five wickets. If I go into a match thinking I don't want to take a five-wicket haul, then there is no point.
That's what my thought process is at the moment, that no matter what people say that I can be an all-rounder and all that, I have to focus on what I believe in.
Whenever I get to bat, I will think like a batsman. But when I have the ball, I will look to bowl for wickets every time I come in.
And talking about making a comeback to the Indian team, I don't want to talk about it.
Even though I am feeling really good about my batting and bowling, I want to keep going one step ahead.
Somewhere, I won't say it directly, but for any team I play, if I have both the things, as an all-rounder you need to be aware that you can play as a bowler or a batsman as well. I am trying to reach that level and working on that, but bowling is my primary strength.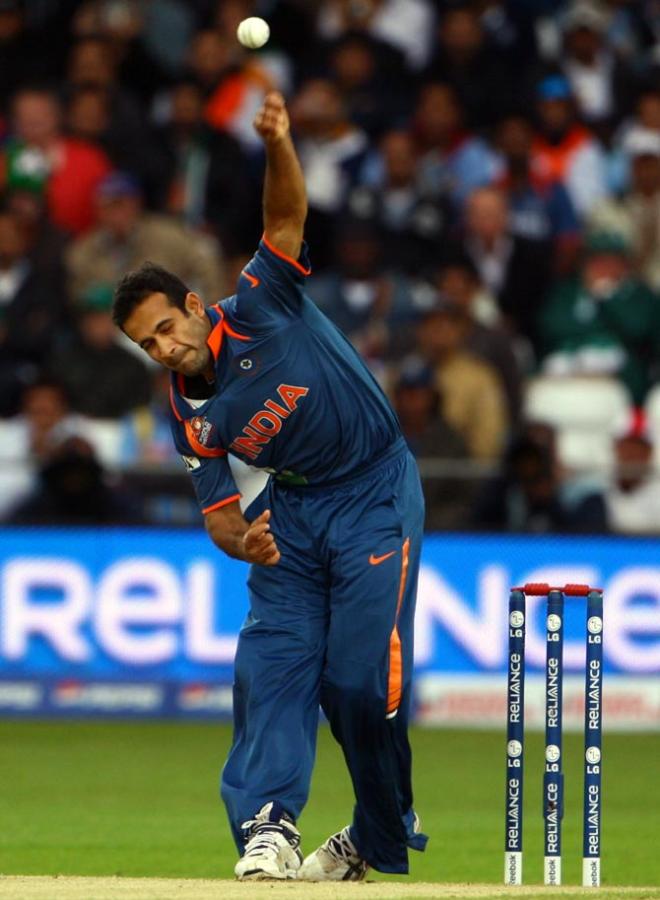 IMAGE: Irfan Pathan during the ICC World Twenty20 2009. Photograph: Matthew Lewis/Getty Images
How much do you miss playing for India?
I really miss it. Playing for the country, representing your nation, nothing gets bigger than that. That is everyone's dream and that is my dream as well.
I do miss playing for the country. A lot of people talk about playing in the leagues and all. I am no different -- even I look forward to playing good level of cricket anywhere.
But playing for the country is the ultimate thing. Nothing comes close to the feeling when you are running in wearing the India jersey. That feeling, that excitement you have, I don't think that can be matched anywhere else.
I played many, many, matches for India, and every time I took a wicket I used to celebrate by jumping. That was not for the television cameras or anyone, but that was because I was genuinely happy. I felt I was doing something for my country and that feeling is something else, you just can't compare it with anything.
I would be lying if I say I don't miss it. I miss it a lot, that is why I am playing in domestic cricket and I am trying my best.
I am running around, diving, bowling a lot of overs, trying to contribute with the bat, just because I want to go one step ahead.
You made your international debut at 19 in December 2003 in the Adelaide Test where you impressed everyone. You were a member of the Indian team for a few years after that till 2007 and after that you made quite a few comebacks.
How tough was it for you to deal with being out of the Indian team?
I have been really lucky from the start to have that mental strength. I had seen my father being mentally very strong because he worked hard all his life and he actually fought the odds, and even my mother for that matter.
I have learned a lot from them on how to be strong and that just came by seeing them. I am their son, so it also came naturally to me to be strong mentally.
When you are in the team and doing well sometimes injuries do happen, you get disappointed and you get frustrated as well. But I was lucky to come from a family, who are mentally strong themselves and at the same time they keep things very simple.
For me that really helped. I would also say I also managed it (being dropped) quite well.
I am the kind of guy who always looks at things positively. For me, the glass is always half full rather than half empty.
Even in my personal life, I have that view, that is why most of the times you will see I am very happy.
Cricket is my first love and cricket is something in which I want to achieve certain goals, but eventually in life you need to feel satisfied and happy, whatever you do.
So I try and make sure that I am happy most of the time. And when I do that, I am able to manage those situations which I have been through in my life and my career. I am able to handle it pretty well.
I believe that God has been kind to me. If someone would have told me at the age of 15 that 'Irfan, you will take 300 wickets in international cricket,' I would have said, 'Oh hell yeah, I want to take it' and I have been able to achieve it.
Even though I have been through so much in my life -- be it injuries or be it something else -- those things are in the past now, even the 300 wickets are in the past now.
But it is something that I have achieved, I have played fair, I gave my best, I worked hard with all my honesty and that is all I could do.
The things which are not in my control, I cannot do anything about it, but there are a lot of good things which I did for myself, for my country, for my team, for my family, for my friends and relatives as well and I am really proud of it.
Inshallah, Inshallah, Inshallah... in the future, there maybe more great things to come as well, who knows! But you need to believe that good days will come and I really believe that it will happen, that good things are around the corner.
That belief and hope keeps me going and that is why I have been able to manage whatever situations I have encountered in the past.
In this T20 era, a lot of players who are not able to make a comeback into the Indian team -- one common criticism they get is that people believe that they are not willing to work hard and are merely content to play in the IPL and make money.
So, for you making such an inspired comeback for Baroda in domestic cricket, forcing people to talk again about your India comeback must sound good music to your ears.
I have been through stuff which has been really unfortunate. I was playing really well in 2012, but then I had an injury setback due to which I lost the last two, three years.
Now I just want to make sure that I put myself in the reckoning with good performances in whichever matches I get to play and hope it leads to something bigger.
I want it to be a really good story and I want the youngsters to learn and be inspired, and also believe that everything is possible if you work hard for it.
See, I come from a family where I have seen a lot of tough times. My father used to earn Rs 3,500 per month after working in two places. He used to work at the mosque and he used to work at the factory.
And trust me when I say this, even with that money we were really happy as a family.
I come from a family, who are really satisfied people and for us, money is not the main aim.
You can see that my father even today when he goes to the mosque he prefers to go walking even though we have cars now. He is not the kind of guy who wants to have a luxurious life, but I want him to have a luxurious life. My mom is also a very simple person and I learn from them.
We don't believe in showing off, we are very simple and happy people.
We were happy when my father was earning Rs 3,500 per month and even now we are happy. Basically, I come from a family where money is not important.
I want to continue working hard and keep doing well for whichever team I play so that when I look back in 10 years' time I want to have a really good story.
I worked hard in the nets before the season. There were a lot of things happening at the start of the season, things which were not under my control, but I chose to keep all my focus on the cricket.
I don't want to discuss anything on this now, maybe later on at the appropriate time. I kept bowling in the nets. It would have been very easy for me to not go for practice, just sit in my room and complain about stuff.
But I didn't, I kept going, I kept doing the hard work because I wanted to keep performing and look to improve every day.
I believe that if you are persistent with something for long, eventually things happen.
During the time when you were dropped from the team, you were also blamed for going to a lot of coaches, which resulted in you mixing up your action, losing your swing which resulted in your bowling suffering.
Was it that you started so young and had a successful few years in the Indian team, you struggled to come to terms with being dropped and were desperate to make it back?
Even when I was going through the tough times I always believed that I would come out of it.
You know God Almighty always shows you the way. No matter how much tough times you face, you will always come out of it.
There are a lot of good stories in life where people have made such inspirational comebacks, be it a big illness or tough times or anything else.
But you need to believe in yourself. If you don't believe, you will never achieve it. So any issues you have -- be it your fitness, be it your form, be it your family issues -- you will come out of it.
My family has been the pillar of strength during my tough times. When I was struggling I used to see my mom looking at me with a little bit of sadness because she felt that I was a bit down. I used to always tell her, 'Mom, don't worry about me.'
My father used to always come after praying in the mosque and encourage me by saying 'Everything will be fine soon.' My sister, my bhabhi (sister-in-law), my nephew. My brother Yusuf is my biggest strength after my parents. And my close friends have always been there for me.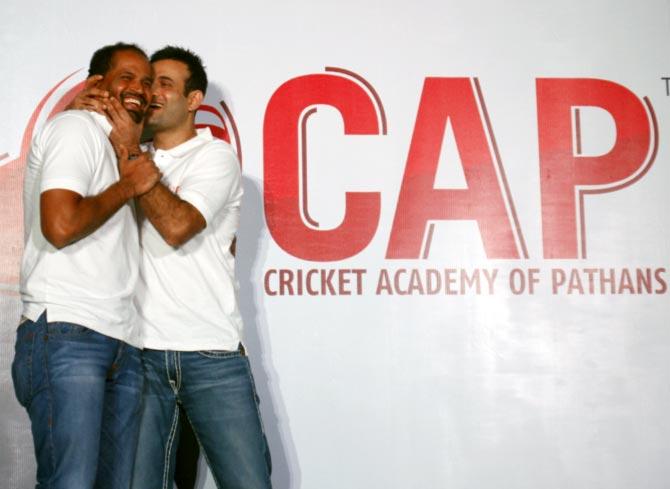 IMAGE: Irfan Pathan kisses his brother Yusuf during the launch of their academy, Cricket Academy of Pathans, in Mumbai in September 2014. Photograph: Hitesh Harisinghani/Rediff.com
And you know in tough times you always find out who your real friends are and who are not.
This season has taught me a lot than the other season. 2010 was very crucial for me in terms of my career.
Inshallah... when I get the time I will talk about 2010 and also 2015. These two years have taught me a lot.
Hopefully, those things will only make me stronger. 2010 made me stronger and 2015 will be a lot more beneficial for me in the coming years.
Who is the person you consulted with about your bowling when things were not going right?
I always consult T A Sekhar Sir, he has always been there for me. I can't even say how thankful I am to him for all his help over the years.
I was struggling with my bowling in 2007 and nobody was ready to help me, but he helped me out. I asked a lot of other guys to help me, but they didn't, but Sekhar Sir agreed instantly.
So whenever I require any help or have any doubts, I speak to him. There are a lot of other former team mates like Rahul (Dravid) bhai and (V V S) Laxman bhai, who also help me whenever needed. They are two nice people who are there for me always.
There is another person called Milap Mewada, who was the assistant coach of Baroda. He really helped me with my batting in the last two years. Sharad Kumar is also of great help.
Ashish Nehra's comeback to the Indian team at the age of 37 must be very inspiring for someone like you. Even your former team-mates like Yuvraj Singh and Harbhajan Singh made it back to the Indian T20 team by refusing to give up and continuing to work hard in domestic cricket.
That sends a lot of positive signals to experienced cricketers in India. Ashish Nehra, Yuvraj and Harbhajan's comebacks are an inspiration not only to me, but a lot of cricketers in India as well.
It tells everyone that keep believing in yourself, keep working hard and eventually if you are good enough, you will be there.
This season, being named captain of Baroda, did the extra responsibility bring out the best in you?
Absolutely! I wanted to personally do well for myself when I became captain, but at the same time I wanted the team to do well. I wanted to go out there and express myself. I told my team to do it as well because when you do that, you stay in a positive frame of mind and you do well most of the times.
Leading the side has helped me. I am able to play freely. Sometimes captaincy puts pressure on you, sometimes you are able to play with freedom. For me, it has helped in a positive way.