'Rahulbhai told me to manage my mental energy better.'
'He said I was thinking about the game too much, hence I am not able to manage my mental energy and it is resulting in mental fatigue.'
'I am putting too much pressure on myself. He believed that was harmful to me.'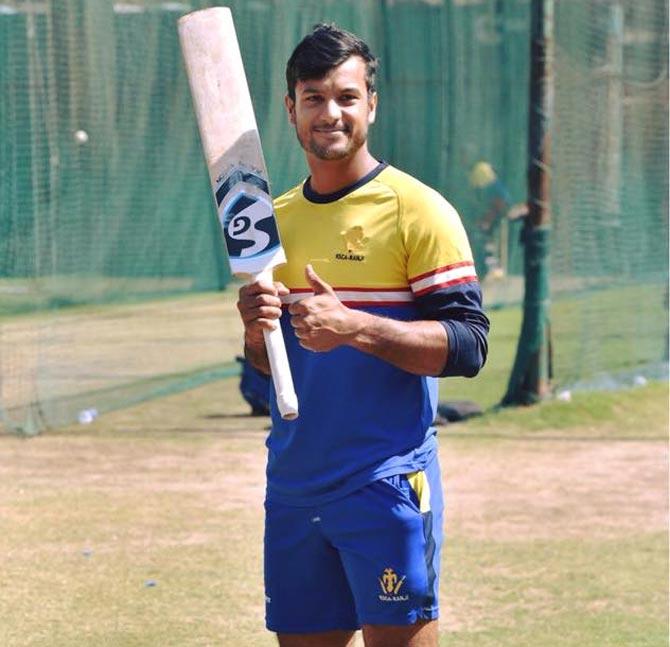 IMAGE: Karnataka batsman Mayank Agarwal has enjoyed a stellar season in domestic cricket. Photograph: PTI
Karnataka's opening batsman Mayank Agarwal has been unstoppable this season, but despite his mountain of runs -- 2,141 runs in the ongoing domestic season so far -- the selectors were strangely not satisfied.
After an indifferent start to the season, when he registered two ducks against Hyderabad, the 27 year old turned things around in style.
The right-hander score a massive 1,160 runs in the Ranji Trophy followed by 258 runs in the Mushtaq Ali Trophy T20 tournament.
The run feast continued as Mayank amassed a record 723 runs in eight one-day matches in the Vijay Hazare Trophy.
In the process, he broke Sachin Tendulkar's long standing record -- 673 runs in the 2003 World Cup -- for the most number of runs in a List 'A' tournament.
Intriguingly, he failed to find a spot in the Indian team for the T20 series in Sri Lanka, also featuring Bangladesh.
Chief Selector M S K Prasad revealed later that Mayank has 'now definitely got himself in the mix' and that 'he is now in the queue' for selection to the Indian team.
Mayank would rather dwell on the positives and discuss his dream season than talk about selection and other matters beyond his control.
He plans to continue his scoring spree in the Irani Trophy where he represents Rest of India and keep pushing his credentials for a place in the Indian team.
Rediff.com's Harish Kotian spoke to the run machine.
More than 2,000 runs so far. Not bad for someone who was living on the edge at the start of the season.
How did you turn things around?
It was a lot of hard work and letting go of the fear of failure.
The combination of a lot of things helped me do well this season.
Did the work you put in during the off-season last year help you during those tough times?
My personal coach R X Murali and I put in a lot of hard work during the off-season, we did a lot of situational-based training.
That created a lot of self awareness about my game and my mental pattern. That was the kind of training we had planned this year and I am glad it paid off.
What kind of training did Mr Murali and you do?
He used to throw about 1,000 balls every second day. We used to train for 3, 4 hours every day.
Then we talked for nearly an hour to try and understand the pattern and see how we go about things, creating different situations, practicing it over and over again.
It was a lot of hard work, but I am happy it all worked for me.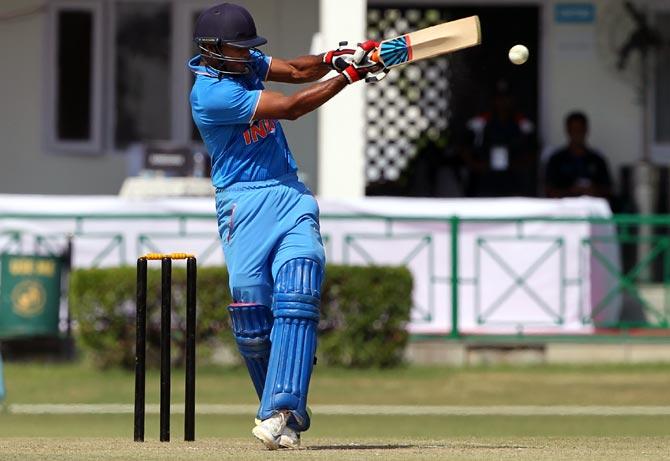 IMAGE: Mayank in action for India 'A'. Photograph: BCCI
Did you also work on some technical changes ahead of the season?
I don't think there is much you can do, maybe minor changes, but the major part of the technical thing was done in the last two years.
This year it was not about the technical changes, it was more about the mental pattern and understanding of the game, creating awareness about yourself.
The most amazing part about your success has been that you have been scoring runs in plenty across all three formats.
How difficult is it switching formats but at the same time maintaining consistency?
The basics are the same, whether you play four-day or five-day cricket or if you play one-day cricket or T20 cricket.
It is about the game plan and it is about your mindset and the kind of role the team gives you.
Depending on that I feel the practice sessions in the team tournaments are crucial.
I am not saying it is easy, it is quite tricky, but I think the key lies in how well you have used your practice session during a tournament.
Is getting your mental set-up right important?
You have spoken to Rahul Dravid on this aspect. What has his advice been?
Mental training is very important. After a point of time, it is all about your mindset, how you can read different situations and understand the game and make your moves.
With Rahulbhai during my time with the India 'A' team, he told me to manage my mental energy better.
He said I was thinking about the game too much, hence I am not able to manage my mental energy and it is resulting in mental fatigue. I am putting too much pressure on myself.
He believed that was harmful to me. After having that conversation, after understanding what was said, I applied that advice from Rahulbhai this season and it is bearing fruits.
Would you say this desperation inside you to do well didn't let your relax or enjoy the game as much as you wanted to?
I wouldn't say that, but like I said if you are thinking about the game too much and tend to overanalyse things, then you are spending too much energy.
Karnataka have won quite a lot of titles in recent years and has seen several players selected to the Indian team.
Was that motivation to raise your game?
In a team sport it is all about winning. I am glad we have won trophies because that is something we will all look back and cherish.
For me, it is all about winning trophies as a team. The more we can do that, the better it is.
Watching team-mates like K L Rahul, Manish Pandey make it to the Indian team, does it spur you on to work harder and perform even better?
I am extremely happy for them. I feel really nice when they play for the country and they are performing.
They are nice people and when they come back to play for Karnataka, they share their experience and that is something I look forward to.
The highlight of your batting this season has been that once you got off to a start, you have made it count.
What is the key to scoring triple centuries or the big hundreds, something which you seem to have mastered?
I guess it's more about the game plan.
For me, in four day cricket it has got to do with the number of balls I play.
I know that if I play more number of balls then I will get to certain amount of runs.
If you go on and get something bigger, then it takes care of the rest.
You played a cracker (90 from 79 balls) in the Vijay Hazare final against Saurashtra.
We were stuck at the start. Saurashtra's bowlers were not giving us anything loose. (Ravikumar) Samarth and me thought we will build a partnership, but we were not getting any loose balls.
That's when I decided to take the attack to the opposition.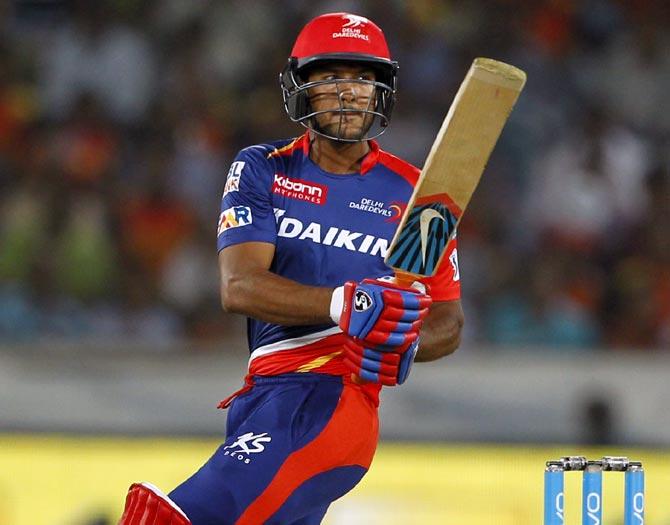 IMAGE: Mayank in action for the Delhi Daredevils during IPL-9. Photograph: BCCI
Does dominating bowlers come to you naturally?
I would say it is more about reading the situation and understanding what you can do.
As a batsman it is about putting the pressure back on the bowlers.
Sometimes you have to slow down and understand the situation. Bide your time like we did in the Vijay Hazare final.
You have to build a partnership and then understand what else can be done and what the way forward from here is.
So it is more about reading the situation and playing accordingly.
Tell us about your experience of playing the IPL. You have played for a few teams. What have you learned mingling with the top international players?
The IPL is a great platform and a great learning experience for all of us.
To share the dressing room with the international players who perform day in and day out, to see how they go about their innings and to get feedback from them and learn from them is a big thing.
This year you will play for the Kings XI Punjab where you will get a chance to get close to Virender Sehwag, your favourite cricketer. How do you look at that opportunity?
I am really excited to be playing for Kings XI Punjab. I am looking forward to having a lot of conversations with Virender Sehwag during the IPL.
I want to talk to him about batting, his mindset and a lot of other things.
There has been a lot of talk about your not being picked for the Indian team despite your consistent performances.
How do you block such distractions and just focus on the game ?
You have to focus on the game. You have to focus on the thing at hand and try to stay in the present. That is something the sport has taught us.