Stuart Binny on how he stays motivated despite not getting enough playing time with Team India, and his father's role in shaping his career. Harish Kotian/Rediff.com reports.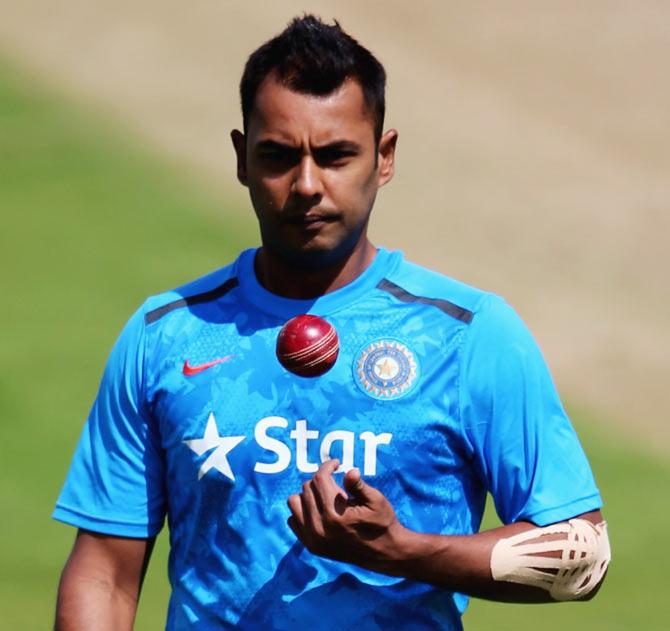 He has the best bowling figures in One-Day Internationals, yet Stuart Binny is unable to find a permanent place in India's squad.
Son of legendary India all-rounder Roger, he figured in the squad over the last 18 months but failed to make it to the playing eleven on most occasions.
Last June, the medium pace all-rounder registered amazing figures of six for four against Bangladesh in Mirpur in a low-scoring match but the showing hardly counted as he continued to occupy the bench more often than he was out in the middle.
Indeed, the 31-year-old has had a fair share of ups and downs.
After a couple seasons for Karnataka in domestic cricket, he signed up for the now-defunct rebel Indian Cricket League, in which he played two seasons, before returning to the fold after accepting the amnesty offer from the Board of Control for Cricket in India.
Since then the right-hander has emerged as one of the most consistent performers for Karnataka, in domestic cricket, and Rajasthan Royals, in the Indian Premier League.
Now, the upcoming Zimbabwe tour gives him another opportunity to stake claim for a permanent place in the playing eleven.
On the eve of the team's departure for the short tour, comprising three ODIs and two T20Is, Binny spoke about how he stays motivated despite not getting enough playing time and his father's role in shaping his career.
The Zimbabwe tour is another opportunity for you to seal your place in the Indian team. How are you looking at it, since you haven't had enough opportunities at the international level?
Obviously, it's good to play for India; it's been a dream.
I have been in the Indian team for a year-and-half now. I got a few opportunities and, hopefully, this tour will be better opportunity-wise. I am looking forward to a good tour.
We don't know what the wickets are going to be, what the combination is going to be. I have never been to Zimbabwe before so I don't know what the conditions are going to be like. I have heard it's similar to South Africa.
If that is the case, then, probably, my role will start to come in a bit more, especially with the side that we are going in with, including one all-rounder.
As you said, it is a great opportunity for me to bowl my 10 overs in international cricket and bat at No. 6 or No. 7.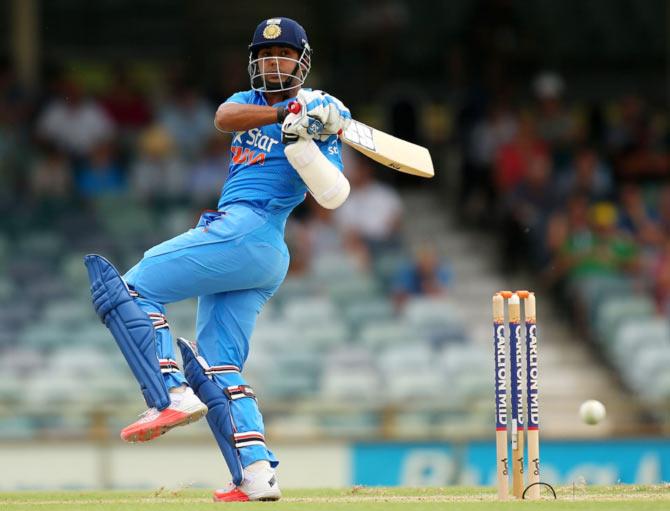 Were you frustrated when you were not getting enough opportunities? At the World Cup you did not get a single game?
I won't say it's frustrating, but it's a bit difficult at times. But, again, as I said, whatever opportunities come I have got to take; I have got to be prepared to take that opportunity. It may come in a month, it may come in six months' time. I wouldn't rather be doing anything else than be part of a set-up like this. So, at the moment, I am very happy.
What areas do you need to improve to get a permanent slot in the Indian team?
I had to go back and work on my bowling when I first came in. I was out of the team for three-four months before I came back into the ODI team again. I had to work on my bowling, which I did and the results are coming.
Fitness is also something I have worked on, especially because I know I have to bowl a lot more if I want to play for the country.
For Karnataka, when I used to bowl I had four seamers with me so it was a lot easier and the workload was less. But, as I said about the fitness, I have got a lot leaner and a lot fitter because I need to bowl a lot more.
In some games you opened the bowling, while in some you bowled just a couple of overs and batted at No. 7. Do you know what kind of a One-Day player you are and what's your role in the team?
I know my roles are very clear; it's for me to chip in with both bat and ball; it also depends on the situation that I get in a game.
When it comes to opening the bowling, it is something that we have spoken about before I did it. I worked on it for a couple of months before I opened the bowling for India. It's a role I have enjoyed. I am a bowler who swings the ball, and in ODIs you can swing the ball before the 10th over; after that you don't get too much even with two new balls.
When it comes to batting I haven't yet batted at No. 5; I have batted at No. 7. It's been a good role, one that I have played through most of my career.
I have batted at No. 7 for Karnataka also and I have had my success. It's a role that I enjoy. I am very clear with what roles have been given to me in this team. Hopefully I can go out and perform the role.
You have done well for Karnataka and been one of the important members of the squad for the last so many years. However, in the Indian team you rarely get a game. How do you keep yourself motivated?

It's not easy sometimes when you are on tour and you don't get to play. But, as I said, practice makes you perfect, so you practice and train hard regardless of whether you are going to play or not.
I don't worry too much on whether I am going to get an opportunity in the series. My job is to play for the country as long as I can and every opportunity I get I look to go out and perform.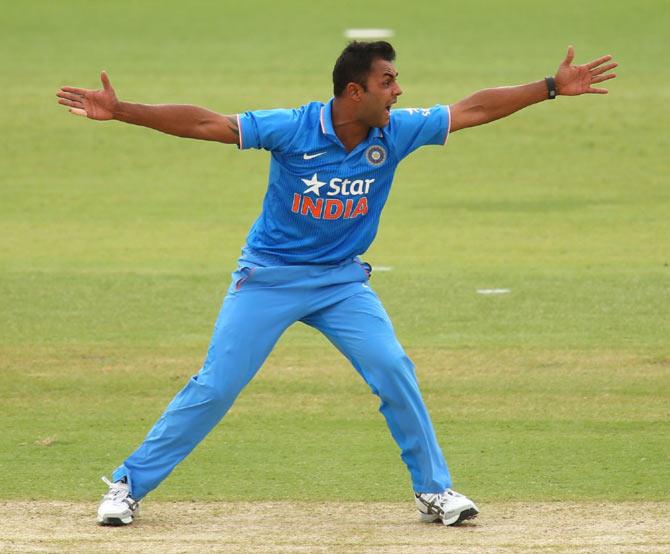 How difficult is it coming in to play after sitting out a few games and with all the pressure on your back, knowing well that you might not play the next game regardless of how you perform?
I think that is what brings the best out of you. I knew for a fact that I would play a lot less in India and it has happened. I play mainly when we go abroad. The game that I have, they say, suits me abroad.
I think even in India I can prove to be someone who can bowl that seven-eight overs you need. I don't really think about whether I am going to play the next game or not; it's about grabbing that opportunity. If you are going to think about the next series or the next game I am probably going to miss and slip that opportunity. So I try and take and finish off that particular series or that game.
How do you approach a game when you called upon to play?
See, I have got roles to fulfill. Maybe, as an all-rounder, I have got to bowl my 6-10 overs in my game and it doesn't matter whether I am the third bowler or the fourth.
When it comes to batting, it is simple for me, whether I finish or sometimes when we are in trouble, like we were in the tri-series in Australia where we had to consolidate and bat overs instead of playing my natural game.
I have played 10 years of Ranji Trophy so I kind of understand the conditions, the game and the role I have to play and I switch up and down accordingly.
What is tougher, getting selected for India or getting into the playing eleven of the team?
It's not tough; it is something that, as I said earlier, the opportunity that you need. I think everything is good; whether you get selected or not, you are getting the opportunity to represent your country, which is important.
Do you speak to your father, Roger, about your game? What's his advice?
I grew up with him being my only coach. He was the guy who coached me when I was 10 years old. I have had thousands and thousands of chats about the game and how I should approach it -- especially when I went into international cricket -- about what I should expect. So I came in with a lot of knowledge.
And talking about selection, it is very simple. If I have had the runs on the board, I have got picked; if I haven't, then I have not got picked. It hasn't been a journey for me; it has been up and down but I have enjoyed it.
He [his father, Roger] being a selector is something which people say was easier, but it wasn't actually easier. It put a little more pressure on me. I have lived under his shadow my whole career and I have enjoyed it and proved some people wrong.
As an all-rounder, who was your inspiration?
When I was growing up I watched Jacques Kallis a lot. He is someone whom I watched a lot, as to what he was doing. We are both very different when it comes to batting. He batted in the top order, I bat at No. 7. Our roles are different, but for someone who did it for 10-12 years and to be successful in international cricket, he was someone I looked up to.
Photographs: Getty Images