In the second part of an interview with Managing Editor Sheela Bhatt, Ashwell Prince talks about his fitness regimen, Sachin Tendulkar and Rahul Dravid.
What is your daily routine like, at home?
I am very down to earth. I recently married Melissa [Kistensamy]; she is a student. We were dating since the last three and half years. Our marriage is just a month old (this was in July). I had to do a lot of jogging and running around during my honeymoon because I have to stay fit.
In the morning my wife or I make breakfast; never a heavy breakfast. Only once a month I have bacon and stuff like that. Normally I have fruits, cereals and porridge for breakfast. It's boring, but you have to be fit. A cricketer must not have any flab anywhere. At 9 am I go to the gym. We have a fixed programme to follow. I am good in weights, but I am not good in a long distance running. I prefer fast running, but not 10 kms and stuff like that. I like music and normally hear R and B [rhythm and blues].
After two hours in the gym I come home at lunchtime. I drive my own a car. I don't keep security around me; it's not like India. It's totally different in South Africa. In public places people do recognize us. They may or may not ask for an autograph, but, normally, they leave you alone.
I take a very light lunch; my wife prepares it. She makes lovely Indian curries, not very hot. She also makes rotis and naans. We are professionals; we can't have a heavy lunch. We take good, tasty, but light lunch. My wife is an Indian; she has an Indian background, and is a Christian.
I like to play golf. Many of the South African players play the game. Herschelle Gibbs, Graeme Smith and [Jacques] Kallis all live in Cape Town. I don't like nightclubs. I like barbecues. I like to invite select people to my house. I don't like to talk to people when the music is too loud. I don't drink or smoke, so I don't like an atmosphere filled with smoke. That's the way I have been brought up. I read the Bible and believe in god.
Your thoughts on the Indian team?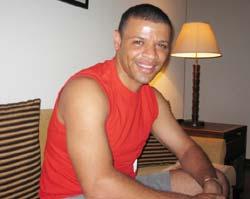 The Indian team is good. I have been to India. The atmosphere in India is like nowhere in the world; it is better than anywhere else. If you are in a hotel, cricketers are bombarded with people searching for autographs. It's just not like anywhere else in the world. In Australia and the West Indies people love cricket, and there is lovely cricket being played, but it's not like India where people bombard you. I don't know why is it so, but in India, cricketers are next to Bollywood superstars. I enjoy India!
You have some best players, like [Sachin] Tendulkar, [Rahul] Dravid, Anil Kumble and [Virender] Sehwag who are very good players. The matches against India will be tough, but we look forward to win; that's all!
As a batsman, how do you see Dravid and Tendulkar's technique?
Tendulkar is a very talented batsman. He has got a strong mind. He does things that very few people can do. He can hit the ball any which way, as a very few people can do. One ball Tendulkar can hit it to four different places, wherever he chooses to hit it.
Dravid is called 'The Wall' in India, because he can spend long hours on the wicket and can have long hours of concentration. He never gives his wicket away. I like Dravid, because he has a strong mind that I prefer in cricket. I am not saying anything bad about Tendulkar. He too has a strong mind. He might be having more talent than Dravid, but Dravid's record is good as well; very good. Maybe even as good as Tendulkar's. I like guys like Dravid, because he has a strong mind. It tells me a lot about a person.
What else you are looking for in life?
Children. I think children are a gift of god. I want a family. I want to travel with my wife to India to find her roots.
Read Part I of the interview