South Africa, says JACQUES KALLIS, have a miserly off-spinner, a nagging and experienced left armer and a wicket-taking leg spinner in Imran Tahir.
I have never waited so long for a game in my life! We have been in India for over two weeks and now, finally, the moment is here.
To be fair, none of us have been caught by surprise by the long wait to get the tournament under way. We first saw the schedule many months ago and we discussed our approach and strategy on several occasions, so we all knew how we would spend the time.
Most cricketers have mental switches for 'on' and 'off' mode, and many of us didn't flick the 'on' switch until a couple of days ago. Before that we trained and practised hard, but we had individual projects and targets we were aiming to achieve, so we have not spent a fortnight just thinking about the West Indies.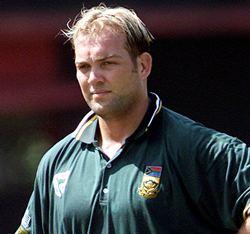 It's natural to think of the frustrations waiting so long to get on the field, but it's worth mentioning the many bonuses of being one of the last teams to start. Cricketers always have little niggling injuries and, although we had 15 fit men available for selection when we arrived, everyone is now just that little bit physically stronger and fresher after the break.
Also, spending so much time together has given us a chance to bond and become even closer as a squad. It wasn't something that we deliberately set out to achieve but it has happened naturally and we now have no doubt that we are heading in the same direction and working for each other towards the same goal.
- S Africa confident, but wary of Windies
In my four previous World Cup campaigns there was always a bit of a sense that we had two teams -- the 1st XI and the replacements, or reserves. I never thought that was a flawed policy in any way, either at the time or afterwards; it was just the way it was. We had coaches and captains who believed very strongly that everybody in the squad should know exactly where they stood and what their role was.
This time, however, things are very different. We have 15 men genuinely competing for a place in the starting XI and I'm loving the new atmosphere. Even our 'reserve' wicketkeeper, Morne van Wyk, is one of the best top order batsmen in the country and is good enough to challenge for a place anywhere in the top order.
There has been much speculation about how many of our three frontline spinners we might play. All I can say at this stage that it's a fabulous dilemma to have! A miserly off-spinner, a nagging and experienced left armer and a wicket-taking leg spinner in Imran Tahir.
The other bonus for me is that my own bowling is likely to feature significantly in the pre-match planning and I'm very happy with that because I'm still very much an all-rounder; I'm as physically fit as at any time in my life and I want to be involved.
The West Indies? We have nothing but respect. And if you expect me to single out Chris Gayle as the main threat, you will be disappointed. Many people have made the mistake of being distracted by the big man and taking their eyes off the other match-winners in their team. We are not making that mistake.
- Hawkeye Communications