I was never the best pupil when it came to sitting exams at school, but I wish I had known back then what I know now because I might have done a bit better!
If you do your studying and preparation as well as you can, then there is nothing to worry about when you sit down to write the paper. Sure, you can still have a bad day for whatever reason, but there is no reason to feel nervous if you have done all you can beforehand.
Unfortunately, there were no exams in 'cricket' back then in my childhood -- otherwise I might have done quite well. Now, though, as a team, we have done our studying and we have completed our practising as well as we possibly could for today's game.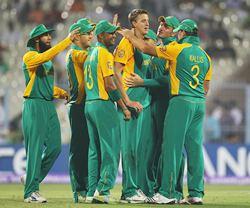 That doesn't mean to say that everything will go according to plan -- it rarely does over the course of 100 overs -- but we are calm and secure in the knowledge that we are ready and have left nothing to chance.
I have always admired New Zealand teams, ever since I first played against them. They are 'street-wise' and always seem to have an unexpected trick or two up their sleeves, and I enjoy that.
One of their greatest assets as a team is the way they play for each other and obviously care for each other. New Zealand has a great team spirit and they never give up. Senior bowlers like Scott Styris and James Franklyn are clever at taking the pace off the ball but they also have Tim Southee who can be quick.
Dan Vettori and Nathan McCullum form an excellent pair of spinners while Ross Taylor, Jesse Ryder and Brendan McCullum all have the ability to take the innings away from you and seize control in the early overs. And let me not forget to mention Jacob Oram…
I hope I have made it clear that we are not under-estimating our opposition!
In previous South African teams we relied upon three or four key players. I know that is not the case now. I wouldn't have the slightest concern or doubt about a single member of the 15-man squad in the starting XI, irrespective of age or experience -- or the occasion.
The format and logistics of the tournament is becoming more and more interesting by the day -- it's going to be a tight squeeze getting either us or New Zealand to Colombo in time for the semi-final on Tuesday! Apparently we are not booked to travel until Sunday afternoon.
But that is neither my problem nor my concern -- we have good people to take care of the planning and I have a very important match to prepare for.