Far too much has been made of South Africa's 'habit' of choking, says JACQUES KALLIS. 'The only thing we were guilty of, perhaps, was wanting to win the World Cup too much.'
All-rounders have been on the decline in international cricket for over a decade, and although I don't have the actual figures at hand, there appear to be fewer in this tournament than at any of the other ICC events I have been lucky enough to participate in.
Of course, it depends on how you define an all-rounder. There are as many batsmen who can also bowl a bit, and bowlers are becoming more and more proficient with the bat as the years go by. But most cricketers have a very clear priority and concentrate on one discipline far more than the other.
I can understand that trend, I really can. Over the years I've read countless stories of all-rounders who have been forced to give up one form of the game, or to concentrate on their batting because their bodies are not baring up to the rigours of the ever-expanding international schedule.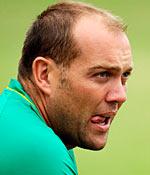 On the one hand I must say I have been lucky with regard to serious or long-standing injuries, but on the other hand I wouldn't want people to think I was just born lucky! I might have been blessed with a durable and long-lasting chassis, but I have also worked very hard over the years to maintain it in reasonable working order. Like a car, I need regular servicing -- and I can't drive around at full speed all the time!
The benefits of having a 'front line' all-rounder (the definition, I suppose, is someone who can bat in the top five and also be relied upon to bowl between seven and 10 overs) is still very obvious to most teams. It provides the captain with alternatives and, in some cases, allows the team to select a potential match-winner who might also have a bad day and need some support.
A raw fast bowler might rip out two or three early wickets, or an attacking spinner might do so in the middle overs, but they might also be expensive.
Likewise, every captain would like to pick a batsman capable of scoring 70 or 80 off 45 balls, but he might also feel more inclined to take that 'risk' with an all-rounder or two as 'insurance'.
All of that makes it sound as though the all-rounder never fails -- not true!
I am just as capable of making a duck or going for 10 an over as the next man, the only difference between me and the next man is that (hopefully) I won't do both in the same game.
Although South Africa has endured some heart-breaking moments at World Cups over the last couple of decades, and we have certainly had moments where we have not responded well to pressure, I remain convinced that far too much has been made of our 'habit' of choking. The only thing we were guilty of, perhaps, was wanting to win the World Cup too much.
I still want to win the World Cup just as much as I ever did -- as much as I did when I watched our country's first one as a schoolboy back in 1992 -- but I am more relaxed before this one than any of the others.
It is my fifth, after all, and I'll be doing everything I can to help the 11 first-timers in our squad to relax, enjoy the occasion and welcome the pressure and weight of expectation, which inevitably comes every four years.
- Hawkeye Communications/Chivach Sports