I would like to make one thing clear at the outset given all the talk about India being runaway favourites for the World Cup. Bangladesh, especially in Bangladesh, is not a team to be taken lightly. The players under Shakib Al Hasan are a tight outfit, young, sure and very good. They have nothing to lose, they have the confidence of knowing they have beaten big-name teams and made the next round in the past and, importantly, they are playing at home.
Having said that, India are clearly the favoured team in the 10th World Cup's opener.
The trick for the Indians will be to hold their nerve right through the event, perhaps not so much now, as in the knockouts. This format, though, makes it a lot easier to get to the quarter-finals and teams, logically, would be looking to peak as they get closer to the next round.
But for the moment, they'll have to concentrate on getting from one game to the next and I think India did that well in the warm-ups, with very professional displays. While we shouldn't read too much into warm-up games, they should hopefully have ironed out any last minute niggles that players had and got themselves into World Cup mode.
How India will play ball
While a playing XI is picked on the basis of conditions, I would be surprised if Mahendra Singh Dhoni doesn't go in with a 2-2 bowling combine. Of the seamers, Zak (Zaheer Khan) really picks himself and Munaf Patel's form should give him the edge over Ashish Nehra and S Sreesanth for the first game.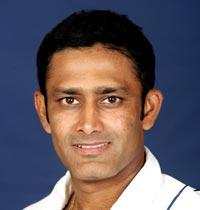 As far as the spinners go, I think it would be Harbhajan Singh, of course, and Piyush Chawla. I've been asked about Chawla's inclusion after being out of ODIs for very long enough times, my opinion is that a leg-spinner is needed, especially for the middle overs and to offer you variety. I thought Amit Mishra was ahead of him in the selection stakes, but I suppose that even though Amit did noting wrong, the selectors had their reasons to go with Chawla, perhaps because of his batting lower down and fielding abilities.
The second spinner's role is really going to be critical in sub continental conditions because the middle overs, or the collection phase, will be crucial. Two things will be vital from a bowling perspective: First, for your fast bowlers need to get one or preferably two early breakthroughs (within the first 10 overs) and then, your pair of attacking spinners need to restrict batsmen and get a couple of breakthroughs in the middle overs, when people tend to collect singles.
Who, why, how?
India are lucky that in addition to the two main spinners, they have people like Virender Sehwag, Yusuf Pathan and Yuvraj Singh in the team for back-up spin options. About the question everyone's asking, while Dhoni's a man who finally goes by his own instinct, Yuvraj's left-arm spin, combined with his ability to turn a match on its head and his vast experience should give him the edge over Suresh Raina when it comes to picking No. 4-5. I think Virat Kohli's form gives him the No. 4 position while Yusuf brings in another off-spin option.
For the rest, we'll see how things pan out today. May the best team win.