'Do we want batsmen that can destroy records in Wankhede and Eden Gardens but cannot last a couple of overs against an average South African attack?' asks Aakar Patel.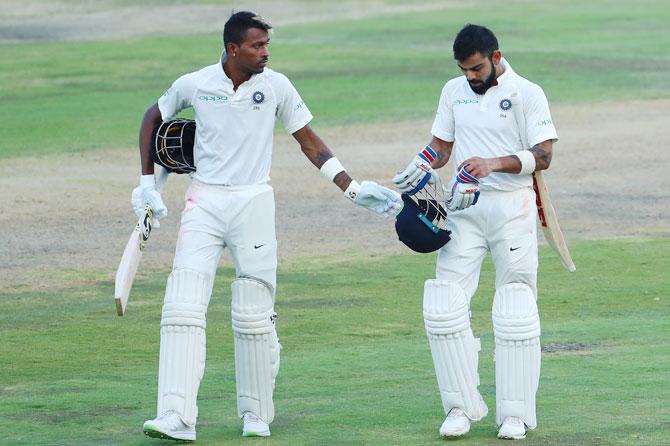 IMAGE: Hardik Pandya and Virat Kohli walk off the field at stumps on Day 2 of the second Test against South Africa at the Centurion, Pretoria, January 14, 2018. Photograph: BCCI
I couldn't watch much of the first Test against South Africa, which was a good thing.
I pretend to be a lover of cricket but what makes me watch is my nationalism: I cannot bear to watch when India is losing. Especially these days when our team is not as weak as it historically has been.
I can remember a time when our fierce support for the national side was disproportionate to its performance. That is no longer the case.
For a few moments on the fourth day, it seemed we would win, but the batters surrendered on a wicket which was bouncy but otherwise not particularly unusual for South Africa.
Why was this?
As the second Test has begun let us look at some aspects of our team. The most important facet is that it is today and has always been a batting oriented side.
If we name our great cricketers, we can list Gavaskar, Tendulkar and Kohli.
Pakistanis will likely say Imran, Wasim and Waqar.
Great bowlers are rarer than great batsmen. This is apparent when we try to draw up the all time XI list of players for nations.
To stay with the subcontinent again, I can see Pakistan's side as being: Hanif Mohammed, Saeed Anwar, Zaheer Abbas, Javed Miandad, Inzamam ul Haq, Younis Khan, Rashid Latif, Imran Khan, Wasim Akram, Waqar Younis and Shoaib Akhtar.
India's side will be: Gavaskar, Sehwag, Kohli, Tendulkar, Dravid, Ganguly, Dhoni, Kapil Dev, Kumble, Srinath and Zaheer.
Which side is more balanced and looks tougher to play (at least on paper)? Not ours.
The difference between the two sides is our weak bowling. I don't want to theorise too much but labouring bowlers are 'lower' in India than the batsmen.
There is a second aspect at play here. Because we are or have become a batting nation, we produce wickets that are meant for batsmen.
In a piece for the Web site cricinfo in 2009, S Rajesh did a statistical analysis that showed how unsporting our wickets are. 40% of tests in India end in draws, while only 7% of those played in South Africa are draws.
In Australia, another place where India has historically struggled, draws are only 11%.
Very large scores are not unusual in India.
In the first Test against South Africa, both sides scored about 200 in their first innings. This is something that almost never happens in our parts in the first innings.
Bowlers have almost no chance of producing such a result and this is why pitches like the one we lost the first Test on are called 'sporting' wickets. So named because they offer bowlers a sporting chance.
In the 10 places listed as the best venues for bowlers in Tests in the decade 2000 to 2010, there is not a single Indian city.
On the other hand, in the 10 places where the highest first innings average score has been made, there are three Indian venues: Kolkata, Bangalore and Mohali.
These conditions have produced an Indian national side that is weak in bowling and strong in batting but strong only in home conditions.
I am quite certain that there are many Indians who like to watch spinners and wickets that are low and slow and dusty.
But for me, as I am sure is the case with many others, it is the fast and bouncy wicket, where the ball can be seen carrying through for more than the first session, that is exciting to watch.
The other aspect is watching a genuine fast bowler trouble a good batsman. There is the physically dangerous side to bouncy wickets that makes watching a Test match in Australia and South Africa different from watching one in Sri Lanka or India.
I don't want to see the batsman hurt (bruised a little is fine) and this aspect makes the game exciting, and it is totally absent in India.
Let us be honest: Test cricket in India is boring and mostly unwatchable.
Changing this will have to begin with changing infrastructure.
Our stadiums are embarrassing compared to the ones in South Africa and Australia and England, though the BCCI is the richest body in cricket.
Feroz Shah Kotla is the ugliest Test ground in the world, full of cement beams and with advertising everywhere.
However it is the wickets that ultimately determine what sort of cricket we want.
Do we want medium pacers and spinners or do we want genuine fire-breathing quicks?
Do we want batsmen that can destroy records in Wankhede and Eden Gardens but cannot last a couple of overs against an average South African attack?
As I said, I suspect I watch cricket because I am a lover of the Indian cricket team and not cricket the sport.
I hope we win this second Test and the series. But even if we do, it will be because our bowlers have done well despite our reducing them to second class citizens.
Aakar Patel is Executive Director, Amnesty International India. The views expressed here are his own.