In the 35 Tests Kohli has led as captain, he has fielded 35 different playing 11s.
Sure, the chopping and changing worked in the sub-continent because the home conditions masked the deficiencies in constantly chopping and changing the playing 11, says Chetan Narula.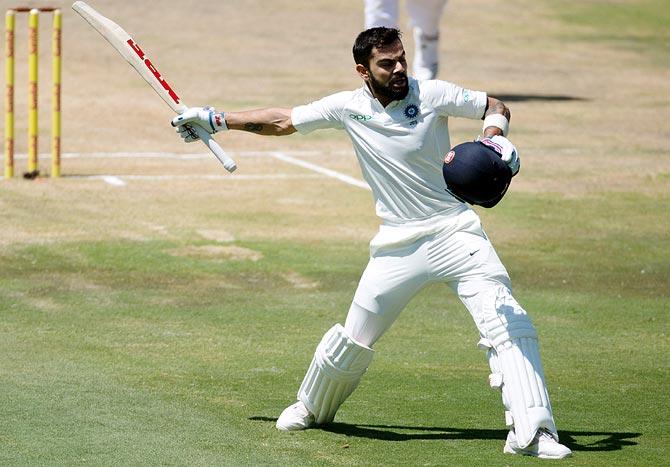 IMAGE: Virat Kohli who hit a classy 153 in the second Test at Pretoria. Photograph: BCCI
In December 2014, Virat Kohli first led India in Test cricket as interim skipper while M S Dhoni missed the Adelaide Test due to injury. Since then, he has led in 34 more matches.
In these 35 Tests, he has fielded 35 different playing 11s.
It had begun in Adelaide that December, when he picked rookie leg-spinner Karn Sharma ahead of the more seasoned R Ashwin.
Kohli, of course, has played in all these 35 Tests. Ashwin, surprisingly, returned post Adelaide and missed just the third Test at the Wanderers.
Ajinkya Rahane was third on this list, missing two matches owing to injury against England (2016) before he was left out for these first two Tests on the current tour.
As for the others, well, this has been a royal merry-go-round.
"Whoever plays should be good enough to go out there and do the job for the team. That's why we've got such a big squad because we believe in their abilities and they are good enough to be at this level," Kohli said in Centurion, explaining (or trying to) for the umpteenth time why he had got his playing 11 wrong again for the second match running.
Yes, India lost, again. The series is squandered, even as Rahane didn't feature in either Cape Town or Centurion.
Jasprit Bumrah played ahead of Umesh Yadav (who has played 36 Tests and was India's most improved pacer in the last two years), whilst Bhuvneshwar Kumar -- who took six wickets at Newlands -- was left out for the second Test.
Clearly, India did not take the field in both these Tests with their optimal 11.

IMAGE: Hardik Pandya reacts after being run out in farcical fashion. The all-rounder ambled into his crease and failed to put his bat down, only to be undone by a direct hit from Vernon Philander. Photograph: BCCI
The question to ask here is if they even know what their 'best' playing 11 is?
This issue is a prickly one, given how combative Kohli got in the post-match media conference after the 135-run loss in the second Test.
"What is the best 11? You tell us the best 11 and we will play it," he countered, almost fiercely.
The Indian skipper can answer questions in whatever mood he chooses to be in, as long as he answers them honestly.
Of course, he will be judged by the tone of his voice for there is decorum and a certain mutual respect that need to be maintained in such situations. This isn't about propriety though.
Instead, it is about results.
India had won nine consecutive Test series since 2015. So, a way of looking at things is that India have only lost their first Test series since then.
The other point of view being that this was their first 'real' overseas Test since Australia in 2014 and not only have they failed again, they did so in spectacular fashion.
Sample this: In four innings, Indian batsmen have scored only one century (Virat Kohli's 153 in Centurion) and three half-centuries (Hardik Pandya's 93 in Cape Town; Kohli's 54 and Cheteshwar Pujara's 50 in Johannesburg).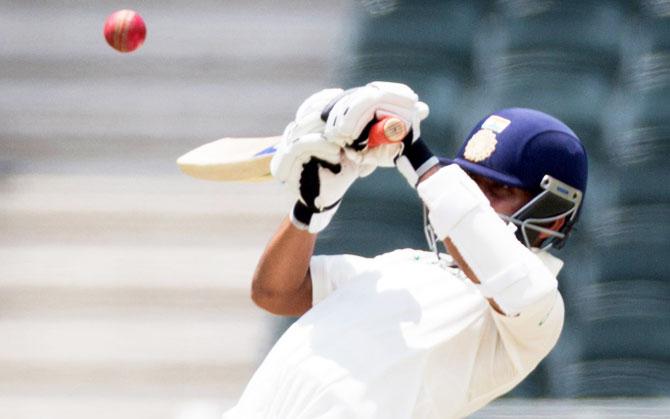 IMAGE: Ajinkya Rahane, not picked for the first two Tests, played some sublime shots in the Indian second innings in difficult conditions in the third Test. Photograph: James Oatway/Reuters
"Constantly changing your playing 11 doesn't help, but sometimes it can help counter the conditions. But have India fielded their best batting line-up as per conditions in the first two Tests?" asks former South African skipper Kepler Wessels.
"I feel they should have played six batsmen on both occasions, irrespective of the changes to the playing 11," Wessels adds.
Put this to Kohli though, and never mind the hurt of 2-0 in his voice, there will still be adamancy about the correctness of his methods.
Sure, the chopping and changing worked in the sub-continent because the home conditions masked the deficiencies in constantly chopping and changing the playing 11.
It didn't matter then if the openers failed, for Pujara would get runs, or Kohli and Rahane would, or even Rohit Sharma at times.
It didn't matter at all because the Indian skipper could unleash the spin twins Ashwin and Ravindra Jadeja at will and the duo chewed up every opposition line-up they countered in the last two years.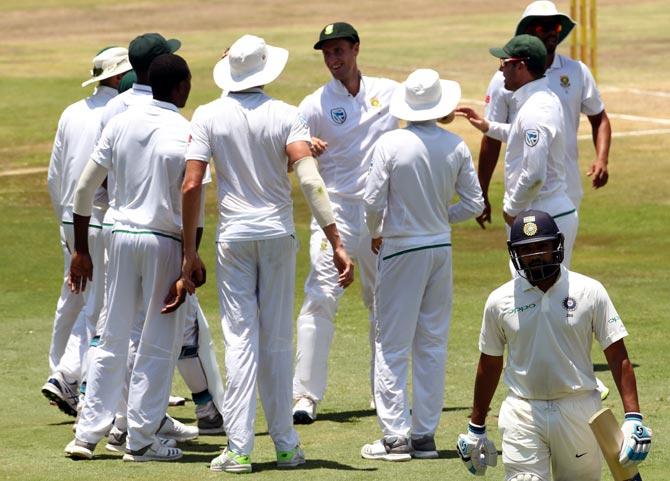 IMAGE: The South Africans celebrate Rohit Sharma's wicket in the second Test. Photograph: BCCI
It matters in South Africa because the openers cannot afford haphazard shot selection.
Pujara cannot afford to be run out twice in the same Test.
Rahane cannot be left on the bench two matches running while Rohit cannot be given another long rope.
Most of all, it matters because the batting simply cannot be over-reliant on Kohli.
It also matters because, after this despondent series' loss, the desire to truly win overseas will now have to wait for another time, particularly one when the Indian captain might just field his best playing 11.