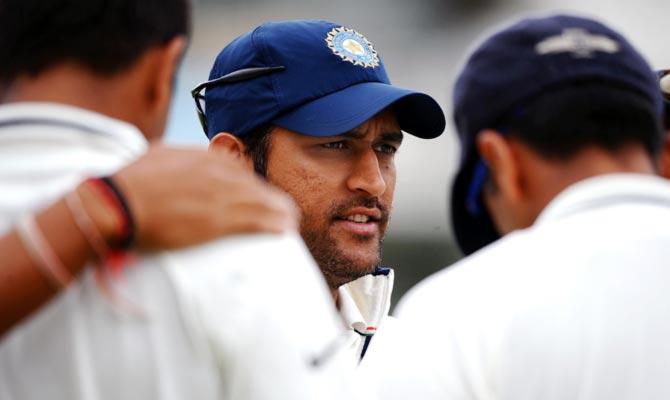 India captain Mahendra Singh Dhoni. Photograph: Laurence Griffiths/Getty Images
Only the Board of Control for Cricket in India, says Haresh Pandya, could have thought of inviting a team like the West Indies to provide practice to the Indian cricketers before they embark on a difficult tour of Australia for a four-Test series later this year.
It is becoming increasingly clear that when it comes to playing five-day Tests abroad, save Bangladesh, the West Indies and Zimbabwe, Indian cricketers appear to find them rather too boring, long and tiresome. At least it seems so if you check their record in the second decade of the 21st century.

They give the impression to have neither the inclination nor intensity to fight it out for five days. Consequently, many of them appear to be playing Test cricket outside India because, well, they have to. But you can sense that their heart is not totally in the game and their commitment and sincerity leave a lot to be desired.

How else can you explain their perpetual pathetic performance in the four Tests in England in 2011 and another four Down Under later that year? Then, in South Africa and New Zealand, they offered a mixed bag when they could have turned tables on the hosts.

In the recent series in England, they probably surprised themselves by winning the second Test at Lord's, after the first ended in a draw, and taking an unbelievable 1-0 lead. But before the reality of Mahendra Singh Dhoni and company winning a Test abroad against a tougher opponent could sink in, they surrendered the next three Tests in a jiffy, without offering even a token fight or resistance.

They must have heaved a mighty sigh of relief when the Test series ended. They were a transformed lot once they shed the white flannels and came back in their favourite blue as the one-day series began.

Shining like stars they usually are in Indian conditions, they thrashed their Test tormentors in the second and third One-Day Internationals after the first was washed out. Two matches are yet to be played, but they are in no danger of losing the series even if England bounce back, which is highly unlikely given the hosts' record in this format.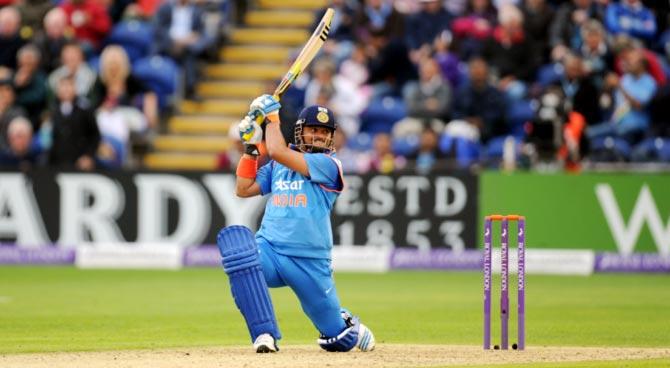 Suresh Raina hits out. Photograph: Stu Forster/Getty Images
The arrival of swashbuckling, rejuvenated Suresh Raina, who had been spared the torture of the Test series, seems to have lifted the morale of Team India, whose biggest achievement so far, more than two wins on the trot, is to render James Anderson, who came towards them like the crack of doom throughout the Test series, both ineffective and wicket-less.

The chances are that Dhoni and his boys will win the one-day series 4-0, weather permitting. And the crazy Indian cricket lovers, who are traditionally very kind and generous and forgiving, will pardon them of all their sins, welcome them back like heroes and resume pampering them in the fashion only they can.

And for the next two months at least our cricketers will be in their comfort zone, again, as the lowly West Indies are scheduled to tour India for five ODIs, one Twenty20 game and three Tests.

It hardly matters whether Dhoni will lead the side against the West Indies or someone else. What is predictable is that all our batsmen, from No. 1 to No. 11, provided they get to bat, will score plenty of runs, speedsters and spinners will reap a rich harvest and fielders will grab their catches.

Dusty bowls will be dished out to blunt the West Indies pace attack and aid the Indian spinners. Indian batsmen will score big, massive centuries and bowlers, particularly spinners, will take any number of wickets. Indian fans, as is their wont, will be jubilant again and hail their dear cricketers sky-high.

In victories and the resultant celebrations it will be conveniently forgotten how the Indian cricketers were thoroughly exposed by Anderson and Stuart Broad, among other English medium-pacers, with their speed and swing on the sporting wickets; how our leading batsmen were struggling for survival at the crease, let alone scoring runs; how our speedsters and spinners were reduced to an ordinary lot in the last three Tests, how our fielders were regularly dropping catches in the slips.

Doubtless, the predicted fresh form with bat and ball against the West Indies will give a new lease of life to most Indian cricketers who failed collectively in the Tests in England. It may also inject a new dose of confidence in some of them.

But the million dollar question, however, is what kind of confidence it will be? It goes without saying that such grand showings against haggard teams give only a false confidence and a sense of importance to the performers. It is one thing to score heavily and take a bagful of wickets against a weaker side in India, and quite another to perform even reasonably well against a strong team outside the country. The recent Test series in England affords a classic example.

Only the Board of Control for Cricket in India could have thought of inviting a team like the West Indies to provide some practice to the Indian cricketers before they embark on a difficult tour of Australia for a four-Test series later this year. The quadrennial 50-over World Cup, which India won under Mahendra Singh Dhoni on the subcontinent in 2011, is also going to be held in the Antipodes early next year.

Already Ian Chappell and Glenn McGrath have made Cassandrian prophecies that this Indian team, many of whose members seem to be living in a fool's paradise thanks to their seemingly high aggregates and averages, will be blown away 4-0. Chappell and McGrath have only echoed the fears of many, including Indians.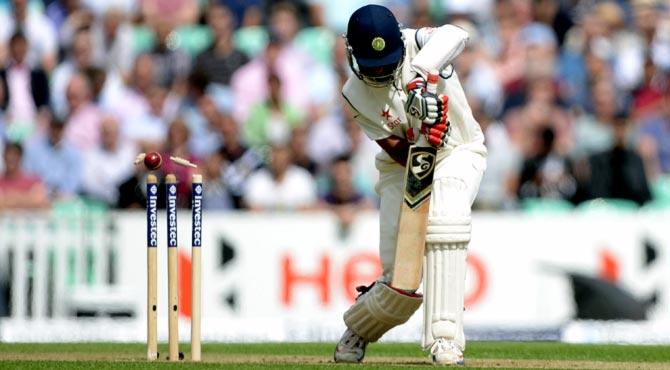 Cheteshwar Pujara is bowled by Stuart Broad during the fifth Test match. Photograph: Gareth Copley/Getty Images
Instead of hosting the West Indies, which will hardly serve any purpose, the BCCI should have thought of sending an India 'A' team to Australia or New Zealand and included in it some players like Cheteshwar Pujara, Virat Kohli, Ravindra Jadeja and Mohammed Shami to test their skills on challenging pitches there," a former cricketer told '>Rediff.com requesting anonymity. "They are still the key to India's scheme of things, in Test cricket too, and it is necessary that they regain their confidence and touch in an environment where they have to play against one of the world's most powerful teams."

Though Indian cricketers in general are happy in coloured costumes and relish shorter formats like ODIs and Twenty20s, it will be too much to expect them to defend their World Cup title Down Under. A single one-day series or a tri-series is fine, no matter whether in India or overseas, but this is the game's greatest showpiece event, where the creme de la creme of world cricket will parade their talents and spare no effort to win at any cost, whosoever are their opponents.

But confidence, faith, hope and optimism are great virtues and each time Team India enters a new cricket battle, it displays them in no uncertain measures, albeit before the beginning of actual action. Nevertheless, the fact remains that our cricketers do love shorter versions of the game far more than the long-duration Tests, especially when they have to play them in difficult atmospheres of Australia, England, New Zealand and South Africa, where wickets are green, bouncy and hard.

Maybe, it will be ideal to send our cricketers only to Bangladesh, the Caribbean and Zimbabwe to play Test cricket and invite the rest of the countries to India and beat them to a pulp on our dusty bowls.

But one wonders whether even this formula will always work. You do not have to go far to see the point one is making. In the 2012-13 home series, India defeated England by nine wickets in the first Test at Ahmedabad, but lost the next two in Mumbai, by 10 wickets, and Kolkata by 7 wickets, with the last in Nagpur producing no result. In short, like magnanimous hosts, we gift-wrapped the series to our honoured visitors after looking set to win it.

And to think India is playing Test cricket since 1932.