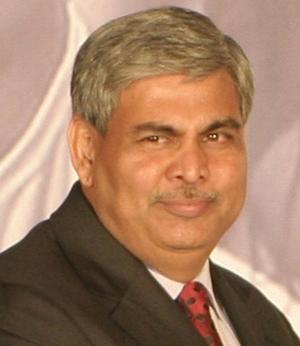 In a cricketing establishment that attracts publicity and glamour like a magnet, Shashank Manohar, president of the Board of Control for Cricket in India (BCCI), is a novelty. He shuns the limelight like the plague.
On Monday, the 40-minute speech this 54-year-old lawyer made defending BCCI's actions against Indian Premier League (IPL) Commissioner Lalit Modi is probably the longest he has been the centre of media attention since his appointment as BCCI chief in 2008.
Manohar's low profile is partly a personality trait and partly a conscious decision. When he took over as BCCI chief from the all-powerful Sharad Pawar, who is said to have hand-picked him, he quit smoking, drinking and chewing paan paraag. He was also determined not to be glitzy. He doesn't carry a mobile phone, wear a watch, didn't have a passport until 2007 and his first foreign trip was to Dubai in 2008 to attend the International Cricket Council meeting.
Few of his friends were surprised when Manohar declined to join in the Indian team's triumphant celebrations after it won the Twenty20 Cricket World Cup in September 2008, soon after he took over as BCCI chief. His only agenda, BCCI insiders say, is the development of cricket in the country.
This is scarcely as easy as it sounds, given the politics that run through cricket in India. His associates, including those who have known him from school, describe him as painfully honest and unafraid to stand up for what he thinks is right.
For instance, Manohar made it mandatory for a member of the selection panel for the senior cricket team to have played his last international match at least ten years ago. Inevitably, the move was strongly opposed, but the opposition subsequently subsided, an indicator of his ability to cope with the googlies of Indian cricketing politics.
Manohar's first tryst with cricket politics came when he took charge of the Vidarbha Cricket Association in 1996. He unwittingly hit big-time news when India was given a green-top for the Nagpur Test in 2003-04 against Australia, a boon to the fast bowlers from Down Under. Not surprisingly, Australia won that Test. That, of course, was when Jagmohan Dalmia, Pawar's rival, was in power.
During his tenure at the Vidarbha Cricket Association, Manohar quietly built a second cricket stadium of international standards in New Nagpur. It goes to his credit that nobody raised the usual questions about expenditure that crop up when such investments are made.
Lawyering is, quite literally, in Manohar's blood. He is the son of a leading Supreme Court lawyer and former advocate general of Maharashtra V R Manohar but has worked to build a reputation independent of his father.
Why should a lawyer with a reasonably flourishing practice in the Nagpur bench of the Bombay High Court turn to something as controversy-prone as cricket administration? The answer is a passion for cricket that prompted him to play a major role in organising inter-college tournaments.
When the IPL controversy broke, it was entirely in character for Manohar not to rush to offer comment after Lalit Modi decided to tweet the names of the stakeholders in the new Kochi franchise. Modi was hinting at a possible proxy involvement of then junior foreign minister Shashi Tharoor in the Kochi team, a controversy that spread to implicate Pawar and aviation minister Praful Patel's families.
As is his wont, Manohar checked all the minute details and held marathon meetings with Pawar and BCCI members before tightening the noose around Modi.
Indeed, where Modi strenuously worked the media with his version of events, Manohar said little, waiting instead for a post-IPL midnight coup to suspend the commissioner last Sunday. And even as Modi railed against Manohar, threatening to remove him from his post and approaching the Bombay High Court, Manohar remained firm that the meeting of IPL Governing Council would take place on April 26.
The provocation for Manohar's  speech on Monday was Modi's move to leak communications between the board and him, accusing him of breaching all propriety. Nevertheless, in a tacit recognition of Modi's criticism about lack of transparency, Manohar has launched a massive clean-up drive in cricket's most lucrative tournament. Succeeding here will be his biggest challenge yet.