'Is there any other batsman in the world who can hold a candle to Rohit Sharma in purely aesthetic terms?' asks Haresh Pandya.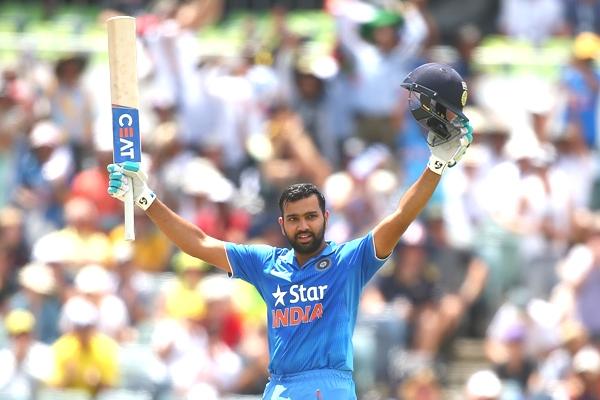 IMAGE: Rohit Sharma celebrates his century in the first ODI against Australia in Perth, January 12, 2016. Photograph: Paul Kane/Getty Images
The first thing that attracts you about Rohit Sharma at the crease is his posture. In no time he catches your attention with his lazy elegance. And when he swings his bat with a bit of dash and style and executes his shots with effortless brilliance, it is hard not to fall in love with his batting.
If connoisseurs continue to love Sharma regardless of his number of low scores, it is because of his artistic batsmanship and gift to create masterpieces. One wonders if there is any other batsman in the world, howsoever successful, who can hold a candle to Sharma in purely aesthetic terms.
But Sharma's batting is not all art, beauty and grace. The kind of raw power he exudes makes him a dangerous customer. Unlike the Chris Gayles, David Warners and Brendon McCullums of this world, Sharma is a dynamite in disguise.
One of the more endearing things about Sharma is he merely caresses the ball and creates havoc on the field. Of course, there is thunder and lightning when he is in a murderous mood and starts smashing the cherry savagely.
This dynamite exploded on Tuesday, January 12, and the result was a scintillating 171 not out in the first ODI against Australia in Perth. It is a different matter altogether that he still ended up on the losing side. The way Sharma batted revealed his deadly designs Down Under. The signs are surely ominous for the Aussies.
Sharma has played many such stirring innings in the shorter versions during his chequered international career, none more eloquent than his 209 (158 balls, 12 fours, 16 sixes) against Australia at Bangalore in November 2013, and 264 (173 balls, 33 fours, 9 sixes) versus Sri Lanka at Kolkata exactly a year later, making him the only player in history to score two ODI double hundreds.
Just last October he had hit a hurricane 106 (66 balls, 12 fours, 5 sixes) in a Twenty20 game against South Africa at picturesque Dharamsala, becoming only the second Indian batsman after Suresh Raina to make a hundred in cricket's latest and shortest format. Sharma and Raina are the only Indian cricketers to score centuries in all three international versions.
Sharma's first double hundred in ODIs paved the way for him to make his Test debut, against the lowly West Indies in Kolkata in November 2013, which he celebrated with a monumental 177 batting at No 6. He blasted another century (111) in the very next Test (Sachin Tendulkar's last) in Mumbai, becoming only the fifth batsman to achieve the rare feat.
It was as if Sharma had proved that he was comfortable in the longer version too and was relishing playing Test cricket as much as he did ODIs and Twenty20s. Doubtless, he raised the bar from the very beginning, irrespective of the fact that his brilliant start had come against a minnow like the West Indies.
But most of Sharma's subsequent performances in the heavyweight division of cricket, despite getting more opportunities than he deserved, have proved to be anticlimactic. In spite of enjoying the selectors' confidence and the full backing of his captains -- first Mahendra Singh Dhoni and now Virat Kohli -- he has never appeared in Test cricket the kind of confident batsman he definitely is in the shorter versions.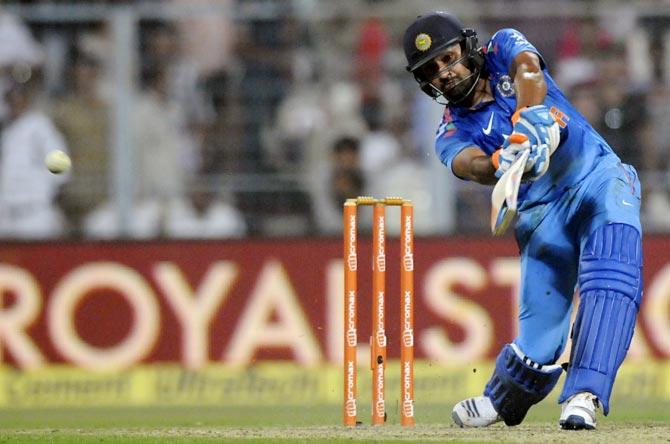 IMAGE: Rohit Sharma on his way to 264 against Sri Lanka at the Eden Gardens, Kolkata, November 13, 2014. Photograph: BCCI
Notwithstanding his undoubted genius, Sharma's hesitant start and almost laidback approach have proved his undoing more often than not. He has this fatal tendency to play audacious, nay reckless, shots even when his team is in difficulty.
He sometimes gets away with murder in the shorter duration formats because of the heavy restrictions imposed on bowlers. But in Test cricket, clever practitioners of the cherry sometimes expose Sharma's somewhat careless approach.
It is a pity that such an enormously talented and aesthetically appealing batsman has not done any justice to his genius in Test cricket, which still remains a true test of a cricketer's skills. Sharma is too rare a gem and India needs his services in Test cricket just as much as in ODIs and Twenty20s.
Unfortunately, the only constant about him with regard to Test cricket is his inconsistent performance. After his poor home series against South Africa late last year, even his staunchest supporters have been fearing that he may have played his last Test despite being just 28 still. This may be a bit too harsh, but the chances are Sharma may not get to play Test cricket again in the near future.
After all, the selectors cannot always be too kind and generous towards one particular player, overlooking his glaring failures. Sharma, who seems to be feeling comfortable in coloured clothes than in white flannels, has to change his approach a bit, without curbing his natural game, and make a few adjustments here and there to succeed in the serious business of Test cricket.
He has the correct technique, swift footwork, rich repertoire of shots, wrists of steel if not steely resolve, and the confidence -- which sometimes appears to border on over-confidence and brings about his downfall -- of a man who knows his ability and powers.
If Sharma can plunder runs with these very qualities in ODIs and Twenty20s, there is no reason why he should not succeed in the heavyweight division of cricket too. We already have Yuvraj Singh and Raina -- two highly gifted left-hand batsmen -- being typecast as limited-overs specialists and no sensible cricket lover will want to see Sharma complete the triumvirate.
Sharma is now mature and experienced enough to know what is best for him when it comes to Test cricket. Hopefully, he has learnt his lessons from his failures and will emerge as a totally new Test batsman if and when he gets another chance.
Meanwhile, fasten your seat belts and be ready to savour more vintage stuff from Sharma's majestic blade in the India-Australia series Down Under. He has already whetted our appetite with his pyrotechnics in Perth.