'It is easy to criticise the fast bowlers, but do they have the support they need to grow as bowlers? No!' says Chandresh Narayanan.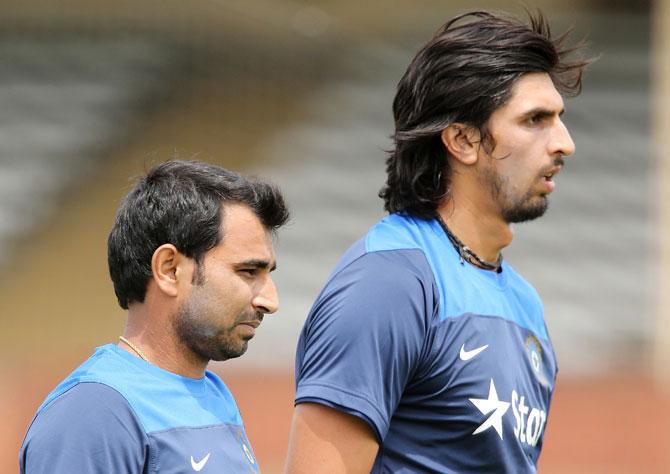 Image: India's Mohammed Shami and Ishant Sharma during a training session. Photograph: Morne de Klerk/Getty Images
With so many uncomfortable questions around India's bowling attack, attention has veered towards the men advising the bowlers.
The man chosen, since August-September 2014, to do the job is former India medium-pacer Bharat Arun. In his playing days, the mid-1980s, he was one of the many medium-paced bowlers who played for the country.
Arun featured in no more than two Tests and played 48 first-class matches. His bowling stats are modest, to say the least. 110 wickets in 48 matches, at an average of 32.44 and strike rate of 49.
Long after he ended his playing career, Arun became a coach. He was handed the responsibility of taking care of the age-group and 'A' sides over the past few years.
Most of those future Indian cricketers would have worked with him, but that is hardly the point. India's young generation of fast bowlers needs someone who has been there, done that, to guide them.
Most sides in the world, except England -- because they have an experienced pace attack -- and Zimbabwe -- because they cannot afford -- have either a celebrated former star of their own or imported one to do the job as bowling coach.
New Zealand have their fastest man ever, Shane Bond; Sri Lanka banks on their legend, Chaminda Vaas; Australia have gone to the original hit-man, Craig McDermott; Pakistan have the toe-crushing Waqar Younis as their head coach and Mushtaq Ahmed as spin bowling coach; Bangladesh have Heath Streak for guidance, South Africa have 'White Lightning' Allan Donald and the West Indies, Curtly Ambrose as consultant for fast bowlers.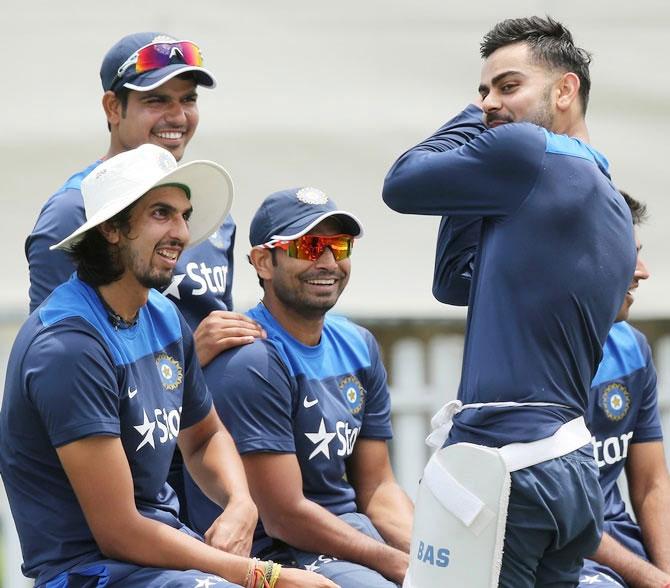 Image: Virat Kohli of India speaks to his teammates during nets. Photograph: Morne de Klerk/Getty Images
India is the only team to miss out on an opportunity to have one of their stars or a legend of the game to guide their young bowlers. That has resulted in them being without any support on the field.
India fields an inexperienced side these days, so to have no one of international experience in the dressing room further weakens the fast bowlers in the set-up.
It is easy to criticise the fast bowlers, but do they have the support they need to grow as bowlers? No!
In fact, since the concept of bowling coaches started in Indian cricket, former Australian fast bowler Bruce Reid and our very own Venkatesh Prasad are the only ones to have made an impact.
Reid made an instant impact on the tour of Australia in 2003-2004, while Prasad played a part in India's successful tours of England in 2007, the inaugural World T20 in 2007 and Australian tour of 2007-2008.
Gary Kirsten had Eric Simons, a modest former South African medium-pacer, to look at the pace bowlers. Then came Aussie hustler Joe Dawes, who was unceremoniously sacked last year following the England tour fiasco.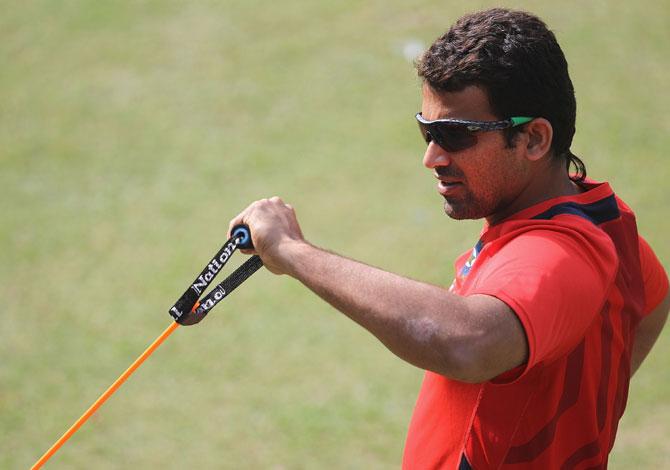 Image: Zaheer Khan during a training session. Photograph: Getty Images
There was none of note to help the Indian pace attack.
While it is a given that all great cricketers do not turn into great coaches, that is not necessarily true all the time. Kapil Dev and Greg Chappell had mixed fortunes as Indian coaches, but why does that stop other greats being looked at?
India should actively consider pushing Zaheer Khan into the role of pace bowling coach because he is the best the country had for close to two decades. He is a genuine hero for up-and-coming fast bowlers and helped India win Tests/series abroad.
India has the opportunity to make the change right now. For the first time in their cricketing history they have two bowlers -- Umesh Yadav and Varun Aaron -- bowling in the range of 150 kmph. This is the moment to seize and build to become a major power in all formats of international cricket.
Does India want to become a force in world cricket on the field, or is it happy to continue being just a power off the field?
The time to force a change is now and there is a clear opportunity to fast-tracking Zaheer into the mentor's role.
Indian cricket very rarely gets such opportunities; it must seize it before it is late.