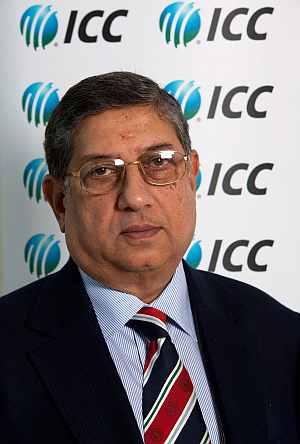 The least the man deserves is for him to do his job, says Shamath Mazumdar
N Srinivasan is a seasoned corporate man. What N Srinivasan is not, is a seasoned media man. At least not yet. He is not composed, crafty, gentle or articulate when speaking to the media, or about them. And that seems to have got the media's goat more than the fact that his son-in-law has been arrested for his alleged involvement in the spot fixing scandal.
The fourth estate in India has rarely seen someone, at least in recent times, who unabashedly speaks his mind regarding the views and opinions expressed by the media, and does not quite toe the line the media expects him to. He doesn't give 'exclusive interviews' to all news channels. His press statements are bare, cold and, at times, even aggressive with words like 'bulldoze' being thrown in which end up provoking the media all the more. N Srinivasan's response when asked why Gurunath was in the dugout when he didn't have any role in the team was just more fodder for the media. And fairly so.
However, is the media missing a trick this time? It seems that the only conceived redemption or victory in such cases is if the concerned person is made to resign. It is made to sound as if nothing substantial has happened until someone is made to resign. This is but a shallow victory. While the media has done a great job in unearthing and exposing scam after scam involving politicians and relentlessly pursuing it until some action takes place, has the objective been lost in N Srinivasan's case? Do we really want N Srinivasan to resign? What are we certain to gain following his resignation?
The big difference in the media trial of N Srinivasan and that of any other political figure is that in Srinivasan's case, he is not directly linked to the scandal, even by the media. And most importantly, he has promised that the inquiry into the charges framed against Gurunath would be an impartial and fair one.
While these are just words, imagine what would happen if he actually delivers on this promise. Imagine a press conference being held by the same N Srinivasan a month from now where he reveals the findings of the inquiry. Imagine if the allegations and charges are held true, and if all guilty are actually punished, including his son-in-law. That would be the real victory for the media and the cricketing fraternity to pursue.
Him simply resigning will not change anything. Nor should it be seen as any kind of victory. The focus and goal of all involved parties right now should be to ensure that all the guilty are punished, and adequately so. And this task will be more of a challenge for Srinivasan than to give up the position and power he currently holds in the BCCI. Asking him to resign before the inquiry will in fact be a more convenient situation for Srinivasan as there won't be any responsibilities attached to ensure the muck is cleaned up. Why let him go so easily?
For once, we have a chance to ensure and track that people in power fulfill their duties with a clear task at hand. Should we just let this chance pass by getting another administrator as a replacement? And with no guarantee that the other person will deliver.
Is it also fair to prejudge Srinivasan's honesty and fairness and assume that he will tinker with the investigation? With all the controversy surrounding him, even before the spot-fixing scandal broke out, the one thing that has to be attributed to Srinivasan is the transparency and bluntness with which he operates. When his company India Cements bought the rights for the Chennai team, it was public knowledge. He never hid the fact that his company had bought the rights, unlike some other personalities who allegedly bought stakes through complicated cross-holdings, relatives etc.
That India Cements has Dhoni as one of its employees, is also public knowledge. So while one might argue on how both the above can be permitted, one should not ignore that both these facts were never hidden from the media.
When a scribe asked Srinivasan to respond to Lalit Modi's comments regarding Chennai Super Kings bringing the game to disrepute, his quick retort was, 'I don't respond to fugitives'. Such frank-speak is something which not a lot of people are used to. But this same attitude and pride the man has, might just ensure that justice is indeed delivered. And swiftly, as has been promised.
The least the man deserves is for him to do his job. And if he fails to do what he has promised, the calls for his resignation will be much more justified and reasonable than they are now.
Shamath Mazumdar is a cricket enthusiast