And no, the commercial sporting leagues didn't cause the drought, says Shekhar Gupta.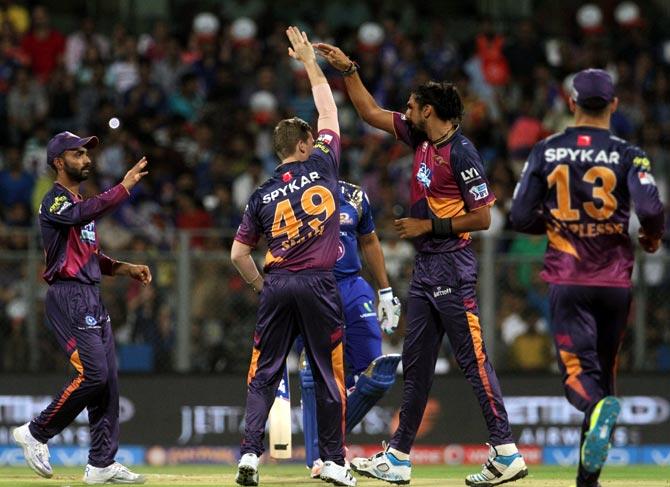 IMAGE: The opening game of IPL 9 at the Wankhede Stadium, Mumbai, April 9, 2016: Ishant Sharma celebrates after taking Rohit Sharma's wicket. Photograph: BCCI
If you look for a connection between the Indian Premier League being held in Maharashtra's big cities and withering drought in its interior, the answer would depend on which one of the two definitions of IPL you prefer. Tamasha or sport?
Further, decadent elite sport, or healthy mass entertainment? You can carry on: For the rich, of the rich, by the rich, or owned/funded by the rich but for the game, its players and paying janata? And it is evident now that most of our chatterati, intellectual elites and TV studio warriors have chosen the first definition in each case. The honourable Bombay high court endorses it.
In ordering the IPL to shift all its May matches out of Maharashtra, and even asking the state's franchises to contribute to drought relief, the court has implied the conclusions that follow.
First, that there was no problem when the T20 World Cup was going on in Maharashtra. It was, after all, nation versus nation, that game of cricket.
Second, that the IPL is all about making money while entertaining the rich (read owners) so they must pay for drought relief even if that sounds, I beg to say, like a firman from a caliphate.
Once you accept the tamasha definition, the rest follows logically. To hold an extravaganza for the rich and also consume lakhs of litres (note the convenient measure used in popular discourse to make it sound like a hell of a lot) of water, is an obscenity when farmers are dying of drought. That justifies throwing the matches out -- and, for those now too late to be shifted, a cash 'compensation' must be paid.
Further, don't even raise the normal sporting questions like how unfair is it to the state's franchises to be denied home advantage for their matches. Not when we have told you already that it isn't a sport, but a tamasha.
Let's first face the fact that we were never a truly sporting nation like Australia, New Zealand or China. We have also become more anti-sport over the years.
The first problem is confusing competitive sport with nationalism. When India plays another country, it is sport and that show must go on, come drought or tsunami. But if it is club versus club, particularly involving monetary rewards for the game and its players, it is a circus.
Non-sporting societies that are usually trapped in a fragile sense of nationalism do not love the game until national honour is involved. You don't care about hockey because India last won an Olympic medal in 1980 and that too at Moscow, boycotted by all hockey powers except Spain. In the process, domestic hockey disappeared.
Domestic hockey leagues, from the Nehru to the Beighton Cup have disappeared, or are rarely watched or covered. Institutions that patronised hockey -- the armed forces, the police and paramilitary forces, Indian Airlines, and the Railways -- lost interest too, as there was no longer any prestige or news value to winning domestic competitions.
Most people now won't know that the Sikh Regimental Centre, Bengal Engineering Group (from the Army), Indian Airlines, the Railways, the Punjab Police and BSF once had world class hockey teams and pretty much constituted the national team.
You can't asphyxiate a game domestically and hope to win medals on the world stage.
The same thing has happened to football. Our big domestic tournaments at various levels, from the Durand Cup to the Bordoloi Trophy, have fallen into irrelevance. Football is today one area where India's global ranking is often lower than on the Human Development Index.
That sport is great for national pride, but a waste for domestic competition is a deeply ingrained belief among educated, aspirational 'new Indians.' Teachers, parents, TV evangelists all repeat the message that young people need to study and not waste their time playing.
'Padhoge, likhoge, banoge nawab, kheloge, koodoge, ho jaoge kharab' ('put your head down and study, you will be a prince, but waste your time on the playground, your life is wasted') is something most of us hear from our parents, teachers, godmen and babas. The judges come from this same society.
You want to see how pitting studies against sports, competitive examinations versus jostling on a tartan track, wrestling mat or AstroTurf ultimately ruins our sport? Whatever happened to the Vizzy, Cooch Behar and Rohinton Baria Trophies, our foremost cricket tournaments at school, college and university levels? These produced the bulk of the Indian team then.
Legendary cricketing rivalries -- St Stephens and Hindu in Delhi, DAV versus Panjab University Campus in Chandigarh -- have all but disappeared. All four campuses, by the way, ran an assembly line of national-level players.
Now the campus rivalries have disappeared because everybody is busy padhoing-likhoing, going to coaching classes for IIT-JEE, GMAT, SAT and so on. Admissions through sports quotas are a sham, as institutions no longer value sporting success. All they want is results in the CBSE, college rankings (where sports get little weightage), or great on-campus placements.
The starkest example of the loss of institutional sporting culture is the armed forces. Most people under 45 may not even know there used to be a formidable Services team in Ranji Trophy and Hemu Adhikari, who captained India, came from there.
Most of our athletes, including the recently Bollywoodised Milkha Singh and Pan Singh Tomar, came from the Army, which fully ruled boxing and other contact sports. Shooting apart, today that honour belongs to little Haryana as the armed forces have moved, regrettably, on to a corporate-style golfing culture.
Just one IPL changed this in India. It brought spectators back to domestic cricket, attracted advertisers, sponsors, fat-cat owners. It put a value (in dollars) to at least 150 cricketers a year who wouldn't have made to the national team and fallen by the wayside -- and to scores of retired ones, employed as coaches, mentors, or CEOs.
Its success launched Indian hockey, badminton, football -- and, most spectacular of all, kabaddi -- leagues that brings talent from around the world, besides making players rich. Every cricketing country has built its own league, including Pakistan, Bangladesh and the West Indies.
Club sport is not a tamasha. It is very very competitive business and the healthiest possible mass entertainment, particularly in a country with such a lousy physical culture. Commercial domestic leagues are bringing about the great Indian sporting revival. And no, they didn't cause the drought.
At a completely different level, as club loyalties grow, stars from different countries play under the same team flag (ok, franchise) -- and this smoothens the edges of hyper-nationalism in sport.
My favourite moment marking this came in football's Euro 2000 when in a France-Holland match, French midfielder Patrick Vieira instinctively passed the ball to Dutch winger Marc Overmars. Then both looked at each other and exchanged embarrassed smiles and millions of partisans on both sides laughed. They were Arsenal teammates and only playing their 'usual' roles.
EPL, European, Latin leagues are deadly serious sporting events, not tamashas. Our elites, including the judges, need to watch some.