Some Indian cricket fans seemed to revel in putting down Pakistani fans at every opportunity. 'Jeetega bhai jeetega' was interspersed with shouts of 'Harega bhai harega' or 'Go home,' says Suraj Suvarna, who watched the India-Pakistan game at Adelaide.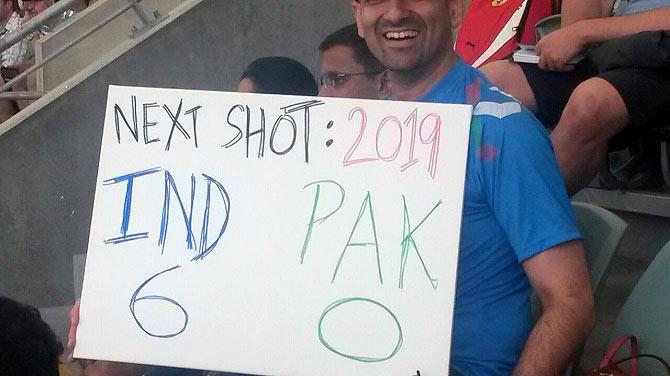 Valentine's Day had a different beginning for a bunch of cricket fans from Canberra.
A once-in-a-lifetime opportunity presented itself in the India versus Pakistan World Cup clash in Australia!
We were among the lucky few who got tickets in the golden first hour after which they were sold out.
A friend who works in the hospitality industry ensured we found accommodation at reasonable rates, a 12-seater was rented and it was 'Game On'!

It took some amount of TLC, but we managed to get passes to be away from our better halves on Valentine's Day :)
Looking at India's performances in the tri-series, we kept our expectations low and were looking forward to enjoying the company of friends on a road trip to Adelaide.
The drive from Canberra to Adelaide is about 14 hours, including breaks and, for a major portion of the drive, it is one of the most boring stretches of road you'll see.
As we approach Adelaide, the barren land starts turning green. You know then that you are nearing one of Australia's best known wine producing regions, the Barossa valley, and your mercury starts rising as if in anticipation of the hottest match of the World Cup.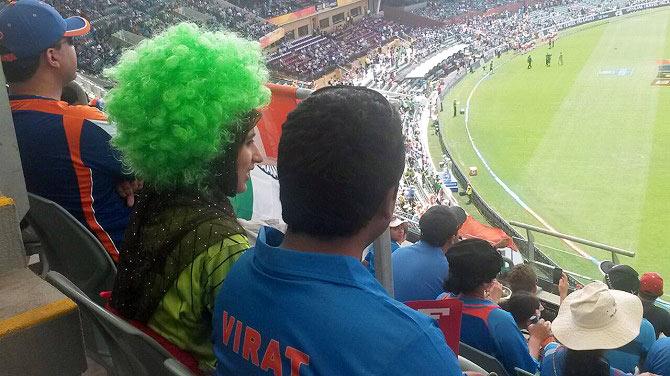 Adelaide was a scorching 40 degrees on Valentine's Day and predicted to be no better on match day.
The city centre was taken over by crowd of cricket fans wearing different varieties of Team India shirts, from years ago to the most recent, from fakes to the originals to the creative! It looked like Adelaide's Indian population had jumped by 15,000 to 20,000 that weekend :).
I met some India supporters here... check out the video :))
This was one of the days you would always be greeted with a smile no matter which part of the country you came from. It was amazing to see how much solidarity this one game brings.
For the first time, I understood the pressure on this bunch of 11 players representing Team India.
As hordes and hordes of Indian fans descended on the city, I realised these supporters weren't here to watch an exciting game of cricket, they weren't here to be part of the most famous of all cricket rivalries, they were here for one reason, and one reason alone -- to watch India win!
It would have been a good idea for the locals to avoid the city centre on Sunday as the streets were blanketed by a never ending stream of blue who walked towards the stadium as though they owned the city.....for the day, at least :)
Finally, at the stadium, I saw the first 'biggish' group of Pakistani fans who were making up for their lack of numbers by loud cheering, singing and dancing.
In what would be a familiar pattern throughout the game, this show of support would be quickly drowned by the overwhelming crowd of Indian fans.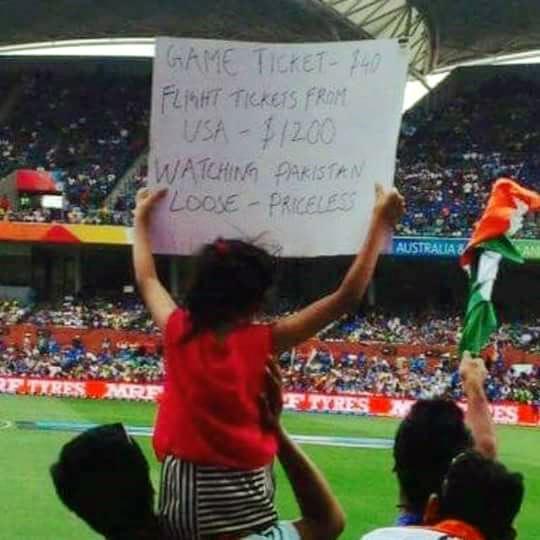 The Adelaide Oval was prepared for this onslaught of 40,000-plus fans going through its gates. I must say I didn't see any long queues, which meant the staff was quickly managing the flow of people through the stadium.
As you entered the stadium, you couldn't help but feel you were entering a Roman Colosseum, ready for the 'gladiators' from the two teams to come out and duel with each other.
Technology has increased in leaps and bounds but the 'smartest' of TVs will not be able to capture the electric atmosphere inside a stadium filled with 40,000 roaring fans.
From the chanting of 'Jeetega bhai jeetega' to the roar when Virat Kohli stepped out to bat, from the absolute silence when he departed to the jumping up and down for every wicket, four or six, it is an experience every cricket fan (or not) should experience at least once in their lives.
Sunday, February 15, was a bad day to be a Pakistani cricket fan.
For a limited period in the last five overs of the Indian batting, and the first 10 to 12 overs of Pakistan's batting, they really had nothing to cheer about.
Add to that, with the exception of one small section in the stands, Pakistani fans who were nestled in between the tide of blue were quickly quietened by the weight of sheer numbers.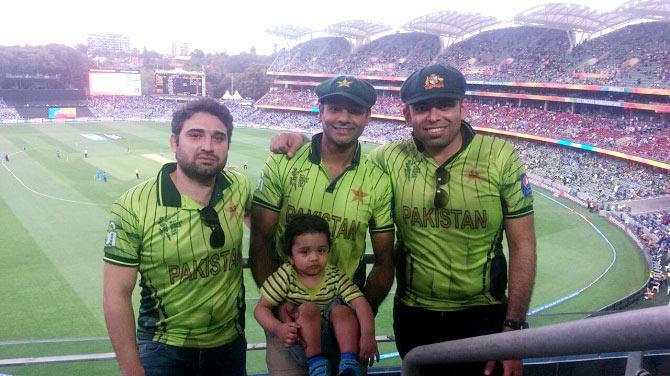 Although this was the outcome we wanted, considering we drove over 14 hours to get to Adelaide and had a reasonable amount of expenses, there was one thing that made me feel bad about being an Indian cricket supporter.
It was the insensitivity of some Indian fans.
Where they should have been enjoying the success of the Indian team, they seemed to revel in putting down Pakistani fans at every opportunity. 'Jeetega bhai jeetega' was interspersed with shouts of 'Harega bhai harega' or 'Go home'.
I realised what it feels to be a minority and it's a shame that some section of the crowds refused to be inclusive, putting a dampener on the spirit of humanity and the spirit of the game.
I felt sorry to see a young family of Pakistani supporters move away from where we are and sit in the section of the stadium that had the most Pakistani supporters.
Why aren't we able to allow every one who comes to watch the game enjoy the day without having to feel intimidated?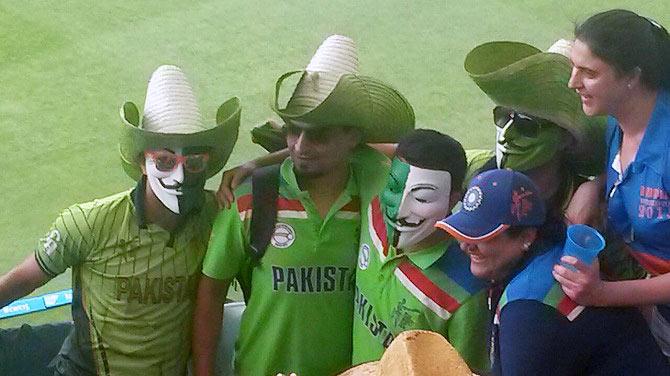 As we drive back to Canberra, I wondered what the mood in the car would be like had India lost!
Thank you, Team India :).
Video, photographs: Suraj Suvarna
Are you watching the World Cup? Do share your videos, photos and comments here.
Don't miss! The World Cup, as never before on Rediff.com