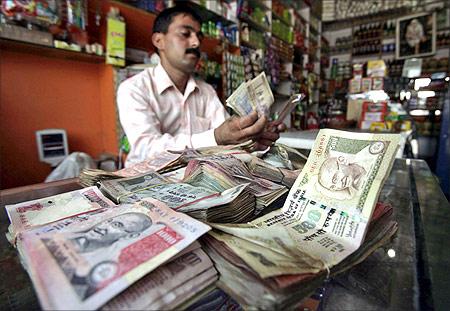 Rediff.com's Prasanna D Zore spoke with three investment advisors to find out how the government's decision to demonetise Rs 500 and Rs 1,000 notes will help curb the creation and flow of black money into the Indian economy.
While all three investment advisers said it was a superb move by Prime Minister Narendra Modi and will stem the creation of black money in the long run, one of them, speaking on the condition of anonymity, said he was pretty sure that those with dollops of black money would find ingenious ways to launder their money in the 50-day window that the government has provided before the existing series of Rs 500 and Rs 1,000 notes are completely purged from the system.
Read what this sceptic has to say about the demonetisation and its impact on black money:
Impact on the creation of black money
Those who are hoarding piles of cash, I do not know how it will impact them, but this decision will inconvenience small traders, vegetable sellers and shopkeepers with say Rs 30,000, Rs 40,000 cash.
It will take a long time for them to get used to the new system.
Even for Ola and Uber fares we pay Rs 500 and get back the change.
From Churchgate (south Mumbai) to Andheri (northwest Mumbai) it costs Rs 430 and I don't know how people who generally pay fares between Rs 300 to Rs 500 for using these fleet services will cope with the new situation.
I think it would have been better had they banned only Rs 1,000 notes and not Rs 500.
It will turn out to be a big mess immediately, but in the long term it could be good for everybody.
For the next few days there will be absolute chaos and panic.
The bhajiwali from whom we buy vegetables will not be able to understand this decision or may not have a bank account.
If she lands up with a Rs 500 note, what is she going to do about it?
I am sure those with deep black money-pockets will go to the slums and work out a deal by which they will give them their black money and ask the poor slumdwellers to deposit money in their Jan Dhan account, and once the situation gets easier get it back from the poor by paying them a small cut.
They will give these poor people Rs 1,000 for depositing in their Jan Dhan accounts and ask them to pay back only Rs 600, allowing the poor to keep the balance.
Or those with black money will give these poor Rs 2,000 or Rs 4,000 depending on the restrictions, ask them to stand in a bank queue to get the money exchanged and pay them Rs 400 or Rs 200 for this service. Not a bad business at all.
Will it benefit the Indian economy?
I am now very cynical because when I was doing my CA they (the government) introduced a tax audit and said, 'Now with tax audits there will be no black money.'
Then, when I was in school they demonetised the Rs 1,000, Rs 5,000 and Rs 10,000 notes and said, 'Now there will be no black money'
Now they are saying that they will introduce new Rs 500 and Rs 2,000 notes and, 'Now there will be no black money.'
Once upon a time it was difficult to launder black money, but now it is very easy to convert it or launder it.
All you have to do is say, 'I am doing software exports, go to Dubai, convert it and come back.' This is happening even as we speak.
Obviously, such dubious means can always be used to convert black into white.
As time goes by -- there is time till December 30 -- these deep pockets will start depositing their money with the PSUs in rural areas. These rural PSUs will see a spurt in deposits.
A farmer can legitimately say he got these notes from the mandi (bazaar) by selling his produce.
The agricultural income in this country is going to be fabulously high this year, immaterial if the crop is good or poor or if there is a drought.
See, by one stroke of the pen you can't change social structures.
Indians will continue to like fair/white skin; men will like to have a son and not a daughter; these social mores just don't change just because you make a law.
This (hoarding of unaccounted wealth) has happened in the past and it will happen in the future.
***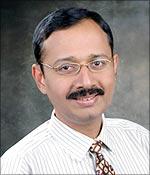 Anil Rego, Investment Advisor, Right Horizons
What issues will people face with this ban on Rs 500 and Rs 1,000 notes?
Most people have these notes in their purse. They may not have a huge hoard, but people like you and I will have at least three to four such notes either in our pockets or at home.
While this decision is aimed at reducing the creation of black money in the system it will also have a huge impact on individuals who are salaried or run small businesses.
One, there will be long queues come Thursday morning outside bank branches to deposit whatever notes they have or exchange them as announced by the prime minister.
Could this decision have been rolled out in a phased manner so that people who are not hoarders of black money would not have faced difficulties like they are going to face from Thursday, albeit temporarily?
There is bound to be chaos from tomorrow, but then people will get used to it in a few days and soon this will be out of our way.
Overall, this is a good measure to stem the creation and flow of black money in the economy.
Definitely, this is a sound measure and one can always say that this could have been done in a smoother manner without inconveniencing the salaried and the small traders and businesses.
Perhaps, this scheme could have been rolled out along with the voluntary disclosure of black money that closed on September 30.
That would have helped the government unearth all of it in one shot. The impact would have been immediate and everything would have been cleaned up.
Ideally, if this was done, the remaining unaccounted money would have got into circulation and could have been used for productive purposes.
Let's say, somebody has huge cash on him. What does one do with it? Sit on it?
That black money is now worthless paper.
***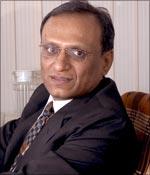 Harsh Roongta, Investment Advisor, harshroongta.com
Roughly, 82 per cent of the money in value in circulation, as per RBI data, is in terms of Rs 500 and Rs 1,000 notes.
Now if a large portion of this money were to be deposited in bank accounts, the depositor will have to make disclosures.
If you are depositing Rs 200,000 tomorrow in a bank, in your KYC-verified bank account, you may not be asked for identification or any questions, just because it will now reflect in your bank account and you will pay tax on it this financial year.
Now that the government's voluntary disclosure of unaccounted money scheme is over, those who deposit unaccounted money will be proceeded against for criminality.
The government's move has left those with hoards of unaccounted cash with no option but to sit on it.
There was no point in trying to go after this cash because it was anyways unaccounted money and was not used in the system to produce assets.
But now that this money will turn worthless paper, its ability to drive demand for other stores of value, like gold or real estate, will automatically get muted and one can expect softening of real estate prices in the foreseeable future.
Trump's win in the US election may lead to an increase in the price of gold for other reasons, but one will definitely see a softening of property prices in India.
This is a superb move to curb black money from the system without affecting 90 to 95 per cent of the Indian population.
There would be practical difficulties in the short term in getting a new system in place, but the future is bright for those who pay their taxes honestly.
Within a week or two these difficulties of withdrawals, deposits and getting used to the new currencies will be sorted out.
Kindly note: The lead photograph is published only for representational purposes.