The Tatas also have to decide whether to merge all the airlines in its portfolio or just leverage their synergies for the time being, and wait and watch.
Surajeet Das Gupta reports.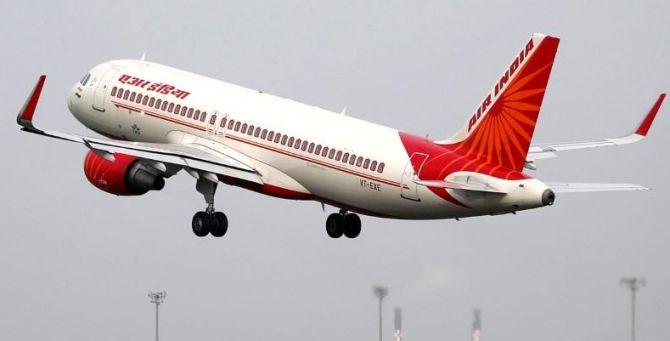 Nearly two decades after the Tata group made an aborted attempt to buy Air India with its partner Sin­ga­pore Airlines, the Maha­raja has made a grand re-entry into gro­up headquarters, Bombay Hou­se, after 68 years.
Now the question is: With the contentious and long-winding divestment process over, can the Tatas turn around an airline that is making losses of Rs 30 crore-plus a day?
The Tatas are tight-lipped.
The strategy is a work in prog­ress, they say.
But aviation exp­erts, former Tata airlines executives, competitors and those closely involved in the divestment process offer a glimpse of what it would take for the Maharaja to regain leadership in a market that has changed radically in two decades.
The immediate plan is all about "getting the basics right", said Rohit Tomar, aviation consultant and managing director of Caladrius Aero Consulting.
"They have to get the entire fleet flying, revamp the interiors where money has not been put in for years, impacting its quality of service parameters, improve aircraft utilisation and get synergies with the group's other airline assets, Vistara and AirAsia."
All these problems were the result of Air India lacking cash flows, he added.
Air India currently has only 83 per cent of its fleet of 141 aircraft up and running.
The rest have been groun­ded owing to spare part shortages and related reasons.
But first the cabin interiors badly need a revamp — espec­i­ally for international flights or longer duration domestic flights since that's been a key reason customers prefer to fly competing airlines. despite discounted fares.
Aviation experts reckon this could entail a bill of around $40 million for 100 aircraft.
The average per-plane revamp is $300,000 to $400,000, wide-body refurbishing costs being three times more than those for narrow-bodied.
Air India has around 43 wide-body aircraft, the rest being narrow-bodied.
Increasing flying time to boost revenue per seat is the next big job on hand.
Compared to, say, IndiGo, the largest airline by market share with aircraft that fly 12-13 hours a day, Air India has a daily average utilisation of 10-11 hours — despite the fact that 24 per cent of its international fleet on medium- and long-haul is deployed on the US, the UK and European rou­tes. IndiGo, in contrast, has no long-haul flights at all.
Ironically, competitors exp­ect the Tatas to focus on increasing yields rather than play the price-war game, which would be good for the industry.
As a senior executive of a low-cost airline pointed out, "To fill seats Air India has offered domestic fares 20-30 per cent lower, with no relation to cost.
"So others also have had cut fares to those levels.
"We expect the Tatas to rationalise fares since their objective is revival. So you might see less cut-throat competition."
Much will depend on a key decision that the Tatas have to take sometime next year, and that is how quickly they want to revamp the fleet.
Domestic market leader IndiGo runs a fleet with an average age of four years with a higher number of aircraft (278). Some 70 per cent of Indi­Go's fleet is based on new technology, increasing fuel efficiency and margins.
For instance, the A320neo that it is replacing provides 15-16 per cent fuel savings.
In contrast, the average age of the Air India-Air India Exp­ress fleet is 10 years.
The good news is that about a third of the planes are between three and seven years old, which includes the workhorses, Airbus A320neo and the Dreamliner (together, there are 54 of these).
This offers the Tatas some leeway to stagger the replacement of old aircraft but these aircraft don't come cheap.
Even after volume discounts, the A320neo has a price tag of $48-52 million and a wide-bodied aircraft $98-120 million.
Sale and lease-back is one way of calibrating cash outgo, of course.
All told, it would be no understatement to say that industry expectations are sky-high.
A revamped Air India could, said experts, easily dominate one of the three international hubs in Delhi, Mumbai and Bengaluru.
"There is no reason, say, Delhi cannot be a hub for Air India/Vistara to bring in traffic from Southeast Asia and Australia to Europe and CIS countries, and, on the other side, to even Africa and West Asia.
"It will clearly impact the Gulf carriers," said Tomar.
There is another op­portunity.
The government has squeezed bilaterals for West Asi­an carriers, which used to leverage the liberal dispensation to take passengers onwa­rd to Eu­rope and the US.
Air India has lost out in these markets to the Gulf airlines because it did not have enough frequencies on a particular route and direct flights to the cities in Europe and the US.
For instance, while Air India flies to five cities in the US, Emirates flies to 15; Air India reaches eight cities in Europe, Emirates goes to 42.
So the only way that Air India could compete was to offer deep discounted direct flights to Europe.
But Covid-19 has changed things dramatically, making passengers wary of connecting flights.
This provides the Tatas an opportunity to leverage Air India with Vistara and grab the business lost to Gulf airlines on the route to Europe by offering direct flights from India.
A similar strategy can be offered in the US with both airlines again offering much more frequencies, entering newer cities and offering passengers the choice of direct and indirect flights (from India), which West Asian carriers cannot.
In fact, Vistara's strategy al­ready fits in well with Air Ind­ia.
The former has targeted 30 to 40 per cent of its available seat kilometres, a standard measure of aviation efficiency, to come from international flights by 2023 and it will have over 70 planes, which include the Drea­mliner that can fly non-stop.
On the domestic front, Air In­dia will also give the Tatas the pricing power on many key routes.
Of course, IndiGo, its pri­n­cipal rival, is still far ahead of the Tata co­m­bine after Air India, with more than half the domestic market (see chart: "Up in the air").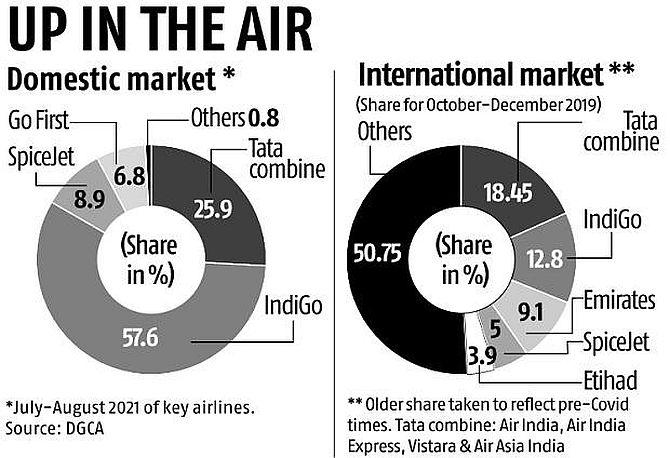 But the Vistara-AirAsia-Air India combine will have more seats on offer on key routes such as Delhi-Mumbai, Mumbai-Delhi, Delhi-Bengaluru, Kolkata-Delhi, to name a few.
In fact, the combine will be ahead of IndiGo in the top 10 domestic routes based on number of departures.
With a mix of seats from economy to business and low cost, the combine could gain more pricing flexibility.
Finally, the Tatas also have to decide whether to merge all the airlines in its portfolio or just leverage their synergies for the time being, and wait and watch.
With all the airlines making losses, that call may be some way off still.
Photograph: Amit Dave/Reuters