As and when Jet Airways applies for slots, these would be allocated among all airlines according to guidelines, without any claim of historicity in favour of any airline.
Slots would be given to Jet only from the available remaining pool.
Aneesh Phadnis reports.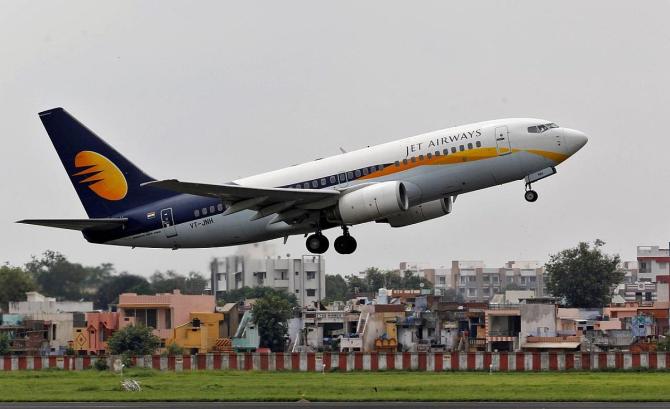 The National Company Law Tribunal (NCLT) cleared a plan to revive Jet Airways recently.
The Kalrock-Jalan consortium, whose proposal got the NCLT nod, hopes to restart Jet Airways as a full service airline with 25-30 aircraft.
The availability of key slots at airports will be crucial for the revival and is the consortium's main demand.
Let's find out how slots are assigned to an airline.
What is an airport slot and what determines its availability?
A slot is a permission given by an airport to an airline to operate a flight at a specified date and time.
The number of flights an airport can handle depends on the availability of slots; and these are influenced by runway and terminal building capacity as also availability of parking bays.
The slots may not necessarily double on the addition of a second runway.
Airspace restrictions also influence them.
What are the rules for slot allotment?
The Slot Allocation Guidelines of 2013 lay down the process.
These are modelled on the Int­ernational Air Transport Asso­ciation (IATA) worldwide slot guidelines.
Airports are classified into three levels based on the traffic load.
A slot coordinator is appointed at congested airports to allocate slots.
Generally, slot allotment ta­kes place twice a year: for summer (March end-October) and winter (October end-March end).
Prior to each season, the Airport Authority of India and the airports declare the runway and terminal capacity to enable airlines to plan their schedules for the upcoming season.
Slots for domestic and international flights are filed separately by airlines 4-5 months before the start of the schedule.
A slot coordination committee with representatives of airlines, airports and the Directorate General of Civil Aviation meets before each season to approve the schedules.
How are slots allotted? What are historic slots?
An airline files for slots of all the flights it intends to operate in a particular season.
An airline can retain a slot only if it uses it for 80 per cent of the time during a season.
The "use it or lose it" principle decides the historicity over slots.
If an airline has used a slot for 80 per cent of the time in the summer schedule, it gains historicity over it for the next summer schedule.
In view of the pandemic, regulators worldwide have su­s­pended the "use it or lose it" principle.
For Jet Airways, the civil aviation ministry said it will not be entitled for historicity over its previously allotted slots.
NCLT, too, rejected the Kalrock-Jalan consortium's demand for historicity over slots.
Are new airlines at a dis­advantage in getting slots?
A new airline can get only those slots that are available after allocation to all existing airlines and those surrendered by incumbents.
New airlines get a priority over 50 per cent of the remaining slots at an airport.
However, for each new entrant, priority is limited to a maximum of five daily slots at an airport.
This priority is available at the time of its first filing only.
In constrained airports like Mumbai or Delhi, there may be few spare slots.
Airports also prioritise slot allocation on the basis of new routes and year-round operations.
For instance, if an airline seeks to open a new route to a tier II/III city or helps the airport to become a hub for connecting traffic, such slot requests could get a priority.
Priority could also be given to airlines seeking year-long operations over those seeking permission for a seasonal flight.
What details do airports seek from new air­lines before all­ocating slots?
A new airline will have to submit its fleet induction plan to major airports.
This would include both the number of aircraft it wishes to import and the delivery schedule.
An airline needs to have a valid air operator certificate or a permit before it is granted slots.
At airports with easy availability of slots and no capacity constraints, a new airline could secure provisional slots subject to receipt of an operations permit.
A new airline needs to fulfil a host of conditions including audits, documentation and staf­fing before it gets the operations permit.
The airline would need to secure a night parking bay at one of the airports in the count­ry before it can import an airc­r­aft and carry out proving (or test) flights before getting the permit.
Will it be difficult for Jet Airways to get slots?
The Kalrock-Jalan consortium has received an assurance that it could get up to 170 slots at 30 airports in the country.
But the real challenge will be getting prime-time morning or evening slots at congested Delhi and Mumbai airports.
Delhi airport's peak-hour capacity is expected to increase from 75 movements per hour to 100 by 2023, and it already has very few slots available.
Slots once used by Jet were redistributed among other airlines following its collapse.
In its affidavit before the NCLT, the DGCA said no airline can claim historicity over these slots.
It said as and when Jet Airways applies for slots, these would be allocated among all airlines according to guidelines, without any claim of historicity in favour of any airline.
A ministry official clarified that allotment will be done in a fair and transparent manner.
Sources at major airports said slots would be given to Jet Airways only from the available remaining pool.