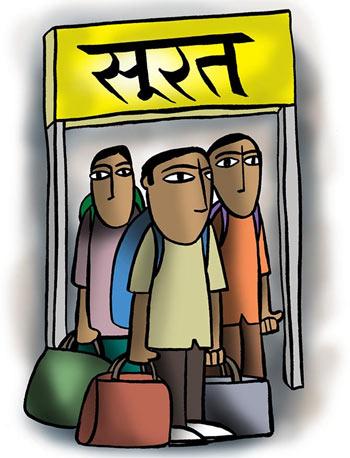 Migrant workers are leaving Gujarat, PM Modi's home state, as they have no work, say Sohini Das and Vimukt Dave.
Illustration: Uttam Ghosh/Rediff.com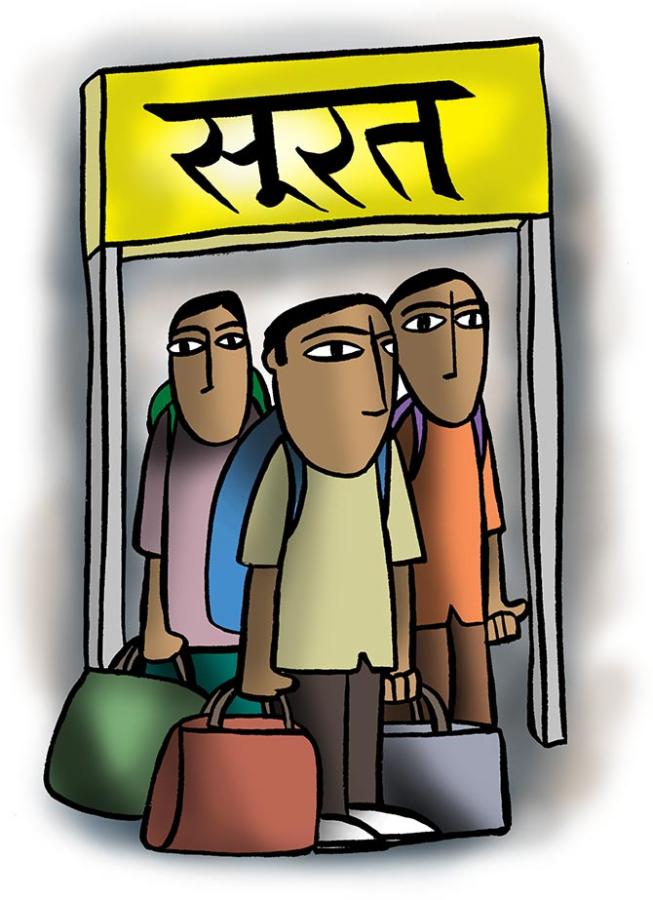 Safirul Shaikh, a migrant from West Bengal, has been living in Ahmedabad and working in the jewellery industry since he was nine years old. The 30-something winner of various awards, including a national one, has had little work since the demonetisation drive by the central government.
Shaikh runs a small shop in Sheth ni Pol, in the neighbourhood of Manek Chowk in Ahmedabad's old city. It bears a deserted look; in the absence of work, his workers have gone home.
Sitting alone in his cramped workshop, covered in thick jute carpets to make any gold dust stick to it, Shaikh cuts a forlorn figure.
He is not the only one facing this crisis.
The crowded bylanes of Ratanpol, where one could hardly manoeuvre a motorbike, bears a deserted look.
Harshvardhan Chokshi, former president of the Manek Chowk Chokshi Mahajan, says bullion trade worth Rs 10-Rs 12 crore used to take place each day at this 350-year-old gold market.
Now, business is down to a trickle.
A few meters away at Manek Chowk, 400 jewellers who employ around 3,000 gold and silver artisans, a majority from Bengal, have seen 60 per cent of their employees leave for their villages.
Earlier this year, there was some reverse migration due to slack business. However, that was nothing compared to the hit from the demonetisation announcement on November 8, which has crippled the industry.
In fact, those on Diwali vacation did not return -- there is almost no work.
On an average, an artisan earns Rs 8,000-12,000 a month. Most of them keep their salaries with their employer, who deducts their monthly cost of living and pays out the money in cash when they return home during Diwali or on other vacations.
Shaikh says some workers do have bank accounts but their employers insist on paying in cash.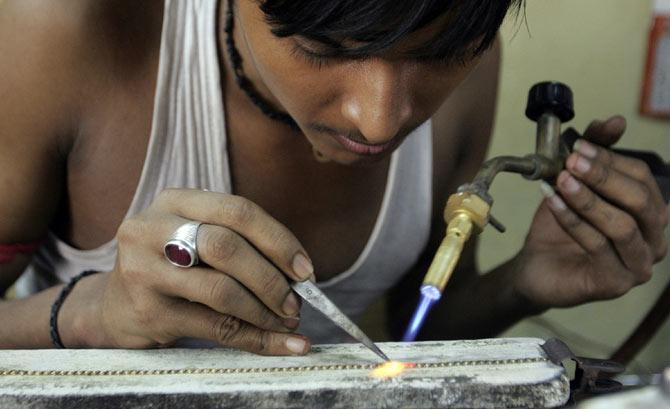 IMAGE: "Post Diwali, most of the artisans have no work," says Pravin Vaidhya, president of the Rajkot Jems and Jewellery Trade Association. In the image above, taken in 2008, a goldsmith in Ahmedabad hand-creates an ornament. Photograph: Amit Dave/Reuters

Rajkot
The scenario in Rajkot, another gold jewellery manufacturing hub, is no different.
Rajkot employs around 45,000 artisans, of which an estimated 25,000 are from different parts of Bengal.
Says Pravin Vaidhya, president of the Rajkot Jems and Jewellery Trade Association: "Post Diwali, most of the artisans have no work. Reverse migration has already started in our jewellery industry. We do not see any revival in the near future."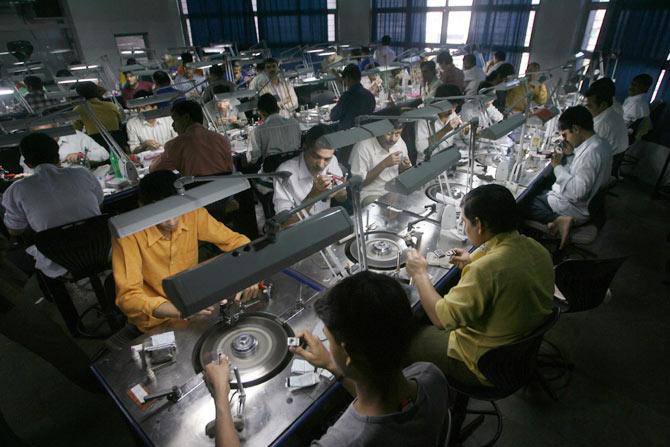 IMAGE: Thousands have been rendered jobless in Surat, the world's largest diamond cutting and polishing hub. The image above, of a diamond factory in Surat, was taken in 2009. Photograph: Arko Datta/Reuters

Surat
The world's largest diamond cutting and polishing hub, Surat, employs close to two million people. It is currently reeling under the pressure of demonetisation.
The industry, which cuts and polishes nine of every 10 rough diamonds globally, had -- after about 18 months -- just started seeing a revival of global demand since April this year.
With demonetisation, the cash economy of the diamond hub has practically come to a halt.
Big exporters are not affected, as they get paid in dollars and usually pay salaries through bank transactions. However, the smaller ones are on the verge of shutting shop.
This has rendered thousands jobless for the time being.
"People had just begun coming back from their Diwali vacations when the demonetisation news came in. Many called their employers and have decided to stay in their villages until there is enough work," said Kirti Shah, owner of a diamond cutting and polishing unit in the Katargam area.
He says he is trying to make payments to his employees through banks but many old timers are comfortable only with cash payments.
There are about 4,000 cutting-polishing units in Surat. Only 20-odd have annual turnover in excess of Rs 2,000 crore.
Most units are small or medium enterprises and employ migrant labour, from different parts of Gujarat (mainly Saurashtra) and some parts of Rajasthan or Madhya Pradesh.
Surat is also home to a Rs 40,000-crore man-made fibre industry, in which around 6,50,000 powerloom machines employ around 7,00,000 people.
Another 400 textile processing units are located there, in which another 300,000 people work.
An industry insider says half the powerloom workers have left the city. The situation in the textile processing units is also grim; the industry says only a fourth of the workers are currently in Surat.
This is primarily because 90-95 per cent of the wages to textile workers are paid in cash; the latter, it is estimated, remit around Rs 500 crore a year to their families in Odisha, Bihar and Uttar Pradesh.
Industry sources say around 15,000 bank accounts were opened for textile workers in Surat in the past month; however, the banks themselves do not have cash to pay out.
As a result, the Surat railway station has seen more activity than its diamond industry.
Reports suggest the station generated revenue worth Rs 18.4 crore between November 8 and November 30 in scrapped currency notes, selling tickets to passengers. Most of these have been from the migrant labourers who were buying tickets to head home.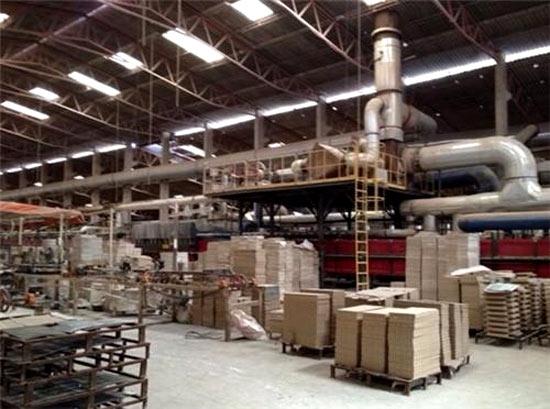 IMAGE: Morbi, the world's third largest ceramic cluster, has seen half its factories shut down after the demonitisation drive began. Photograph: Kind courtesy Morbi online

Morbi
Half the factories in the world's third largest ceramic cluster in Morbi are shut.
The Rs 24,000-crore cluster has 600 units that employ a little over 400,000 workers (mostly daily wage earners from Bihar, Uttar Pradesh, Odisha, Andhra Pradesh and Rajasthan). It is now grappling with a cash crunch.
"About 28,000 workers have left. The issue of payments is bothering every unit owner," said K G Kundaria, president of the Morbi Vitrified Tiles Association.
Each factory makes a monthly payment of Rs 20-40 lakh as labour wages, mostly in cash.
Kundaria said unit owners have approached banks to open accounts for their workers but so far only around 30,000 accounts could be opened.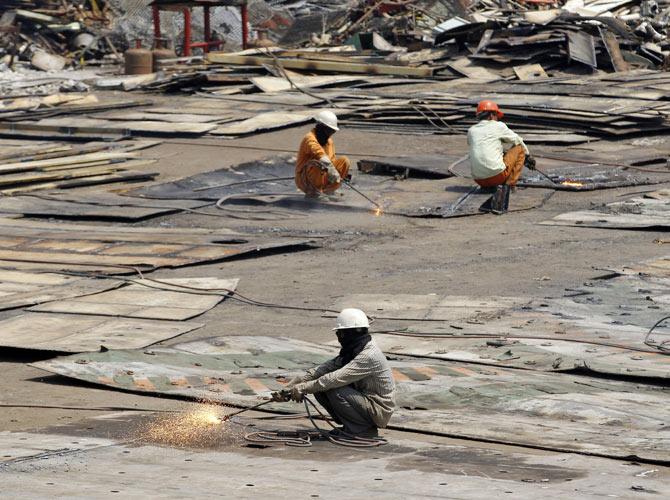 IMAGE: Over haf the workers at Alang, Asia's biggest ship recycling yard, had left for their home towns in the past month. Photograph: Amit Dave/Reuters

Jamnagar and Alang
Last month, around 12,000 workers are estimated to have left Jamnagar's brass parts industry.
The story is the same in Alang, Asia's biggest ship recycling yard, located about 50 km from Bhavnagar. The yard houses at least 20,000 migrant workers -- over half have left for their home towns in the past month.
"We want to pay but do not have cash in hand and, as a result, half the workers have already left Alang. The rest might also leave soon. We are trying to open bank accounts but very few have branches here. Also, those present are unable to process such bulk openings due to insufficient staff," said Jivraj Patel, president of the Ship Recycling Industries Association.
Being an industrialised state, Gujarat is home to millions of informal sector workers.
Ahmedabad alone houses at least 600,000 who toil in the unorganised sector.
As these workers are forced to migrate back to their hometowns, the multiplier effect on overall industrial output and the remittance economies of neighbouring states is likely to be manifold.