'We will have a well-designed product, and not a compromise.'
'We will make a completely contemporary vehicle, in keeping with consumers' aspirations, not like the Nano, which disappointed them,' Sajjan Jindal tells Shreekant Sambrani.
Illustration: Dominic Xavier/Rediff.com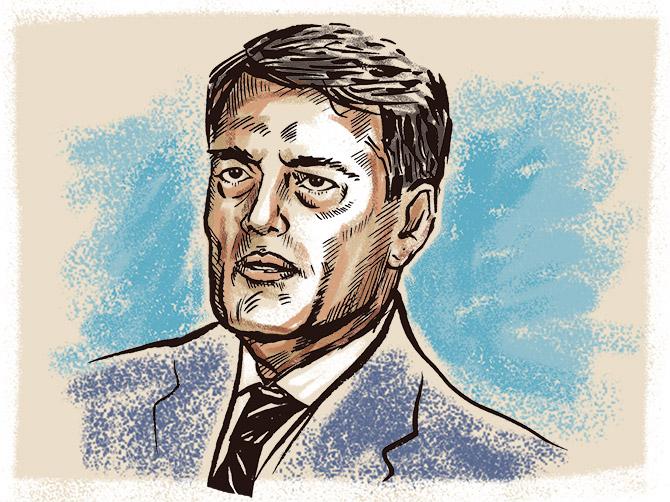 "But they finished last," says Sajjan Jindal, chairman and managing director of the JSW Group of companies, when I mention the Delhi Daredevils of the Indian Premier League, half-owned by JSW.
He beams with obvious pleasure when I say that the team has among the best young talent in the league and has great potential.
He is likely reminded of the early struggles of JSW Steel, the flagship company of the group and currently India's largest steel producer with an annual capacity of 18 million tons.
Its Vijayanagar plant near Hospet in Karnataka has the largest capacity at a single location in India (12 million tons annually).
Sangita Jindal, his wife, chief supporter, and chairperson of the JSW Foundation, nods vigorously in agreement.
She is slated to become the chairperson of the company that owns the IPL team, the second woman (after Nita Ambani of the Mumbai Indians) to grace such a position.
We meet for lunch at Jindal Mansion, the tony erstwhile headquarters of JSW in mid-town Mumbai.
The Jindals still maintain their personal offices on the top floor, which also has an elegantly appointed dining room.
The lunch starters are cream of cauliflower soup and avocado and crisp red leaf lettuce salad with vinaigrette dressing.
We begin our conversation with Sajjan's choice of Corex process for Vijayanagar at the turn of the century. Sajjan's father, the late Om Prakash Jindal, acquired in 1982 a small galvanised steel plant at Tarapur near Mumbai.
This was immediately followed by a cold rolling mill at Vasind, an exurb of Mumbai. The two together formed the Jindal Iron and Steel Company.
This came to Sajjan when he took over the management of what was then called Jindal South West, the original JSW.
But the big break was the Vijayanagar greenfield plant.
JSW was not the first unit to come up there. Several others were interested in the location and still have a presence there, but none anywhere near that of JSW.
It did not start out that way in 1997, with a hot rolling mill, but the Jindals always had an integrated steel mill in mind.
After a thorough personal study, Sajjan zeroed in on the as yet little-known and untried Corex process, nicknamed green steel as it was claimed to be environment-friendly.
That appealed to Sangita. She exhorted Sajjan to go ahead.
Unlike the conventional blast furnaces, Corex initially did not require coking coal. It also results in far lower emissions of carbon monoxide or dioxide and sulphur dioxide.
The dust generated is also of a relatively smaller extent. The sulphide and phenol presence in effluents is lower too (JSW claims Vijayanagar to be a zero effluent-discharge plant).
The choice almost backfired when the plant faced humongous teething troubles between 2003 and 2007.
Trial runs failed, the oven had to be rebuilt, and so on, with steadily mounting financial pressures caused by non-performance.
The bankers insisted on personal guarantees from Sajjan who demurred.
He consulted his father. "He had a very direct way of dealing with problems," Sajjan says.
"He asked me what would happen if you don't give the guarantee. I said the company will close. He asked did I believe in the technology. Very much, was my response. Then there is no problem, go ahead and give the guarantee was his advice."
The guarantees were given. Corex was modified and coke replaced 15 per cent of the coal used.
The existential crisis threatening what is now India's largest steel-maker before it could even take baby steps was thus over.
"We will reach 13 million tonnes at Vijayanagar this year and 18 million by 2025. But I want it to have the single largest capacity anywhere in the world, which today is 23 million tonnes. And we will achieve it," he asserts.
Vijayanagar is the focal point of the JSW Foundation's activities.
Sangita says they concentrate on malnutrition and education, both tackled through a generous support of the Akshaya Patra kitchen in Vijayanagar, serving the entire district and more.
The Foundation is also active in greening the vast area around the plant and water conservation and management, in view of its acute proneness to droughts.
The captive thermal plant at Vijayanagar was the first JSW foray into energy.
Economies of scale dictated that it be connected to the state grid and become a major supplier to Karnataka, Sajjan tells me over the main course of ravioli and charred cheese steak with vegetables (the Jindals are vegetarians).
Coal had to be imported. That prompted the setting up of a port at Jaigad in Ratnagiri district in Maharashtra.
The only major port without a rail link (one is being constructed to the Konkan Railway, a challenge in itself given the hilly terrain), overland transportation was expensive.
Since coal was imported, a thermal power plant there suggested itself as a synergistic choice.
None of the JSW initiatives seem to run a smooth course. Konkan has a history of opposing industrial projects, often with good reason.
The power plant faced local ire based on the belief that its smoke emission would damage the precious Alphonso mangoes.
The Foundation stepped in, assuring mango cultivators with data about the height of the chimneys, wind directions and the mango bearing and ripening process. That was not enough.
The Foundation promised to buy all mangoes on offer, but hardly any came its way, as the growers found their initial fears to be unfounded.
The Barmer facility of JSW Energy was planned to use the lignite available in quantity nearby. Neyveli Lignite had given up because of difficulties in mining.
Undeterred by this, JSW set about to work out economical mining, even as it ran the plant on imported coal, incurring higher costs initially.
Sajjan says he has scrupulously avoided mining otherwise.
"It's a dirty business, literally and figuratively," he adds.
JSW offered jobs to the families which sold their lands of poor productivity, earning local goodwill.
The Foundation has tried greening this tract also, with desert-flourishing plants such as olives.
On the present banking crisis, Sajjan says, "After 2010, bankers encouraged investment in projects of questionable viability. When the crunch came, they kept evergreening the loans. We now use bank credit mostly for working capital, and bonds and shareholders' funds for investments," adds the man whose Rs 850 billion empire has an aggregate debt burden of over Rs 600 billion, but the lenders are as yet not restive.
"As we tackle the delicious dessert of chocolate mousse with chocolate granules and fresh mango slices, Sajjan talks of their new venture into electric vehicles.
This has been criticised in some quarters as being unrelated, but Sajjan is clear that there is a neat relationship between steel and automobiles and energy and electric vehicles.
The battery costs have dropped significantly. We will have a well-designed product, and not a compromise. We will make a completely contemporary vehicle, in keeping with consumers' aspirations, not like the Nano, which disappointed them."
He will be ready for the market by 2025 or thereabouts. He also has plans for batteries, to make the project wholly integrated.
As always, he has no doubts about its success.
That confidence coming from a man who has bet wholeheartedly on the brilliant young Daredevils in the IPL despite their current lack of success (which went to Chennai's Dad's Army) should ring loud and clear.