What differentiates Rajan from his predecessors is his proactive steps in anticipating a problem and coming up with out-of-the-box solutions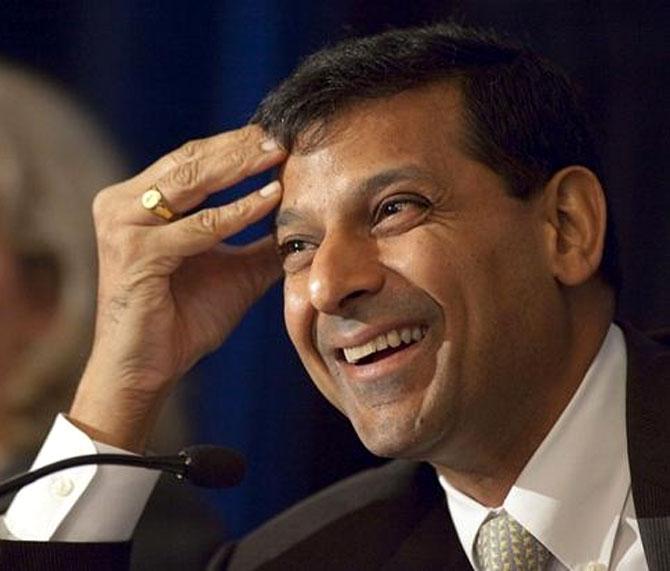 Four months before Raghuram Rajan's term ends as the RBI governor, speculations are rife over his second term. The government has not yet made it clear whether he will get a second term. Rajan himself has said he has not been approached by the government as yet.
There are diverse opinions in the market about Rajan's performance as the central bank governor. While he has been criticised as being too cautious in reducing interest rates, especially by the India Inc, market economists have appreciated his restrained approach at a time when global markets were in a turmoil.
For example, CLSA's equity strategist Christopher Wood has gone ahead and said that the biggest risk to the Indian bond and currency markets will be if Rajan is not given a second term. Wood has pointed out Rajan's strict monitoring and actions in controlling non-performing loans.
Still, there are voices that do not agree with Wood's opinions. But those who have been criticising Rajan for a delay in interest rate cuts should know that banks are yet to keep pace with the series of rate cuts announced by the RBI governor over the past 18 months.
Further cuts will be meaningless if banks are unwilling to pass on the earlier cuts. Realising this, Rajan decided to infuse liquidity which should help banks pass on the rate cuts. A carrot-and-stick policy to make banks reduce interest rates is one of the many out-of-the-box policies that Rajan came up with during his tenure.
Rajan has been at the striking end fighting from one crisis to another since the day he took over as the governor. He stepped in at the worst possible time a governor could wish for. The rupee was in a free fall almost touching the 70-mark against the dollar in August-September 2013.
Rajan introduced two instruments that offered a short-term window for banks to swap fresh Foreign Currency Non-Resident (Banks) or FCNR (B) deposits and allowed overseas borrowing limit of Tier-I capital for banks to be raised from 50 per cent to 100 per cent. This move saw short sellers rushing to the doors. Outflows were not only stopped but nearly $10-15 billion of inflows were seen over the next few months.
Rajan's international exposure came in handy in bringing in new instruments that helped in stemming the rupee slide.
It was under Rajan's tenure that the central bank started following the much more meaningful Consumer Price Index (CPI) rather than the Wholesale Price Index (WPI).
Partial slowdown in interest rate reduction can also be attributed to this change as CPI was at a much higher level than WPI and government actions in controlling inflation were not visible at the consumer level.
When banks were not willing to pass on interest rate cuts announced by RBI but were cutting deposit rates in order to garner profits to hide their non-performing loans, Rajan and his team introduced a change in methodology to marginal cost-based lending rate (MCLR), and at the same time giving banks liquidity to help them out of the crisis.
Banks were unwilling to disclose their toxic assets and needed to be arm-twisted in doing so. Rajan set a deadline for the banks to announce such assets. He also teamed up with the government in relaxing norms for loans in infrastructure sector which had been delayed on account of inaction by the previous United Progressive Alliance government.
Rajan has been vocal against wilful defaulter and his statement against Mallya after his birthday bash contributed in a big way in flamboyant promoter being cornered.
What differentiates Rajan from his predecessors is his proactive steps in anticipating a problem and coming up with out-of-the-box solutions. At a time when the Indian economy is becoming an integral part of the global economy, the country needs a governor with international exposure to pre-empt the changing tides and act accordingly.
A growth oriented government would need a forward looking team member to steer its monetary policy.