In a short span of time, with the help of Amazon, Cloudtail was able to devise a model that could protect it from the vagaries of online retail business.
Sai Manish reports.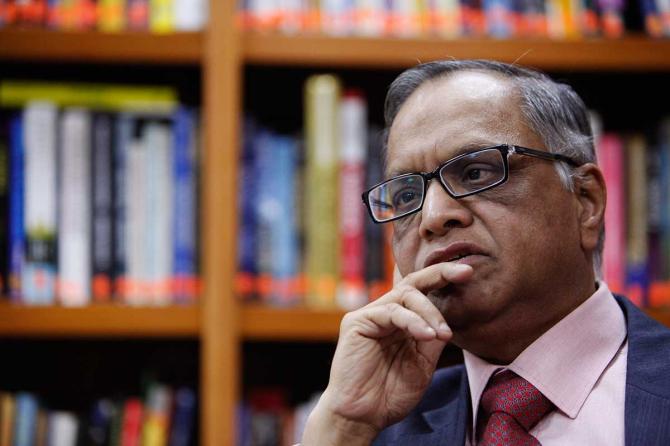 If one were to close one's eyes today, shoot with a mouse in the dark and click on anything to shop on Amazon, chances are that one would end up buying something sold by Cloudtail, owned and controlled by none other than Infosys founder N R Narayana Murthy, along with the world's richest man and Amazon founder Jeff Bezos. Now they have announced that their joint venture will end by May 2022.
Cloudtail, arguably the world's largest retailer on Amazon, has come a long way since 2011, when it was established as Sparrowhawk Trade and Marketing by a couple of individuals with a registered office in South Delhi's Greater Kailash.
Rechristened Cloudtail in 2012, Narayana Murthy's venture, which had no revenues to show until 2014, clocked a Rs 11,412 crore (Rs 114.12 billion) turnover in 2019-2020.
Cloudtail is now the most dominant seller on Amazon, the world's biggest e-commerce marketplace that commands a third of India's online retail market.
So prolific has been the growth of Cloudtail's dominance on the Amazon platform that it faces accusations of unfair trade practices, and of crowding out small retailers, from traders' associations in India.
Cloudtail recently found itself making headlines in Europe after it was served a notice by India's indirect tax investigation authorities for not paying Rs 55 crore (Rs 550 million) in service tax dues in 2018.
That Rishi Sunak, Britain's finance minister, is married to Narayana Murthy's daughter would have certainly piqued the interest of the British press. However, bad press notwithstanding, Cloudtail's journey in a short period that saw it gaining an indomitable sway as Amazon's biggest retailer, has been nothing short of prolific.
Cloudtail claims to have onboarded over 6,000 vendors selling over 11,500 different brands in virtually every corner of India. Its Web site states that it has provided an e-commerce platform to over 700 registered micro, small and medium enterprises in a short period by helping them 'through awareness creation, training, consulting and value-added services such as catalogue creation and the use of online tools'.
From 2011 to 2014, Cloudtail had virtually no business operations or revenues to show.
Between July 2014 and May 2015, the company, which had a paid-up share capital of just Rs 1 lakh, saw it rising to Rs 500 crore (Rs 5 billion). This money was injected into Cloudtail by Prione Business Services, a company established in 2012 with its corporate office in Bengaluru, for a 99.99 per cent stake in Cloudtail.
Prione is controlled by Narayana Murthy's venture fund named Catamaran Ventures, along with some Amazon subsidiaries. With this, the old directors were eased out and in came a new management, including two of Amazon's top executives in India.
This fund infusion also came barely a year before Amazon debuted its shopping Web site in India in 2013.
That was when things radically changed for Cloudtail. From virtually no business operations, its revenues jumped to Rs 1,145 crore (Rs 11.45 billion) in 2014-2015.
From being a nondescript entity, Cloudtail now had specific business objectives of 'trading in goods on the e-commerce marketplace platform, scale up its business, and build sustainable and repeatable seller processes with a continuous focus on bringing quality products at affordable pricing for its customers'.
While Indian e-commerce rules regarding operations of foreign retailers like Amazon were still a grey zone, it wasn't until 2016 that the Indian government brought in specific rules that sought to rein in single-seller preponderance on e-commerce platforms.
By the time these rules took effect in 2016-2017, Cloudtail had seen five-fold jump in revenues to Rs 5,631 crore (Rs 56.31 billion) in just two years.
In 2020, as a couple of complaints filed by merchant associations in India led to the initiation of an anti-trust probe against Amazon, Cloudtail had doubled its revenues to over Rs 11,400 crore.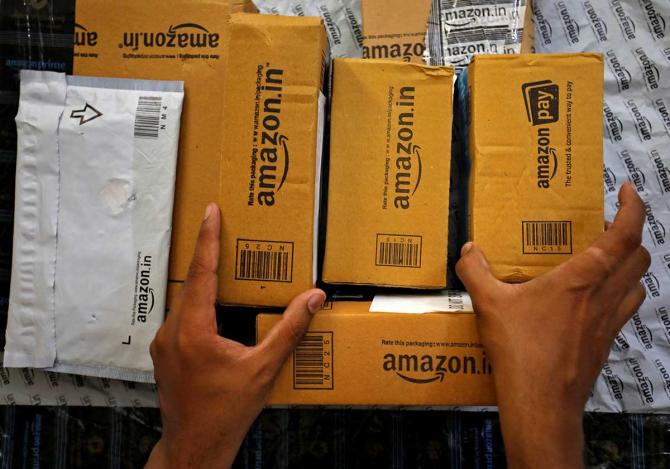 While revenues grew exponentially in a short period, green shoots of future profitability emerged only recently. Cloudtail clocked its first-ever profits in 2018-2019, making Rs 29 crore (Rs 290 million) on revenues of Rs 8,940 crore (Rs 89.40 billion).
In 2019-20, it doubled its profits to around Rs 68 crore.
In December 2020, Indian Credit Rating Agency (ICRA) noted: 'The profit margins are expected to increase further in the current financial year, with the COVID-19 pandemic-related restrictions expected to increase the share of online retail in the overall mix.'
Cloudtail is primarily into the online retail business of product segments like apparel, consumables and consumer appliances, which are characterised by fairly high inventory days, thus exposing the company to pricing and obsolescence risks.'
'Nevertheless, its ability to negotiate adequate credit terms from its vendors, efficient inventory monitoring systems, and presence of price support or return-to-vendor mechanism as part of Cloudtail's agreement with some of its vendors, help mitigate such risk to some extent.'
But there is more to how Cloudtail built its ecosystem across India than meets the eye.
The general wisdom is that Cloudtail (and other online sellers like it) directly purchase goods from manufacturers and are therefore able to sell at huge discounts to online customers, as opposed to brick-and-mortar retailers, who often go through an additional layer of wholesale purchase adding to the final selling price.
While it's true that Cloudtail bought its inventory of electronics, apparel, cosmetics and everything else it sells directly from some of the biggest companies of the world, it also had a way of disposing of its unsold inventories, returned goods or defective products to other wholesalers.
Many other retailers on other e-commerce Web sites like Flipkart also follow this model. Many of these wholesalers, mainly based in small towns of India, paid crores of rupees to Cloudtail.
Ashu (he goes by only his first name) is one of them from Haryana's Tohana town.
In 2020, he paid a few lakhs of rupees to Cloudtail in advance for delivery of some goods he would sell through his wholesale outlet in Tohana.
"We purchase old, returned or defective stock from Cloudtail and then sell wholesale to buyers. We can get a returned product for a fraction of the price we would have paid for a normal product from manufacturers directly. The products are delivered by Amazon."
"With Flipkart, I have a pickup arrangement. But Cloudtail never dispatches goods on credit. It is only after full advance payments that they even generate an invoice" he says.
Babbar Siddique runs a 'dispose' business in Thane -- that's effectively a scrap shop.
"We buy liquidated stock from Cloudtail. It usually comprises defective or expired products. Since these are mostly useless, we buy it at very cheap rates, sometimes a flat rate, irrespective of the product."
"I make money by dis-assembling them and disposing of them as scrap. Earnings from Cloudtail have dipped over the years as more vendors have come in. Now they have the power to choose vendors," says Sidiqque.
There are many such wholesalers from Kurnool in Andhra Pradesh to Bathinda in Punjab, and even small towns of Bihar and Haryana, to whom Cloudtail sells its 'bad stock', probably to minimise its losses from defective purchases, unsold stock and returned goods.
With its growing online clout, it also reportedly managed to ink return contracts with bigger vendors and manufacturers with which it had purchase agreements.
Effectively, in a short span of time, with the help of Amazon, Cloudtail was able to devise a model that could protect it from the vagaries of online retail business.
Perhaps more intriguing is the role of its parent company Prione.
While Cloudtail was funded and is owned by the Bezos-Narayana Murthy joint venture, its own stated business objectives seem to complement that of Cloudtail.
Prione states that it helps small and medium businesses in small towns and cities set up their digital selling platform on Amazon after evaluating their proposals. After selection, these unorganised sellers are assisted to set up a 'modern high-tech office'.
Sellers who bring more sellers to Amazon are given incentives -- a model reminiscent of the Amway days of the 1990s.
On the day the announcement was made to dissolve Prione, Catamaran Ventures issued a statement, saying: 'Prione enabled over 300,000 sellers and entrepreneurs to go online and enabled 4 million merchants with digital payment capabilities, providing them and merchants access to millions of customers across the country.'
'With feet-on-street teams in 30 cities across India, the joint venture enabled hundreds of thousands of sellers to sell online and provide a wide selection of products for Indian customers.'
The announcement to end Cloudtail had come on a day the Supreme Court ordered that big e-commerce platforms like Amazon and Flipkart would have to face investigations by India's competition regulator for potential violation of competition laws.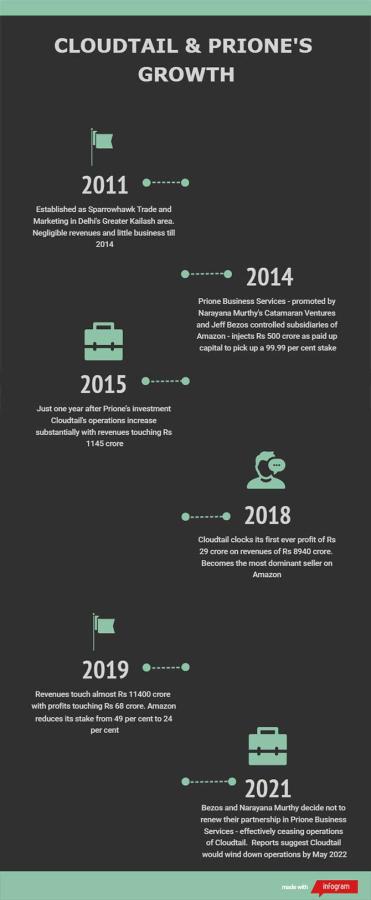 Feature Presentation: Ashish Narsale/Rediff.com