On October 1 Indian-American Gita Gopinath was appointed chief economist of the International Monetary Fund.
Announcing her appointment, IMF Managing Director Christine Lagarde hailed the Mysuru-born Gopinath as "one of the world's outstanding economists with impeccable academic credentials, a proven track record of intellectual leadership and extensive international experience".
Here are 10 things that you must know about the new Chief Economist of the IMF.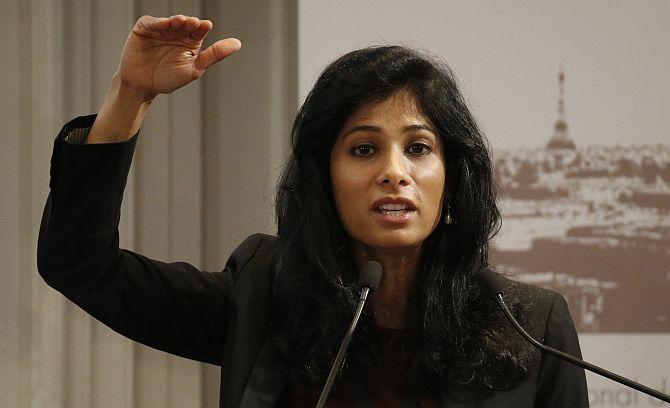 1
Gita was born to TV Gopinath and VC Vijayalakshmi in Mysuru, Karnataka on December 8, 1971. She is the youngest of two daughters.
Her father, TV Gopinath, is the son of TC Govindan Nambiar, a relative of noted Communist party leader TC Narayanan Nambiar, and PV Lakshmi Amma, who is related to stalwart of Indian Communist party A K Gopalan.
2
She completed her PhD from Princeton University (1996-2001) specialising in International Macroeconomics and Trade.
At Princeton, economist Ken Rogoff and former chair of the US Federal Reserve Ben Bernanke were among her mentors.
In 1994-96 she did her Masters in Economics from the University of Washington. That was her second masters as she had previously done her Masters in Economics from the Delhi School of Economics, after completing her BA Economics (Honors) from the University of Delhi, Lady Shri Ram College.
3
She is only the third woman and second Indian after Nobel laureate Amartya Sen to be made a permanent member of the economics department at Harvard.
She is also the Managing Editor of Harvard's Review of Economic Studies.
She is also co-director of the International Finance and Macroeconomics programme at the National Bureau of Economic Research, a visiting scholar at the Federal Reserve Bank of Boston, member of the economic advisory panel of the Federal Reserve Bank of New York.
She is also co-editor of the American Economic Review, co-editor of the current Handbook of International Economics and was managing editor of the Review of Economic Studies.
She has also served as a member of the Eminent Persons Advisory Group on G-20 Matters for India's ministry of finance.
Before Harvard, she was an assistant professor of economics at the University of Chicago's Graduate School of Business from 2001 to 2005.
4
She will be the second Indian after Raghuram Rajan to hold the prestigious post at the IMF.
Raghuram Rajan was Chief Economist and Director of Research at the International Monetary Fund from 2003 to 2006.
5
She is married to Iqbal Singh Dhaliwal who is an executive eirector at Abdul Latif Jameel Poverty Action Lab at the department of economics, Massachusetts Institute of Technology.
Iqbal Singh Dhaliwal had topped the IAS exam in 1996.
6
Gopinath had also been named as one of the top 25 economists under the age of 45 by the International Monetary Fund in 2014 and was chosen as a Young Global Leader by the World Economic Forum in 2011.
7
In 2018, she was elected a fellow of the American Academy of Arts and Sciences, which is one of the oldest learned societies in the United States.
It is devoted to the advancement and study of the key societal, scientific, and intellectual issues of the day.
8
In 2017, she was awarded the Department of Economics Distinguished Alumnus award, University of Washington.
In 2015, she was inducted into the Women Achievers Hall of Fame, MYRA School of Business, Mysore, India.
9
She also serves as economic adviser to the Kerala government, an honorary appointment in the rank of principal secretary to government .
10
She has authored some 40 research articles on exchange rates, trade and investment, international financial crises, monetary policy, debt, and emerging market crises.
She has also authored the Handbook of International Economics, Volume 5, 2014, co-edited with Elhanan Helpman and Kenneth Rogoff.