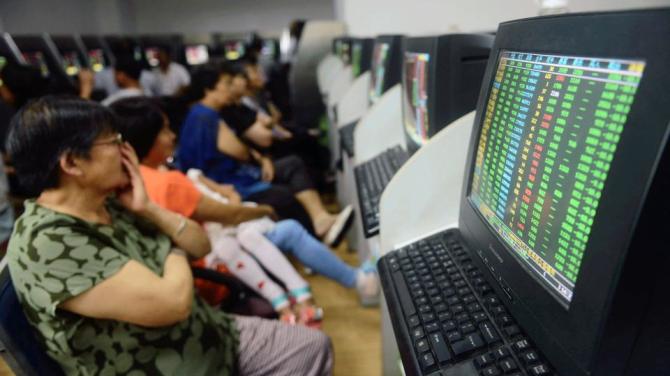 The slowdown in China and competing export-led economies might lead to cheaper goods flooding the global markets.
Last Monday, the stock prices and Indian rupee fell sharply but by Thursday, both started recovering.
During the interim period, the finance ministry and the Reserve Bank of India expressed confidence that India is relatively better placed to cope with the global turmoil in the financial markets.
Indeed, the government seemed to believe that the weaknesses in the other emerging market economies present India with a great opportunity to attract foreign investment.
This optimism needs to be tempered with a few ground realities.
Fears about China's problems leading to global deflation may be exaggerated but it does seem unlikely that the global economic slowdown will not go away too soon.
A quick bounce back looks improbable.
The slowdown in China and competing export-led economies might lead to cheaper goods flooding the global markets.
So, exporters may find it more difficult to sell price sensitive goods despite the rupee depreciation as the currencies of all competing economies have also depreciated, some even more than the rupee.
Our domestic producers may face competition from cheaper imports of not only commodities but also value added products.
It may not be always possible to invoke measures like ant-dumping duties, as the foreign suppliers may not be exporting below 'normal value' i.e., below the price at which they sell in their domestic markets.
Even safeguard duties may not be leviable to counter a surge in imports unless the domestic industries have a credible adjustment plan to become more competitive.
In any case, levy of such duties on primary or intermediate products can only lead to user industries getting more uncompetitive.
Many companies that have borrowed in foreign currency may find their debt-service obligations more onerous, due to weaker rupee.
They may find it difficult to manage their cash flows.
The domestic demand is still weak. Monsoon deficiency is over 12 per cent.
Many stalled infra projects are yet to get going. Our public sector banks may not readily lend except for sound projects. The investments in infra may boost demand in some sectors but will take more time to boost productivity. In the short run, uncertainties abound.
In spite of these reservations, the establishment is not worried as the fiscal deficit and current account deficit are well within acceptable limits and RBI has enough foreign exchange reserves to ensure stability of the currency and economy.
Also, the medium-term prospects for the Indian economy appear reasonably bright.
Hopes of better days ahead are still intact.
Yet, it is difficult to understand how the economy can prosper without export competitiveness.
Of late, a perception is growing that the commerce ministry does not care much about negative growth in exports since last November.
The finance ministry seems content with receiving hot money inflows rather than try to boost exports. Somebody needs to tell the government that exports generate jobs, not capital flows into the bourses.
A fundamental change in outlook is necessary.
The good news is that the prime minister has decided to meet economists and leaders of industry associations.
The minister of state for commerce should take a leaf out of that initiative and meet the exporters in various parts of the country and hear their difficulties, understand what they have to say regarding boosting exports and try to remove their difficulties and facilitate exports.
Image: Investors sit in front of computer screens showing stock information at a brokerage house in Qingdao. Photograph: Reuters