Agitations against acquisition and demands for greater compensation have affected the political economy of several states.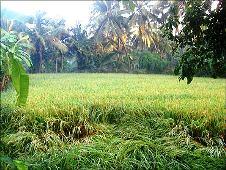 The meeting of the Union Cabinet last Thursday was, by the standards of the United Progressive Alliance government at least, quite effective.

In what Rural Development Minister Jairam Ramesh has called the UPA's 'slog overs', several policy changes were announced, and proposed laws cleared.

Perhaps the most important was the approval of the long-awaited changes to India's colonial-era land acquisition law.

A new land acquisition law has been expected and discussed for some considerable length of time; industry has faced difficulty in buying land, and governments have found it politically difficult to consolidate land for industry, over the past few years.

Agitations against acquisition and demands for greater compensation have affected the political economy of several states.

This has been a major contribution to the collapse in fixed investment that has led to India's industrial slowdown.

Correcting the problems with land acquisition is a major first step towards restarting the investment process and ensuring that there's enough confidence that projects will get off the ground.

The new Bill should, therefore, be welcomed.

However, there are already dissenting voices.

This is not totally unsurprising, given the fraught history of the issue and how long it has taken to hammer out agreement even within the government.

Yet most of the objections are wrong-headed -- if nothing else, because of the severity of the industrial crisis and the urgency of reform. India has waited quite long enough for this Bill and it must not be held up further.

Some industrialists have complained, for example, that seeking the consent of 80 per cent of land losers is too onerous.

This is the threshold for government consolidation of land for private projects.

A group of ministers had suggested 67 per cent as this threshold, but was eventually overruled.

Land acquired for public-private partnerships, as opposed to private sector projects, has a different threshold: 70 per cent. These requirements will not be easy to meet, true.

But industry must realise the choice it faces is not between government helping on easier terms and government helping on tougher terms.

It is between having access to land at whatever price and not having access to land at any price -- the latter situation being what political constraints are taking India towards.

After all, activist organisations that claim to represent farmers are also upset — about any government consolidation of land to benefit the private sector at all.

There is no reason to suppose, if the Bill is further delayed and renegotiated as some private sector voices have argued, that these groups' voices will be given less priority than those representing commercial interests.

Industry has got accustomed to making demands for expansive tracts of land, more than a project strictly needs, and acquiring that land so cheaply that it is often less than 10 per cent of project cost -- unsustainable in a land-poor country.

It is time to wean Indian industry off cheap costs and government support.

Yes, the land Bill is a compromise. Like most such compromise laws, it is messy and pleases nobody.

There is much room for improvement in many of its provisions, which of course can be brought about by subsequent changes after the law is made.

But those shortcomings cannot be the reason for delaying the Bill any further.

It should be tabled in Parliament and passed as soon as possible.