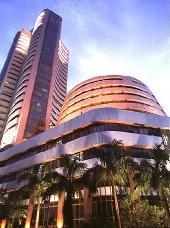 Markets ended lower on Monday, ahead of the Reserve Bank of India's mid-quarter monetary policy review, weighed down by selling pressure in HDFC Group shares along with ITC and TCS.

The 30-share Sensex ended down 73 points at 19,244 and the 50-share Nifty ended 22 points lower at 5,858.

Goldman Sachs expects the Reserve Bank of India (RBI) to cut its key interest rate by 25 basis points at its policy review on Tuesday after last week's inflation data came well below expectations, and as economic growth remains sluggish.

"There has been a persistent higher LAF (liquidity adjustment facility) number as well, which indicates a structural liquidity deficit in the system, and has rightly resulted in the resumption of open market operations by RBI.

"Improvement in liquidity is key for monetary policy easing as rate cuts alone will not be able to transmit into lending rate cuts.

"Given the above backdrop we expect RBI to cut CRR by 25 basis points on December 18 to ensure adequate liquidity and wait for inflation data while having a cautious watch on government's ability to take prudent quantitative and concrete steps leading towards fiscal discipline, before actioning a rate cut.", said Arun Khurana, head-global markets group, IndusInd Bank.

Asian shares ended lower on Monday with the exception of Japan and China.

The Nikkei rose 0.9% to 9,828.88, the highest closing level since April 3, while the yen hit a 20-month low of 84.48 yen to the dollar, boosting the appeal of exporters' shares.

Shanghai Composite gained 0.5% while the Hang Seng and Straits Times ended down 0.3-0.4% each.

On the sectoral front, BSE Auto, Metal, Healthcare and Power indices ended up 0.1-1.8% each.

However, BSE IT, FMCG, Oil and Gas and Consumer Durable indices ended down 0.4-1.2%
each.
Software majors Wipro, TCS and Infosys ended lower by 0.5-2.8% each.
In the financial space, HDFC Group shares, HDFC and HDFC Bank ended down over 1.6% each. Other Sensex losers include ITC and Bharti Airtel down 0.8-3.7% each.
Rate sensitive shares firmed on hopes of rate cut by the central bank on Tuesday.
Sensex gainers include, ICICI Bank and SBI in the financial space.
Auto shares firmed up on hopes of a rate cut by the central bank. Mahindra and Mahindra, Bajaj Auto, Tata Motors and Maruti Suzuki were up over 1% each in the auto space.
In the metal segment, Sterlite Ind, Hindalco and Jindal Steel surged on the back of rising global commodity prices.
Among other shares, Panacea Biotec ended higher by 7% at Rs 122 after the biotechnology company said that it has received an order worth of Rs 187 crore from the Government of India for supply of oral polio vaccine.
Honeywell Automation of India has surged 16% to end at Rs 2,786 after the promoter have received a strong response from investors to its offer-for-sale (OFS) issue with an over-subscription of more than 7 times.
Kolte-Patil Developers has rallied over 19% to end at Rs 122, extending its Friday's 15% surge on back of heavy volumes after the Union Cabinet on Thursday cleared the Land Acquisition Bill.
Fortis Healthcare has rallied 7% at Rs 117 after the company announced to divest 64% stake in Dental Corporation Holdings (DC), Australia to Bupa, for a consideration of for 270 million Australian dollars (around Rs 1,554 crore).
The broader indices outperformed the benchmarks – BSE Midcap and Smallcap indices ended up 0.5-0.6% each.
The market breadth in BSE ended positive with 1,542 shares advancing and 1,350 shares declining.