Even before Murthy's reappointment to the board, the decision to let each of the founders have a go at the CEO role was an antithesis of the meritocracy that Infosys had established as its corporate culture, says Hetal Dalal.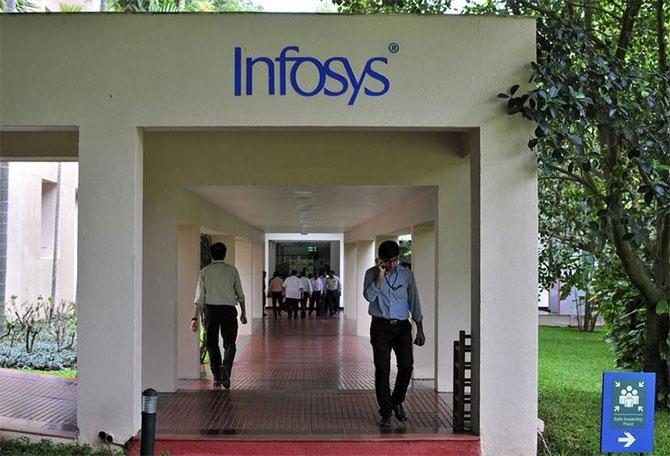 Infosys signified corporate governance in India for the longest time. Its founder has been instrumental in developing and strengthening the corporate governance framework in India [Narayana Murthy Committee Report on Corporate Governance (2003)].
And while India was still trying to figure out what imbibing good corporate governance practices entailed, Infosys had steamed ahead by benchmarking itself to global players. Corporate India has changed radically since then, and one may argue that it has caught up with Infosys.
Infosys' governance standards have deteriorated by its own measure. Take Infosys' Corporate Governance Philosophy, (box) for example. The first two of its tenets say that the company will satisfy the spirit of the law and not just follow the letter of the law, and that it will go beyond the law in upholding corporate governance standards.
Infosys' Corporate Governance Philosophy

Satisfying the spirit of the law and not just the letter of the law

Going beyond the law in upholding corporate governance standards

Maintaining transparency and a high degree of disclosure levels

Making a clear distinction between personal convenience and corporate resources

Communicating externally in a truthful manner about how the company is run internally

Complying with the laws in all the countries in which the company operates

Having a simple and transparent corporate structure driven solely by business needs

Embracing a trusteeship model in which the management is the trustee of the shareholders' capital and not the owner

Driving the business on the basis of the belief, "when in doubt, disclose"
Yet, the company's earlier auditors, BSR & Co LLP were its auditors for over 15 years. It is only in January 2017 that Infosys has rotated its auditors and appointed Deloitte Haskins & Sells LLP.
Regulations require auditor rotation once every 10 years, provided companies get a three-year window to make the switch. If Infosys indeed wanted to follow the spirit of the law - and mandatory auditor rotation being on the anvil was known as early as 2012, when the Companies' Bill came out - it should have considered rotating auditors much sooner.
Another case in point is the March 2016 reappointment of professor Jeffrey Lehman as an independent director for a period of two years. Professor Lehman had completed his tenure of 10 years, and while regulations allow him to stay on, the spirit of the regulations demand rotation.
In response to Institutional Investor Advisory Services' recommendation to vote against professor Lehman's reappointment, Infosys cited that it was legally compliant.
While that was indeed so, Infosys was in violation of its own Corporate Governance Philosophy. That investors, too, did not like this stance is evidenced in the voting pattern - the resolution was carried but by only an 85 per cent majority - albeit higher than the 75 per cent passing threshold.
The recent controversy over severance pay being paid to senior officials is not one for which the chairperson needs to resign. But it needs to be explained - especially given the simmering discontent with a few investors.
The nature and terms of the severance pay of its last CFO, Rajiv Bansal, should have been disclosed in the company's 2016 annual report.
Infosys should have articulated the number and nature of roles that are eligible to have severance pay embedded in their contracts. Its remuneration policy should articulate which segment of employees will be eligible for severance pay.
In not "maintaining transparency and a high degree of disclosure levels" expected from it, Infosys has fed more controversy to the market than was necessary.
But the lines were blurred when Narayana Murthy was reappointed to the Infosys' board in 2013. The sequence of events and press releases from Infosys seems to suggest that Murthy's appointment was shoehorned into the AGMs, with the required paperwork conveniently falling into place.
In a June 1, 2013 release, Infosys announced that the board had appointed Murthy as an additional director and that it would organise an EGM to appoint him as an executive director.
On June 6, 2013, Infosys released another statement saying that on May 31, 2013, it had received a notice from a shareholder proposing Murthy's candidature for the election to the office of a director at the ensuing AGM, which was to be held on June 15, 2013.
The shareholder's notice seemed to be conveniently timed just so that Murthy's reappointment could be placed before shareholders at the AGM - on May 31, 2013 shareholders were given a 15-day prior notice to vote him in at the AGM. Coincidence or planned action?
Even before Murthy's reappointment to the board, the decision to let each of the founders have a go at the CEO role was an antithesis of the meritocracy that Infosys had established as its corporate culture.
While Infosys' founders repeatedly maintained that their family members would not join the company, Rohan Murthy's appointment - even if it was coterminous with that of Murthy and at a nominal pay - was a violation of their own principles.
Despite the slippages from its Corporate Governance Philosophy, Infosys remains one of the more transparent companies in India. Its disclosures, the structure and nature of its policies, and its ability to be ahead of the market on some governance practices remain undisputed.
For example, Infosys is one of the few companies that has an articulated dividend policy with a target payout ratio (though we may disagree with this and believe the company must pay out more to shareholders) well before regulations required it to do so.
It publishes consolidated financial statements (including the balance sheet) on a quarterly basis, which is more than what is required by regulations. Its investor discussions are easily accessible and the webcast of its AGM is available on the company's website.
These are just some areas that set Infosys' governance practices apart from the rest of corporate India. But what has changed is that while 10 years ago Infosys stood tall as a beacon of good governance, a few others have caught up and, in some aspects, have even moved ahead.
This should irk. While the management and board might be focused on reinventing the business model, its stock will not perform if they take their eyes off the governance agenda.
Hetal Dalal is chief operating officer, Institutional Investor Advisory Services.
Photograph: Abhishek Chinnappa/Reuters