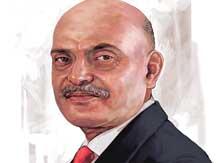 Of the 131 entities Raghav Bahl follows on Twitter, 20 are politicians and political parties.

The rest are a mix of journalists, policymakers, newspapers and Network18 news channels.

He follows only one media CEO: Punit Goenka of Zee.

This is the first indicator of what Bahl, 52, is likely to do now that he slips into the role of a non-executive director at Network18, the company he founded 21 years ago.

The other indicator is his Facebook page about the Think India Foundation, launched by Network18 last year.

It advocates, through TV shows, public events, et cetera policies for India that are "economically conservative and socially liberal".

"If he was not an entrepreneur, he would have done something in public policy," says Vivian Fernandes, a former colleague from Network18 and now the foundation's principal editorial advisor.

Can Think India Foundation, or any other initiative Bahl chooses now, work without the clout of the Rs 2,692-crore Network18, home to CNBC-TV18, CNN-IBN, Colors, moneycontrol.com and other brands?

The foundation got off to a great start, roping in everyone from Narendra Modi to Sheila Dikshit as speakers, arguably because till May 29 this year, Bahl was in control of a media empire that reached millions of people across mediums: TV, online and print.

On that day, Mukesh Ambani's Reliance Industries took management control of the company.

Actually, Reliance has had financial control since early 2012 when it financed the merger of the debt-ridden Network18 with ETV through the Independent Media Trust.

The popular impression was that Bahl and his team would retain operational control.

Reports suggest the network's coverage of Aam Aadmi Party chief Arvind Kejriwal's accusations related to Reliance got to the company and it decided to take charge.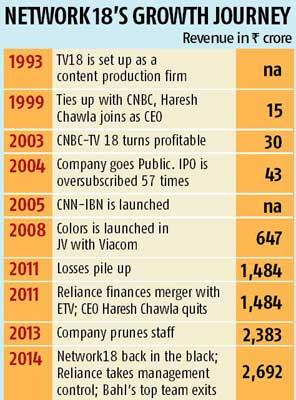 While Bahl and his top team have already resigned, an open offer for minority shareholders is set to end in the first week of August.

That is when Reliance will own Network18 lock, stock and barrel. Bahl and his wife, Ritu Kapur, will leave with about Rs 707 crore (Rs 7.07 billion), with all the debt of the holding and listed firms paid off in a transaction of well over Rs 3,300 crore (Rs 33 billion).

In the Rs 83,000-crore (Rs 830-billion) Indian media and entertainment sector where exits are rare, this is a fantastic deal.

The only other promoter-CEOs to see decent exits are Ronnie Screwvala of UTV (to Disney) and, possibly, Tariq Ansari of Mid-Day (to Jagran Prakashan).

It is, however, not a nice way to go. Not for the man who founded the company and has been its face for the past two decades.

Will history then remember Bahl as the man who took money from Reliance in desperation and was shoved aside by it, or a visionary who had the courage to expand his one-channel company into one of India's top 10 media firms?

Bahl declined to comment for this piece.

The dozen-odd people this reporter spoke to, who ranged from ex-colleagues to investment bankers and fellow media barons, say it will be a bit of both.

Almost all of them refuse to go on record. And, almost all of them agree on one thing: Bahl was an ambitious, optimistic, compulsive risk-taker who took one risk too many.

In the process, he lost his company and the respect of many former managers who felt they were shortchanged through stock options that did not materialise and brands that were junked too early in the hurry to create Network18.

Who really is Bahl?

Bahl, an alumnus of St Stephen's College and an MBA, lived the corporate life before the media bug bit him.

He was a management consultant with AF Ferguson and also worked with American Express, before launching Television18 in 1993.

He started with The India Show on STAR Plus and later, was involved with India Business Report on BBC.

In 1999, he roped in CNBC as a partner. That is what gave it the "gravitas to attract professional talent", Bahl had said in an earlier interview.

He hired Haresh Chawla, an Indian Institute of Technology and Indian Institute of Management graduate, with stints at HCL, the Times Group and ABCL, with the promise of a free hand to make whatever changes he felt necessary.

Bahl's first test came within months.

There was a choice between shutting the content production business and focusing on broadcasting or cutting costs across the board and doing everything.

Chawla opted for the former.

It was painful and unpopular, though in retrospect it was the right decision, in which many Bahl loyalists and old-timers were let go of.

But he went with it.

Since then, Bahl has pursued the dream of creating something big with a single-mindedness that, at times, astonished colleagues.

Network18 did whatever it took to grow: pick up debt, dilute equity, tie up, forge joint ventures or acquire.

It took CNN away from right under NDTV's nose and then got Rajdeep Sardesai and Sameer Manchanda to set up CNN-IBN. At times, Bahl was in such a hurry to grab an opportunity that a term sheet on Friday would be converted into a signed deal by Monday, says a former insider.

"The expansion was not all planned. You just took decisions quickly, as opportunities came by. Also (in the media business), scale is critical for advertiser clout.

A one-channel company can't survive.

So, we were also forced by the nature of the business," says Fernandes.

Soon, Network18 became one of the hottest media firms in the country.

From Rs 15 crore (Rs 150 million) in 1999, its revenue rose to Rs 647 crore in March 2008, way ahead of rivals NDTV and TV Today.

It had deals in place with the who's who of international and Indian media: Viacom, Time-Warner and Infomedia, among several others.

More than three quarters of its revenue and a bulk of its valuation was fuelled by mergers and acquisitions, unheard of in the Indian media segment.

"He has never been shy of debt or dilution.

"You have to salute him for his ability to step aside. People don't sell in the media business; this, to my mind, makes a big statement about his personality," says a former investment banker, referring to thousands of Indian media owners who run little fiefdoms across the country, but refuse to merge, consolidate or professionalise.

This creates a hyper-fragmented market, with 86,000 newspapers, 800-odd TV channels and millions of portals.

The result: India is one of the world's largest media markets by audience and penetration, but also one of the most under-monetised ones.

The size of the entire media and entertainment industry in India is less than that of its largest telecom player, Bharti Airtel.

A refreshing change

While investors and bankers are full of admiration at the way Bahl allowed Chawla a free hand with the business, they were exasperated at the company the duo created. Its accounting and corporate structure have, for long, been fodder for the business press.

"Everything Bahl has done till date is complicated and meant to camouflage his need to retain control," says a banker who actively advised clients against picking the stock -- even in the good years.

For all the talk of letting go and dilution, Bahl retained majority stake through a complicated web of companies that foxed most analysts.

In July 2008, Network18 took its biggest risk ever and launched a general entertainment channel in the competitive Hindi market dominated by STAR, Zee and Sony.

At that time, it took anywhere between Rs 300 crore (Rs 3 billion) and Rs 500 crore or Rs 5 billion (to launch a general entertainment channel -- about half or more of Network18's then revenue.

It seemed a foolhardy idea. Ex-STAR CEO Peter Mukerjea's 9X had just failed miserably. But Viacom joined hands with Network18 and Colors was launched.

It took off like a shot, with shows such as Balika Vadhu and Uttaran; now, it accounts for a bulk of the group's revenue.

There were duds, too, such as The Indian Film Company, which listed on AIM and finally amounted to nothing other than accounting jugglery, say analysts.

By September 2008, the Lehman crisis unfolded. Money dried up and the markets became jittery.

Bahl, however, continued to invest-in Viacom18's proposed movie channel, in Forbes and in a host of print and online properties.

Soon, the slowdown in advertising and the rise in carriage fees and interest rates started causing a serious squeeze.

By March 2011, Network18 had piled up close to Rs 1,400 crore (Rs 14 billion) in debt on revenue that just about equalled that figure. That is when he started looking for a saviour.

Enter Reliance The Reliance deal, however, cost the company Chawla, its operational brains.

Insiders say Chawla left because he thought instead of dealing with Reliance, the group could have used Colors as leverage, selling a chunk of its ownership in Viacom18.

Also, he didn't agree that ETV, which in March 2011 was a Rs 525-crore (Rs 5.25 billion) firm (going by figures provided by Reliance), should be valued at Rs 3,500 crore (Rs 35 billion).

Several analysts pointed this out in reports on the deal, much to Bahl's irritation.

"He thought big, created a portfolio of diverse assets, picked up smart people and empowered them.

The organisation he has created is quite magnificent. Sometimes, one or two calls pull you down," is how one former media baron puts it.

"From the time the Reliance deal was announced, Bahl was a changed man," says a senior manager in the group.

His entire focus was on getting the group back to profitability, and he did this through some ruthless cost-cutting.

Finally, Network18 recorded an operating profit of Rs 87 crore (Rs 870 million) in March 2014.

Apparently, Bahl was chuffed enough to start planning for the future, says a banker who met him earlier this year.

"He was not talking like a man who knew he was quitting."

But many saw it coming.

"Why is everyone so surprised that this is happening?

"At some stage, Reliance had to convert (its zero-coupon optionally convertible debentures into shares).

It (Reliance) bought the company at a bargain and it has turned around; so, it wants to quickly take charge before it becomes more expensive to acquire fully," says a former media owner. But why sideline Bahl?

"In India, giving up is equated with abandoning the company. Exit has to be evangelised," says the former media owner.

"While the exit of dotcom or pharmaceutical entrepreneurs is celebrated, in the media business, it is seen as a comedown, say others. That is the version of his story that Bahl believes in, too.

To an interview request, he wrote back saying, "I am still at Network18, and once I have completed a smooth handover, I could talk.

"The media has got this completely wrong! There is absolutely no hostility or acrimony. "I have the highest regard for Mr Ambani, and am convinced Network18 is set for a much stronger innings from here on, one in which I will be happy to play the role of a friend, philosopher and guide."

Going by the Reliance announcement today, that is exactly what Bahl will be doing as non-executive director.
Image: Raghav Bahl; Photograph courtesy: Business Standard
Please click here for the Complete Coverage of Budget 2014 -15