According to sources, around 3,000 people are involved in the shady business, notes T E Narasimhan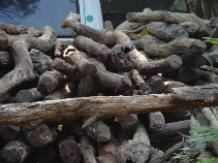 In a small room with asbestos sheets for a roof in Aathimur village, Pavithra, 23, recently widowed, stares at a gloomy future with her two daughters -- one three years old, the other just 18 months old.

Outside sits Shankar, who has just returned after completing the last rites of his son.

This is the family of S Vijayakanth, one of the three men shot dead by the police in May, allegedly for smuggling red sanders wood hundreds of miles from their home.

"My husband told me he was going to Kerala for work and would come back with a lot of money," sobs Pavithra.

"She learnt of his death when she saw his picture in the newspaper. Around 100 metres from Pavithra's house lives 19-year-old Rekha who too lost her husband, Shiva, leaving her to bring up their 18-month daughter.

Both the widows have big debts, and they need to repay around Rs 20,000 every four months, say family members.

Vijayakanth and Shiva were among the thousands of tribals from Javvadu Malai who regularly cross over from their home in Tamil Nadu to Andhra Pradesh for what they think is routine wood chopping work in the forests there.

Not only don't they know the people who pay them so handsomely for their work, but they also don't know that they are dealing with the valuable red sanders wood (Pterocarpus santalinus), the trade in which is illegal.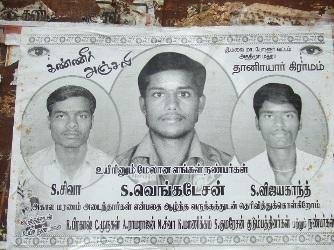 "A tonne of smuggled red sanders fetches up to Rs 20 lakh (Rs 2 million) in India, but its international landing price is Rs 50-80 lakh (Rs 5-8 million)," says a forest officer from Vellore.

Javvadu, perched 3,000 feet above sea level, has around 280 villages.

And though it is a naturally lush region, the villages in the forests are mired in poverty.

Aathimur village, with 40-50 houses, used to rely mainly on sugarcane for survival, but the sugar mill in the vicinity has closed down.

The men sit at home, idle and desperate.

Aathimur is fertile ground for recruiting agents of red sanders smugglers, and the villagers are more than willing to oblige the shady men who ask them to work for six months felling red sanders trees, chopping them into logs and and loading them on trucks.

The agents offer them a tempting Rs 800-1,000 per day as well as advances of up to Rs 100,000.

A forest department official says these middle-men target villages that are hit by drought or have a large number of illiterate people. Police reports say that two agents stationed in each of the 274 villages ensure a steady stream of labour for the smugglers.

According to sources, around 3,000 people are involved in the shady business.

People from Javvadu Mali are in demand for their reputation as the best woodcutters for generations.

A villager here, locals testify, will fell a tree in a few minutes and carry 50 kg of wood without much trouble.

The villagers earned good money, as did everyone in the business.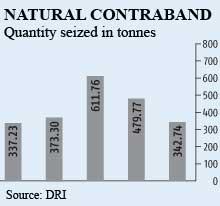 However, after N Chandrababu Naidu took charge as the new chief minister of Andhra Pradesh in June, the state police and forest department launched a relentless battle against the smuggling.

Around 1,000 people, mainly from Tamil Nadu, involved in the illegal trade, are now in jail.

Naidu has obviously not forgotten that a bomb attack targeting him and carried out by the Naxals in 2009 was allegedly funded by the red sanders smugglers, angered by his crackdown on the activity.

In the 2014 assembly polls that saw his return to power, one of Naidu's main planks had been an all-out assault on the smuggling of red sanders.

While red sanders is not known to have widespread usage in India, it is a much valued item used in traditional medicines and woodcraft across China, Myanmar, Japan and other countries of east Asia.

It is also used in shipbuilding, and is reportedly useful in containing radiation in nuclear reactors. "Nobody has told us what the real use of this red wood is," says a villager in Aathimur.

Also called red sandalwood, the wood gets its name from its rich, dark colour unlike the light golden of the fragrant sandalwood. In legend, it is believed that King Solomon coveted the wood for its beauty and the queen of Sheba presented it to him.

In medieval China, it gained popularity as the preferred wood for furniture as well as for its medicinal properties.

At home, the wood, grown mostly in Andhra Pradesh, has ritual importance for Hindus.

Smuggling took off after the overexploited tree was put on the endangered list in 2000, and the Centre banned its felling, movement, sale and exports.

It is smuggled out in ship containers or as air cargo, often masquerading as foodstuff, allegedly with the collusion of customs officials. Sometimes, air passengers carry them as luggage from Chennai to Kuala Lumpur or from Delhi to Beijing.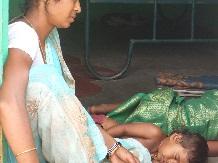 Because the wood brings so much of money for everyone involved -- the agents make around Rs 75,000 per week as commission -- the smugglers often take desperate action to evade arrest.

Two Andhra Pradesh forest rangers were hacked to death in the Seshasalam forests last December.

This prompted the Andhra police to form a special task force that, in the past four months, has shot dead four Tamil villagers, arrested over 1,000 smugglers and seized over 20,000 tonnes of red sanders.

In the last week of June, the Tamil Nadu Police arrested 60-year-old Karagattam folk dancer Mohanambal at Vellore and charged her with links to red sanders smuggling.

The police retrieved Rs 4.4 crore (Rs 44 million) cash and 72 sovereign of gold from her house.

After evading the police for nearly two weeks, Mohanambal and her sister surrendered at the Vellore court.

Police teams are still hunting for Mohanambal's nephew, Saravanan, who allegedly acted as a direct agent for the smugglers based in Dubai.

The current crackdown and the resultant shortage in the market may push the prices of legally sold red sanders to Rs 900,000 a tonne, says a farmer, who once traded in the wood but gave up when he was unable to meet many of the legalities post the 2000 ban.

Sale of old stocks is permitted but with stringent conditions.

At present, the price for red sanders sold legally is Rs 300,000-500,000 per tonne.

In China, the asking price is around Rs 20 lakh (Rs 2 million). However, there is still scope for legal exports and with the last date for sales of the confiscated red sanders falls in the second half of the year, more players are expected to get into the business, says a source.

There were reports that in government storerooms across the country, there is about Rs 5,000 crore (Rs 50 billion) worth of the wood.

The state forest departments store the wood seized by them in warehouses and auction the coveted wood to eligible artisans, furniture makers or other users of the wood, subject to prescribed terms and conditions.

Goods seized by the Customs at various ports are eligible for sale after going through the procedure prescribed for post-trial disposal of such seized goods.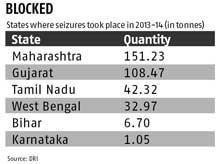 Last October, the Convention on International Trade in Endangered Species of World Fauna and Flora gave India a one-off chance to export 11,806 tonnes of seized red sanders logs.

Some states, including Gujarat and Andhra Pradesh, have large quantities of the wood in custody.

The Centre allowed Andhra Pradesh to auction confiscated stocks earlier this month, and the state will sell 4,159 tonnes of its 8,584 stockpile in the international market, particularly China, Japan and Singapore.

The auction is expected to fetch Rs 10-30 lakh (Rs 1-3 million) a tonne.

The government, no doubt, will earn a handsome amount.

Elsewhere, some poor families will regret they ever gave in to the fatal temptation of easy money.
Images: Top -- Sanders wood; 2nd from top -- A picture of the three men shot dead by the police in May, allegedly for smuggling red sanders wood; 3rd from top -- A picture of Pavithrs with one of her daughters. Photographs Courtesy Business Standard.