Driven out of business by microfinance companies, the Kabuliwalas of Kolkata, traditional moneylenders, have seen their numbers shrink.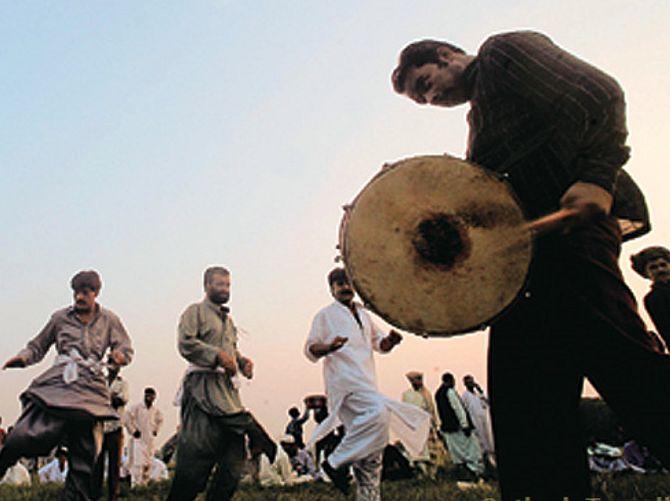 I felt like I was in hell. I could not speak properly and remembered my mother's admonition that I shouldn't go to my village in Afghanistan," recalls Zaffar Khan, 29, of the time he was caught and frisked by the Taliban on a secluded highway on his way to Paktika, his village, 140 km from Kabul.
Son of a quintessential Kabuliwala, an Afghan engaged in the business of lending money in Kolkata, Zaffar, then just 24, was in his country to promote the sport of rugby on the invitation of the Afghanistan government.
As a student in Kolkata, he had learnt the game at Brigade Parade Ground with, among others, Paul Walsh, a former diplomat with the British High Commission.
"Why are you carrying an Indian passport? Why are you talking in an Indian accent," the boyish Taliban gunmen harangued a fearful Zaffar.
Then inexplicably, the militants let him go. "We are very sorry that we stopped you. Have a nice day," they said.
Zaffar promised never to return to Afghanistan, although he found Kabul a more vibrant city than Kolkata.
"The city life in Kabul was good, in fact it was better than in Kolkata," he says.
"Not many know about the liberal side of Kabul." In contrast, Paktika was a serene, hilly landscape by daytime and a war zone after dark, with gunshots and explosions all around, where a midnight knock by gun-wielding men enquiring about strangers in the house was a dreaded reality.
Zaffar's parents came to India in 1979 soon after the Soviet invasion of their country, and settled in Bokaro in Jharkhand.
It was a time when Afghan moneylenders offered a one-stop shop for the small credit needs of people in India, and Zaffar's father was, naturally enough, soon involved in the business of giving cash loans.
Zaffar, born in 1985, came to Kolkata in 2004 to study commerce at the South City College.
Zaffar, the rugby player, might be the new face of the Indian Afghan, but in the bylanes of Kolkata, these Pathan suit-clad Afghans are still known as the Kabuliwalas.
These men, whose life away from their country was so poignantly sketched by Rabindranath Tagore in his 1892 short story, Kabuliwala, once trudged across Aghanistan, Pakistan and India, selling products like spices, dry fruit and semi-precious gems.
The money they earned was ploughed into the loans business and brought them handsome incomes.
Today, the wares have been replaced by saris from Varanasi and turbans from Raipur.
For nearly 85 years now, Afghan moneylenders have been tenants of the ground floor of House No 72 on Taltala, a lane off the busy shopping area of New Market.
Over the years, the price of commercial property in the area has increased to among the highest in Kolkata.
It isn't surprising, therefore, that the Afghan occupants are entangled in court cases with their landlords.
Inside, in a spacious hall with minimal amenities except for a dusty Afghani carpet and a few bed rolls, Akbar Khan, a money lender in his mid-50s, sips a cup of kahwa as he watches Afghanistan play in the cricket World Cup in Australia. Khan has been living at Taltala with six other Kabuliwalas for almost 15 years.
Khan doesn't remember when his forefathers left their native country. "We have relatives in Afghanistan, but we can't go back. It is not easy," says Khan.
Before coming to Taltala, Khan worked as a moneylender in Khidirpur, a dock area in central-west Kolkata.
The employees of the dockyard had been his dedicated customers. "Government employees used to be our main clients," says Khan.
"I remember that there were close to 3,000 workers at one of the factories. Today, there are hardly 30-35. At the Khidirpur docks, there were 80,000 people."
Zaffar, 29, son of a quintessential Kabuliwala, is a rugby player and the new face of the Indian Afghan Picture by Iain Walker Zaffar recalls stories he heard in his childhood of borrowers paying interest for 20-22 years for loans as little as Rs 10,000.
The basics of the business have remained the same. No Afghan lends money to a stranger.
The borrower needs to furnish a reference at the time of the loan approval. Also, to keep the clients hooked for the entire contracted tenure, no prepayment is allowed.
If the interest payment is regular, a new loan may be approved, even if the old one hasn't been repaid.
In tune with the market forces, in the last decade the monthly interest charged by Afghan moneylenders has dropped from 8-9 per cent to 3-4 per cent.
But cases of default are on the rise, prompting the men to devise their own know-your-customer norms.
"We ask for documents jisse hume itmenan mile (which we find satisfactory)," says one.
"So many people have cheated us that we have now made it compulsory for borrowers to furnish documents like a voter's card or a PAN card. However, if a person's credentials are good, we don't ask for documents."
But things have changed for the Afghans. Their business took a tumble in the 1980s and '90s when the industrial decline in West Bengal led to the closure of a large number of government factories and shrank the client base of the Kabuliwalas.
"I had to move to the New Market locality that has a large number of shopkeepers," says Khan.
Besides the loss of clientele, the Kabuliwalas face new competition.
"People from the Bengali and Punjabi communities have also started lending money," says one Afghan.
"In addition, there now are companies that offer funds at low interest rates." His reference is to microfinance companies that have made financial loans a tough business for individuals.
Faced with such obstacles in plying their traditional trade, many well-off Afghani moneylenders have taken to modern businesses like construction and retail.
Since 2005, a large number of them have gone back to Afghanistan after the situation improved there following the country's first parliamentary elections in 30 years.
From about 10,000 Afghans in Kolkata in 2001, there aren't more than 2,000 today.
There are around 15 Afghan Kothis, or Afghan tenements, still left in Kolkata, but every year the number of occupants is decreasing.
Akbar Khan says that in the last five years, the number of his roommates has gone from 15 to six.
The stigma associated with usury means the Afghans today do not like to be identified as moneylenders, except perhaps to existing clients.
And quite reasonably, the next generation of Afghans does not want to be associated with moneylending. Like Zaffar's father, most Afghans now invest in their children's education.
But livelihoods have to be earned. "Kabul has changed in the last few decades, and so finding a job is not easy without education," says Zaffar.
"Most people who returned to Afghanistan from India have opened small shops or started very small businesses."
In an age of modern banking, as moneylending becomes a dirty word, the Kabuliwalas are getting lost in the bylanes of Kolkata.
They may be the last of their tribes to cling to their business, but their legacy will, no doubt, continue in newer forms: doorstep banking, microfinance and as banking correspondents.
Photograph: Reuters