Job prospects in the sector will not look up from their distinctly downbeat present outlook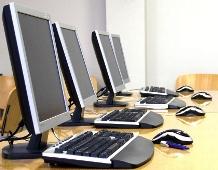 The markets have greeted the results of India's two information technology leaders, TCS and Infosys, with a degree of added enthusiasm, which may not be fully deserved.

Infosys has done better than otherwise would have been the case.

This is because it is recognising for the first time the gains from the acquisition of Lodestone.

This is not a fortuitous event and the firm is fully entitled to take credit for its action whose positives will continue to flow over time.

In fact, everyone's grouse was that Infosys was sitting on cash and not putting it to good use.

Now that it has listened to universal advice, it will hopefully keep up the good work for which it still has loads of cash left.

In fact, market operators may be using the expected results of the acquisition to correct an earlier wrong -- taking an excessively downbeat view of the company's performance.

As for TCS, it has continued its trend of doing better than the industry.

So there is nothing unexpected; such performance should already have been discounted.

As for actual numbers, both companies have reported lower top-line growth, in keeping with the characteristic of the reporting quarter -- which includes a larger number of holidays.

This impacts revenue in an industry still driven by time and material pricing.

Again, if you take away the impact of Lodestone, both companies have reported identical sequential (quarter on quarter) top-line growth. But a look at the bottom line produces a differentiated picture.

Over the earlier, that is, September quarter, Infosys' net profit was identical or static.

But TCS recorded marginal sequential bottom-line growth.

This has found reflection in net margins. Infosys has reported a fall of over a percentage point, whereas TCS has remained where it was.

This has caused the difference between them to be narrowed down to less than one percentage point, something that had last occurred six quarters ago.

It is, thus, not surprising that the TCS CEO finds the results simply 'excellent', whereas his counterpart in Infosys says the firm has 'done well' but the broader economic environment remains 'difficult'.

This raises the issue of the business environment for Indian IT in the developed economies, which are their overwhelmingly important market.

The US economy is continuing its slow recovery; Europe has stopped looking at disaster in the face; and Japan may just discard its ingrained conservatism and take bold steps to grow.

This is a marginally better macroeconomic picture than was the case a few months ago, but the issue is how it translated into sentiments within companies.

There the outlook is dimmer and most firms are in a wait-and-watch mode with a firm grip on discretionary spending. Unless this changes, the outlook for the Indian software industry as a whole will not be anywhere near as bright as that for its leaders.

And until that happens, job prospects in the sector will not look up from their distinctly downbeat present outlook.

The only bright spot is the innovations taking place in applications for the mobile platform space.