Besides being busy with their professional lives, Nita and Devashish have a common cause for which they both struggle hard, real hard to support economically weak cancer patients from across cities, finds out Shaheen Mansuri/Rediff.com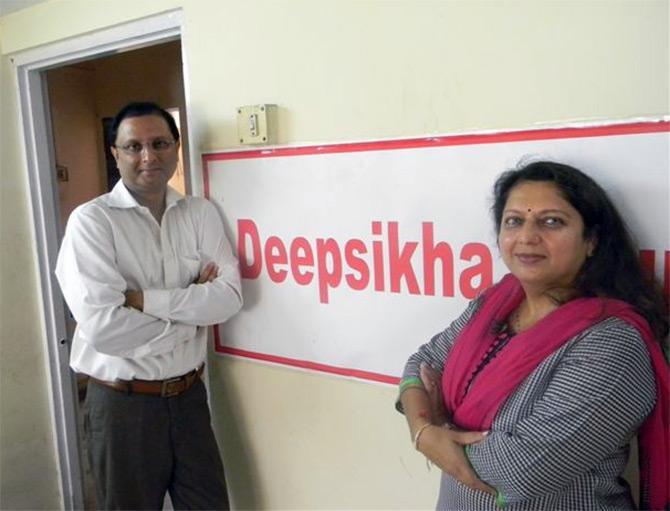 Image: Nita Doshi and Devashish Sharma have dedicated their lives for the cause of cancer. Photograph: Courtesy, Nita Doshi
Both Nita Doshi and Devashish Sharma are high profile professionals in their respective fields. But both don't mind juggling between their hectic schedules and a social cause that is close to their hearts.
Mumbai-based Nita is a chartered accountant by profession for the past 28 years and Devashish, a civil servant from Assam is the deputy resident commissioner of Assam Bhawan in Navi Mumbai.
Born in an affluent Gujarati family, Nita was always associated with social causes just like her father. She was a regular visitor to NGOs like Ashadaan which works for destitute men and women and St Catherine's Children's Home.
She is also associated with two schools for the underprivileged in Gujarat and has also worked as a volunteer at Akanksha Foundation which works for underprivileged children.
According to Nita, her most prized possession is a card signed by Mother Teresa in 1989 asking her to keep up the good work.
Image: Patients at Deepsikha homes make paper roses during a workshop. Photograph: Courtesy, Nita Doshi
Devashish has always been actively involved in organising cancer awareness camps in rural areas of Assam. He would take along a band of musician friends to the villages, gather a crowd and then talk to them about cancer, its early symptoms and causes.
Devashish has been honoured with quite a few prestigious awards for his effort including:
The Rashtriya Vikas Ratna award for commendable service to society
Commendation Certificate for Meritorious Service by the Honorable Governor of Assam
Rotary International Award for Community Service in 2010
Lions Club Karmayogi Award in 2011
Hem Barua award for social service in 2015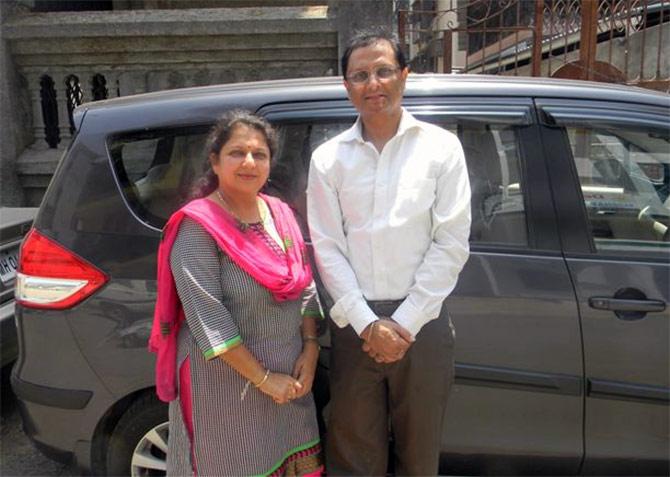 Image: Despite their hectic schedules, both Nita and Devashish manage to give time for the social cause they strongly feel about. Photograph: Courtesy, Nita Doshi
Perhaps, Nita and Devashish, both were destined to meet to do something bigger and better. Interestingly in 2008, both had enrolled for a counselling course in Mumbai and this is where they became friends.
At that time, Devashish, along with a few colleagues and friends had already established Deepsikha (2004), an NGO that helps cancer patients and Nita was already supporting other social causes.
Without thinking much, Nita who was by now a good friend of Devashish, became a volunteer at Deepsikha and got involved in the day-to-day affairs so that poor patients who come from distant regions like the North-East, Bihar, Nepal and Bangladesh get basic facilities when they come to Mumbai for treatment.
Gradually, Nita started getting more involved with Deepsikha. From getting donors-to-counselling patients- to helping set up new homes, the lady does it all out of selfless passion which is very evident from the conversation she had with Rediff.com.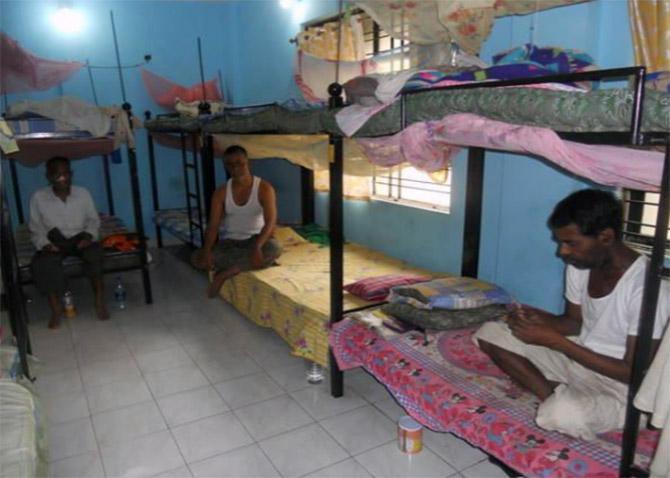 Image: Cancer patients pay nominal rent toward their stay at Deepsikha homes. Photograph: Courtesy, Nita Doshi
Today, Deepsikha has three homes including Aradhana Bhawan in Sector 7, Ratanlal Didwania Arogya Bhawan in Sector 19 and Sadbhav Arogya Bhwana in Sector 28 in Vashi, Navi Mumbai, where they house 180 patients and relatives at a nominal fee of Rs 60 for a bed in dormitory and Rs 10 for a meal.
There are air-conditioned rooms available at very affordable rates for those who want privacy.
The total average spend of running these homes is around Rs 800,000 per month.
How Nita and Devashish mop up funds to run the show
Over these years Nita has built a strong network with corporate houses and industrialists, mostly from the Gujarati community who generously donate for the cause. Her family and friends also contribute.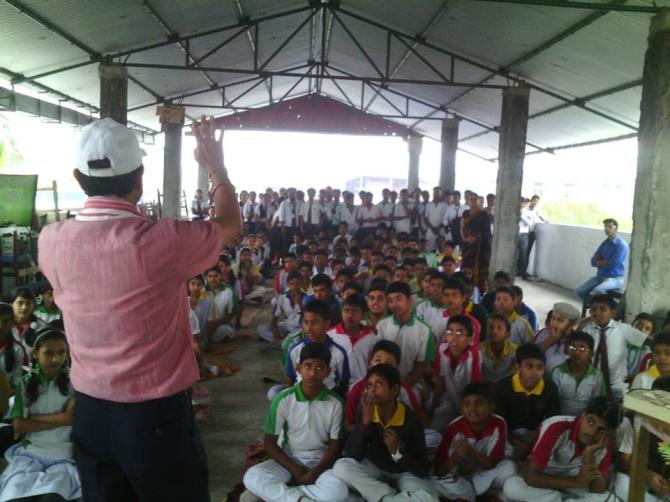 Image: Devasish organises free seminars and cancer awareness camps across cities quite regularly. Photograph: Courtesy, Nita Doshi
Devashish taps government organisations and other well-wishers through his wide contacts to support the cause.
Sharing is caring
While Nita handles accounts at Deepsikha, Devashish looks after other administrative works. He has a good understanding of the disease and helps patients with doctors' appointments, etc. Together, they also conduct free seminars to create cancer awareness among the masses. Both work in coordination with each other to instil not only positive attitude in cancer patients but also revive hope in their lives.
Daily chores
The four homes which Deepsikha runs house around 180 persons. Nita and Devashish are ably assisted in their endeavour by their respective office members.
Deepsikha staff includes cooks, bus drivers and other housekeeping staff who look after the guests' needs.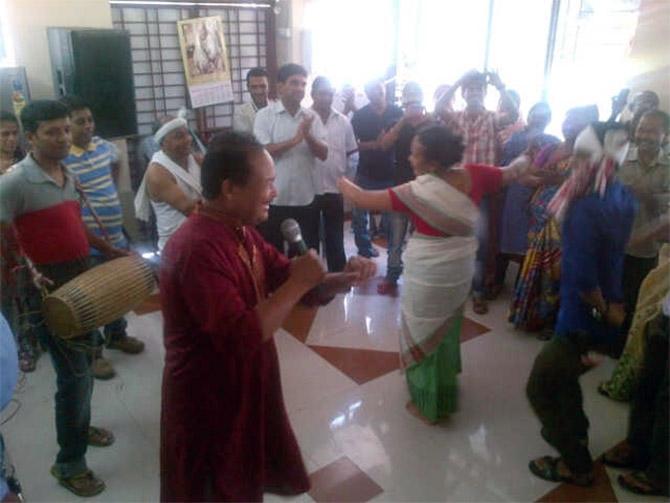 Image: Patients have a fantastic support from each other during their stay at Deepsikha homes. Photograph: Courtesy, Nita Doshi
There are recreation areas where one can play indoor games too.
To make life easier there are washing machines and other household gadgets also.
Two buses ferry patients to Tata Memorial Hospital and back. Patients find a fantastic support system in each other.
Hope and positive attitude
Devashish tells Rediff.com, changing the negative perception of patients and their relatives is critical. We sensitise them to take control of the situation rather than worrying on what will happen in future.
Factors at play
Factors that affect patients' positive attitude are their relationships with people around them.
Hence, Devashish says, from the cook-to-the-hobby classes tutor-to the bus driver, all are supportive which automatically creates a pleasant environment. No one needs sympathy, he says. You see only smiling faces at our homes.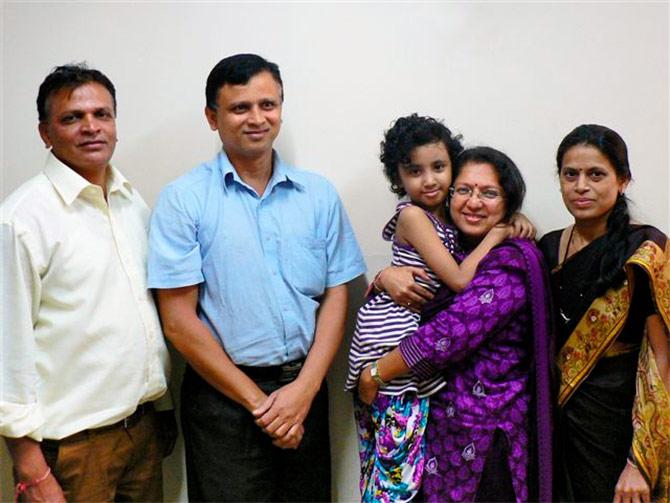 Image: Ten year old Bandita, a cancer survivor is seen with Nita Doshi. Photograph: Courtesy, Nita Doshi
Short stories - Magic happens with those who believe in it
Cancer survivor, 10-year old Bandita from Assam whose leg is amputated is a high spirited girl.
She is good in studies, loves to wear make-up, has immense interest in arts and whenever she comes to Mumbai for a follow-up with the doctor, loves to stay with her extended family at Deepsikha homes.
There are two cases of Deepsikha patients who got married after their successful treatment in Mumbai. One is Plabita who got married to Dhruba Sharma who is one of the trustees at Deepsikha.
Another one is Dhrubajyoti Kolita who married another patient Namita. Stories never end. There are quite a few stories of hope at Deepsikha.
Parties, fun unlimited
Be it be birthdays, Holi, Ganesh Chaturthi, Diwali, or New Year's eve, Nita says, the family at Deepsikha centres celebrate in high spirits.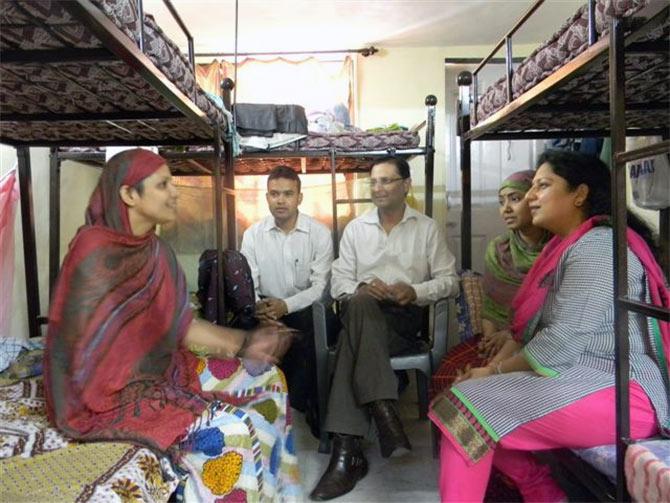 Image: Nita and Devashish counsel patients at one of Deepsikha homes in Navi Mumbai. Photograph: Courtesy, Nita Doshi
There are times when even neighbours in the vicinity join in to celebrate festivals.
A strong network
Like Deepsikha members there are many others who are working for a similar cause.
Take for instance Tekchand Dedhia, who promoted 'Khichdi Ghar' outside Tata Hospital which feeds over 500 patients and their relatives daily.
There are times when donors donate rations, beds or other such requirements to Deepsikha. Fellow social workers also recommend donors to contribute to the NGO.
Confidence unlimited
Deepsikha homes are rented properties. Nita and Devashish have the confidence of having their own building in Mumbai where they can house more patients.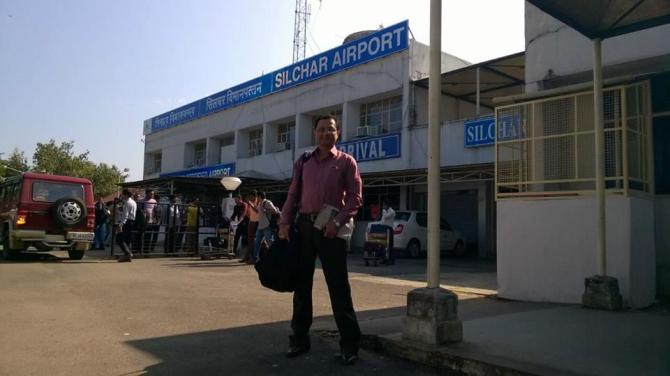 Image: Devashish is trying hard to open a cancer hospital in Guwahati, his hometown. Photograph: Courtesy, Nita Doshi
"Plenty of plans are on the anvil. We need more funds to complete a hospice in Guwahati. We are ready to construct a child care centre there for which the government has agreed to provide finance. Deepsikha has received land to build a sanitorium in Jorhat," informs Devashish.
We wish them best of luck for their future endeavours!