It has been clear for a while that India needs manufacturing - and it may be true that global manufacturing needs India as well. Time to strike while the iron is hot, say Rajat Dhawan, Anu Madgavkar and Sree Ramaswamy.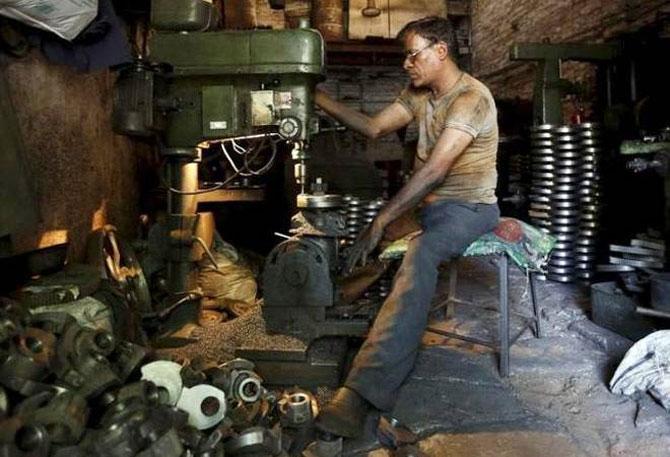 India's manufacturing sector needs to generate 30 to 50 million new jobs in the coming decade, or twice its historical rate of job creation. This will be needed to avoid a demographic disaster and lift millions out of poverty and into formal employment. Beyond jobs, a vibrant manufacturing sector will drive faster productivity growth and trade, as is the case globally.
Today, India is the world's ninth-largest manufacturing country. The sector has doubled its contribution to India's economy in the past 15 years. Yet much remains to be done. India's manufacturing sector contributes only around 14 per cent of gross domestic product - much lower than in other large emerging economies.
Over the past three decades, global profits rose to record levels, as multinational firms tapped new markets and took advantage of large labour pools and new technologies to reduce costs. Companies offshored many jobs and set up global supply chains to access markets, resources and labour pools.
But the rapid growth also attracted new competitors. The number of multinational firms has doubled since 1990, and many are hard-charging, aggressive competitors from the emerging world. The new companies focus more on revenue growth and global scale than on short-term shareholder returns.
As a consequence, global manufacturers today are faced with slowing growth, rising competition and pressures on profit margins, particularly in industries such as automobiles, machinery, and metals.
In this environment, the world's largest manufacturing firms are looking to India for its large and growing market, skill base, and large workforce. India provides manufacturing firms an opportunity to restore returns on capital. For the Indian economy, the opportunity for investment and job creation is enormous.
Global headwinds make it tougher
But the window to act is closing fast. There are significant headwinds to job creation in manufacturing, especially with automation costs falling and digitisation taking hold in many industries. Premature de-industrialisation is a significant risk. Many emerging economies, for example those in Latin America, are unable to generate mass employment in manufacturing. The cost of automation has already fallen in half relative to the cost of labour.
As it continues to fall, manufacturing may be unable to generate the millions of jobs that it did a half-century ago in countries like the US, Germany and Japan. Meanwhile, many low-cost countries in India's neighbourhood, including Bangladesh, Cambodia and Vietnam, are competing intensely for the labour-intensive jobs that have opened up by China's move up the value chain.
However, low costs are not the only factor that affect manufacturing location decisions, and hence "frugal" need not be India's only calling card to attract investment. Manufacturing is an extraordinary diverse and complex sector, and global manufacturers take into account a variety of factors while making investment decisions.
Manufacturers in India should strive for growth on the back of innovation and achieving competitiveness, in line with the underlying nature of the sector they are playing in. For labour-intensive traded goods such as apparel, low labour costs matter the most. For high-tech traded goods such as electronics, with hundreds of components, access to reliable supply chains is paramount.
Access to low-cost energy sources like coal or natural gas are the primary drivers for the petrochemical and steel industries. In many other industries, companies locate near the market to minimise transportation costs, tailor products to local market needs and respond quickly to demand.
Supplier-proximal industries have the edge
Manufacturing industries that locate near markets and supply chains tend to create "sticky" investments, providing long-term employment and skill pathways for millions of workers. These industries include heavy goods like automobile, speciality chemicals, machines and equipment, as well as their suppliers of metals, rubber, and plastic products.
These products are rapidly incorporating digital content as well, opening up opportunities for electronics and software suppliers. Globally, these "next-shore" industries make up two-thirds of the value added and drive the majority of manufacturing employment. Even in high-cost countries, these industries are relatively labour-intensive, stable and are among the largest employers.
In the US, for example, a third of manufacturing jobs were lost in the past decade, but market- and supplier-proximal industries lost the least number of jobs, and have driven 90 per cent of the recent US manufacturing resurgence.
Many Indian manufacturers in these industries continue to be low-cost sourcing partners for foreign firms, providing relatively low value-added components and parts, and generating lower returns on capital than many large global firms. As global manufacturers continue to face profit pressures, they are likely to put further pressure on low-cost suppliers.
With the rapid penetration of software and digital content in manufactured goods, factory floors and supply chains, Indian firms can tap world-beating domestic IT capabilities to streamline operations, create stronger and more transparent supply chains and capture a greater share of value from digital content in products ranging from home appliances to construction machinery.

As we celebrate Make in India Week and showcase India's manufacturing potential, it's worth noting the opportunities for India to play to its true strengths, which go far beyond low labour costs. Market- and supplier-proximal industries are the best candidates to rapidly grow, diversify and sustain India's manufacturing base.
Given the needs of these industries - access to markets, reliable infrastructure, strong supply chains - Make in India would do well to accelerate industrial corridors and improve the ease of doing business with particular emphasis on these sectors. Strengthening India's attractiveness on these fronts, by expanding the common market, building a talent pipeline and fostering a rich and diverse supplier ecosystem, will help make India's manufacturing sector robust, innovative, and productive.
Rajat Dhawan is director, McKinsey & Company; Anu Madgavkar is partner, McKinsey Global Institute; and Sree Ramaswamy is senior fellow, McKinsey Global Institute