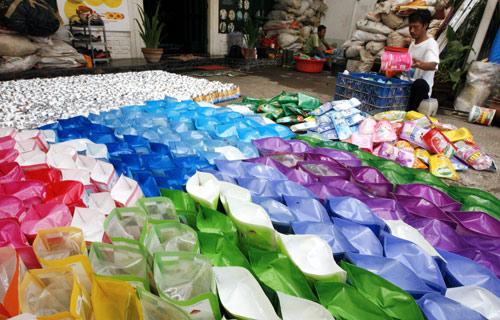 As it loses market share in washing powder, it hopes to catch up with the big cement manufacturers in India with the Lafarge deal
Six years since its de-listing from the stock exchanges, Karsanbhai Patel-led Nirma is back in the news, this time for a maverick deal that it hopes will catapult it to the top league of the cement business in the country.
Has Hiren Patel, Karsanbhai's younger son and the man behind the Rs 9,400-crore (Rs 94-billion) Lafarge deal, inherited the spunk of his father who had once resolved to make Nirma the largest detergent brand in the world?
Hiren, 43, is the one in charge of rebuilding the Rs 7,000-crore (Rs 70-billion) Nirma business empire.
The MBA from Drexel University, Pennsylvania, and a bachelor in chemical engineering from Stevens Institute of Technology, New Jersey, has had cement on his mind since the late 2000s.
Industry watchers say this buyout was an attempt to catch the opportunity ahead of the infrastructure boom sparked by smart cities et al.
The deal comes at a time when Nirma's cement venture in Mahuva, Gujarat, has been marred in land acquisition controversies, forcing the company to shift its attention to a 2-million-tonne cement plant in Rajasthan that was commissioned in 2014.
Many see this move as some kind of second coming for the Patels, who had once dethroned Surf, the detergent heavy-weight from Hindustan Unilever, in the 1980s.
By 1985, Nirma had twirled its way to the top of the detergent chart, toppling Surf.
HUL's Operation STING (Strategy to Inhibit Nirma's Growth) resulted in the launch of Wheel in 1988.
By then, Nirma reportedly had 60 per cent of the market.
In the mid 2000s, both Nirma and Wheel were given a tough fight by another indigenous brand, Ghadi, by Kanpur-based Rohit Surfactants.
Ghadi followed Karsanbahi's footsteps and beat him in his own game, pushing Nirma's market share down to 10-12 per cent by 2015.
A recent Crisil analysis points out that the decline in market share, combined with the lack of segmental diversity, exposes Nirma to risk of further reduction in market share as consumers move up the value chain.
New plans
After the fall in market share, Nirma, which went for backend integration in the 1990s when it set up soda ash and linear alkyl benzene plants, the key ingredients in soaps, started to behave like a commodity producer rather than an FMCG company.
Thus, in 2003, it announced plans for cement; in 2007, it acquired US-based Searle Valley Minerals, making it one of the largest soda ash producers in the world.
A person close to the company's promoters says that the Patels realised that what had worked for them in the 1980s, television advertisements in a single channel, to build a massive consumer brand with huge recall, will not be easy today.
The FMCG space was increasingly getting competitive, and the company knew that it would continue to face pressure in the soaps and detergent segments in the coming years.
Its soda ash business too faced challenges: prices of the commodity witnessed volatility owing to international fluctuations.
Further, with the anti-dumping duty likely to end in March, domestic manufacturers like Nirma are likely to face competition from cheaper imports.
Problems remain
Cement was thus a natural extension. Nirma did not respond to Business Standard queries on the deal and its future plans.
A person who has worked closely with Nirma for years says that the company, once it gets control of Lafarge's plants, would do what it does best: keep costs low.
The deal does come at a time when the cement industry is witnessing resurgence in volumes.
As against 2-3 per cent growth over the past two years, the last quarter has seen growth jump to 12-13 per cent.
Also, the move to position itself as a diversified conglomerate might work for Nirma when it plans to sell cement under the Nirma brand, feel experts.
"It has worked in the case of Nirma University (it is the largest private university in Gujarat) and even when it launched salt," says N Chandramouli, CEO of brand intelligence company TRA.
It still ranks second in terms of consumer trust in the Brand Trust Report 2016 by TRA as a diversified FMCG brand.
Yet, Nirma's combined post-acquisition capacity of 13 million tonnes is still small in the roughly 400-million-tonnes industry in the country.
At a time when prices have plateaued at Rs 4,200-4,300 a tonne, experts believe only those producers that have high capacities and utilisation will get good realisation.
"In the current scenario, companies with scope for higher utilisation are the ones to look forward to," says Dharmesh Kant, head of retail research at Motilal Oswal Securities who finds the Nirma-Lafarge more as a compulsive sell than a strategic buy.
"It is not a needle mover acquisition. Dynamics change when you are putting up a new capacity. Here, it is a running business that is being acquired ; only the brand name is changing," Kant adds.
Lafarge's capacities are not without their own challenges.
For instance, the outgoing company is yet to obtain approval from the Jharkhand government for transfer of its Jojobera site to Nirma.
The plant apparently is built on government land leased to Tata Steel.
Karsanbhai's ingenuity had resulted in Nirma overcoming such external challenges in its detergent business once upon a time.
Now, all eyes will be on his younger son, Hiren, who is at the helm of the cement deal.
A hands-on man, Hiren is known to love to be in control. His father, on the other hand, leads a quiet life.
NIRMA: FROM BACKYARD TO FOREFRONT
1969 Karsanbhai Patel starts a detergent making unit in his backyard and begins to sell washing powder door to door
1984 Nirma is incorporated; named after Karsanbhai's daughter 1987-88 Nirma's detergent dethrones HUL's Surf with 60 per cent market share
1994 Nirma is listed on BSE 1995 Karsanbhai forays into education; starts Nirma Institute of Technology 2003 Nirma announces foray into cement business
2003 Karsanbhai sets up Nirma University; now the largest private university in Gujarat 2004 Nirma forays into pharmaceuticals by acquiring IV fluid factory in Ahmedabad
2007 Nirma acquires US-based Searle Valley Minerals, making it one of the largest soda ash producers in the world
2010 Nirma board approves de-listing from BSE and NSE; promoters acquire 36.3 million equity shares of the company at Rs 235 apiece
2015 Nirma detergent's market share estimated at 10 per cent
2016 Nirma acquires Lafarge India's 11mt cement business for $1.4 billion (about Rs 9,478 crore)
Image: Through its heydays, Nirma was priced less than Surf by Rs 14 on an average. This image is used for representational purpose only