Indrani Roy/Rediff.com traces how researchers at IIT-Kharagpur have managed to turn barren land of surrounding villages to multi-crop farmland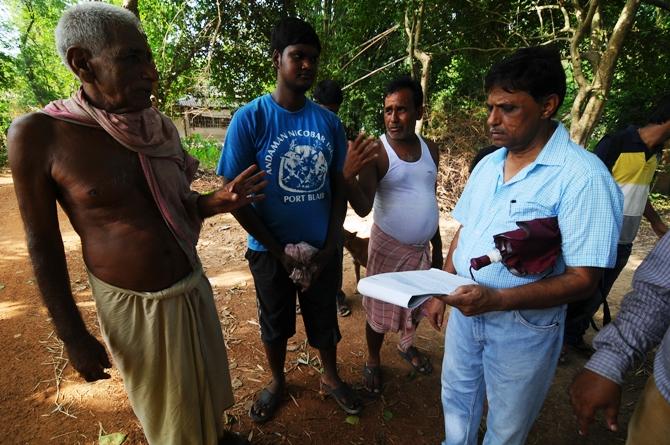 Image: Dr P B S Bhadoria of IIT-Kharagpur speaks to the farmers of Khentia village in Kharagpur.
Jagannath Das, a farmer in his late 40s is surveying a farmland at Khentia village in Kharagpur.
The summer sun is merciless.
With the mercury at cruel 42 degrees, Das is sweating profusely but is smiling a happy smile.
"Five years ago, we could not imagine producing even a handful of paddy in this barren land of Khentia.
"But thanks to IIT Kharagpur professors, we can now grow paddy for our own consumption and can also farm soyabean, sweet corn, sesame, peanut etc," Das tells rediff.com.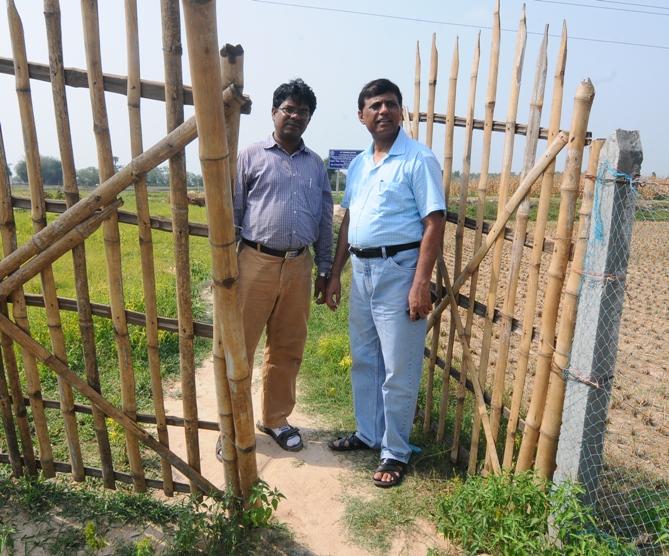 Image: Dilip Kumar Swain (left) and Dr PBS Bhadoria at Khentia village.

A group of researchers at the IIT-K, which is about 10 kms from the Khentia village, have 'adopted' 14 acres of erstwhile barren land and turned it productive.
The farmers of Khentia who are working in tandem with the IIT team now can not only grow their own food but can also nurture the dream of selling the extra produce directly to retailers bypassing the greedy middlemen.
"We are really happy to be involved in this project. We can now grow our food and can also make money by selling the cash crops like sweet corn, peanut, soyabean that we have started growing in our land," says 70-year-old Gora Das.
According to the IIT team, Das is one of the most hardworking farmers of Khentia.
"During the initial months of land preparation, we saw him working round the clock de-weeding the fields and tilling it from dawn to dusk," says Abhishek Singhania, a young member of the IIT team.
Baby steps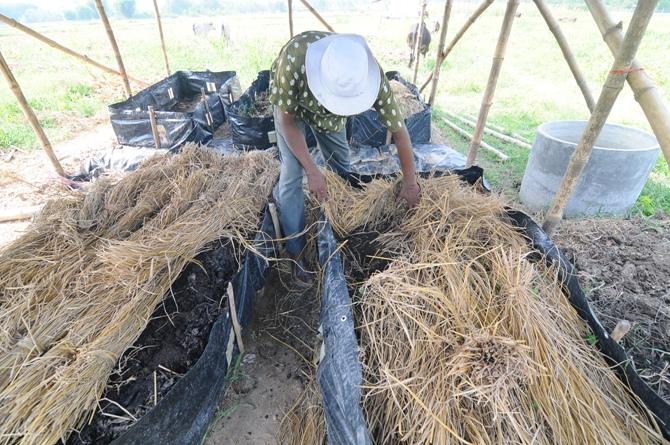 Image: The IIT team helped the farmer prepare a special low-cost vermicompost.

"Our biggest challenge was to prepare this land, which has been lying unused for years, suitable for cultivation," says P B S Bhadoria, an IIT faculty member who is leading this initiative along with 29 other teachers.
"The project was conceived a year back when our director Partha P Chakrabarti approached the central government and expressed his intent to do something on food security.
"The central government lauded the idea and agreed to support the move," Bhadoria says.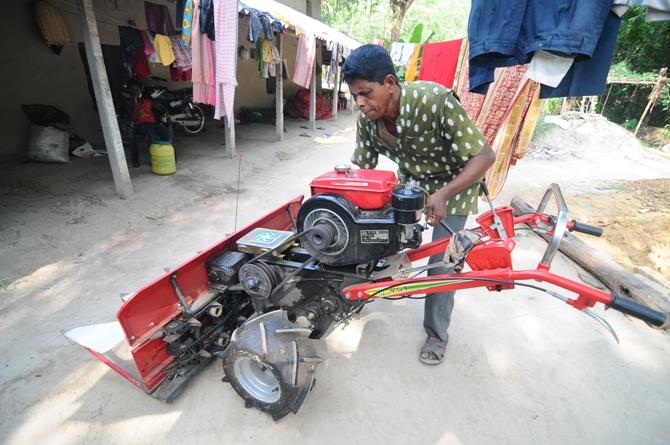 Image: Farmer Jagannath Das demonstrates the harvesting machine.

Thereafter, 14 acres of land from 14 farmers of Khentia was chosen for the Rs 16-crore (Rs 160-million) project.
The field work for the project started in October 2014.
The project involves three departments of IIT-Kharagpur -- agriculture and food technology, biotechnology and industrial engineering.
At present, there are about 30 experts assisting Bhadoria.
The total span of the project is three years.
Convincing the farmers wasn't easy
"Convincing the farmers was a daunting task. Initially, the farmers were not ready to hand over their land to the IIT people. There was some political tension as well.

"Farmers with differing political views tried to create complications," Bhadoria tells rediff.com.
"But these problems were sorted out after long discussions and we got the farmers' nod to go ahead with our experiments on these barren lands," he adds.
"Perhaps, the farmers too did not like the fact that the land was lying unproductive for years," Bhadoria says.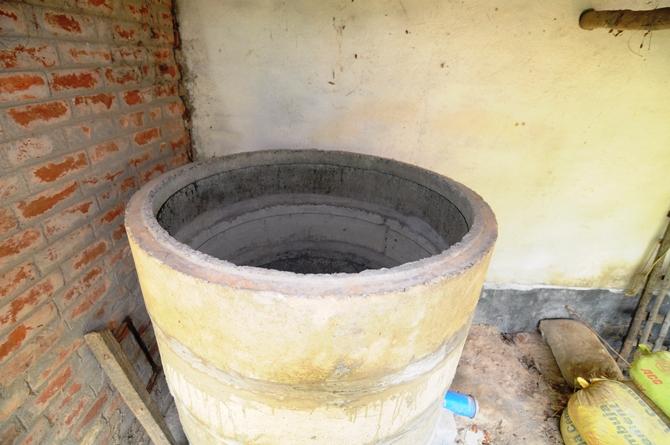 Image: A storage pit for crops.

How the land was prepared

"Small adjacent pieces of land belonging to a single farmer were merged," says Dilip Kumar Swain, associate professor, agricultural and food engineering department.
"Primary and secondary tillage was done by tractor-driven plough followed by levelling in November," he adds.
"We did soil testing, which helped us determine the amount of fertiliser needed."
"Earlier, the farmer would randomly use chemical fertiliser which often affected the land's fertility.
"However, the 14 farmers who have partnered with us, now know the importance of soil testing before applying chemical fertiliser", Swain says.
'We gave importance to partnership'
"We wanted to bring the farmers into the project's fold right from the beginning," Bhadoria tells rediff.com.
"It had to be a collaborative project," he adds.
"The understanding is, for one year, we will provide the farmers technical assistance, machines while they will provide free labour," Swain tells rediff.com.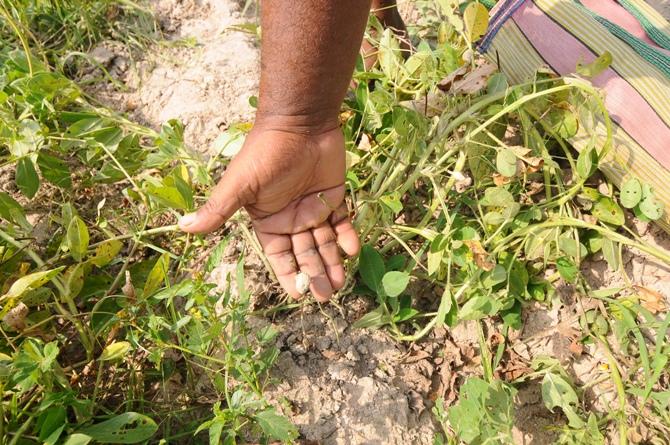 Image: Apart from paddy, the farmers of Khentia are also growing peanuts.

"And after a year, we plan to hand over the entire project to the farmers," he adds.
"This way, the farmers will attain self sufficiency," Swain says.
The farmers have been asked to form a cooperative wherein they will distribute the produce of the land according to their percentage of ownership.
"While this creates a bonding among them, it also instills a sense of competitiveness among the tillers of the soil," Swain says.
Irrigation was the key
The IIT team developed an irrigation facility in December by:
installing a deep tube well in the area;
constructing a pump house and
by providing fencing protection of the cropped land
As part of the irrigation system development, a pond in the area was renovated to store rain water and grow fish. The pond was plastered with bentonite clay to check seepage.
According to Singhania, "The pond now takes care of the irrigation of the farmland to a large extent," Singhania says.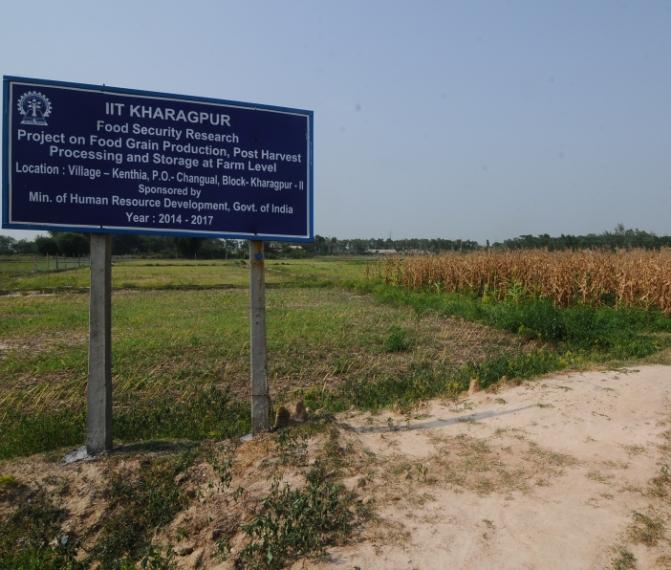 Image: The Khentia village project.
How production was enhanced
The farmers were given training on the production technology of System of Rice Intensification.
This technology saves 80-90 per cent seed and 40-50 per cent water.
The farmers were introduced to organic rice production technology.
They were taught to supply essential nutrients to their crops by using organic manure.
Trainings were given on effective and proper use of bio-pesticides.
"With the help of these technologies, farmers of Khentia could now produce as much as two tonnes of rice per acre," Swain tells rediff.com.
"Moreover, they were able to minimise the loss of crops occurring out of unseasonal rains this year," says Bhadoria.
Agrees farmer Swapan Das.
"Apart from growing rice in abundance, we doubled the production of other crops as well. It's a miracle," Das tells rediff.com.

Initially, the farmers of Khentia wanted to grow rice only.
However, after studying the land, its water demand and fertility, the IIT team introduced high value, soil restoring crops like sweet corn, sesame, soybean and peanut.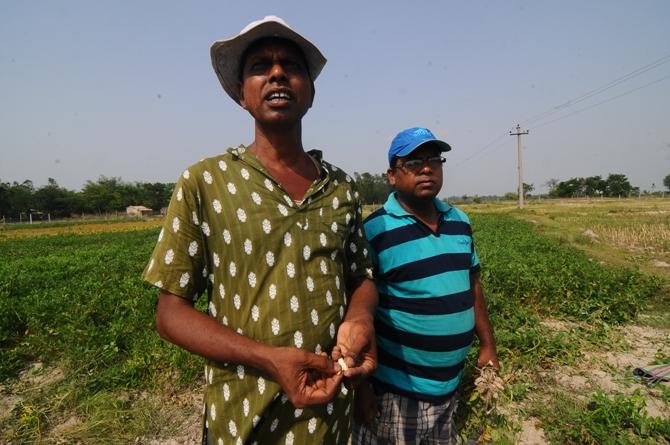 Image: Farmers Jagannath Das and Swapan Das.

A low cost vermicompost is of great help

The IIT team helped the farmer prepare a special low-cost vermicompost by rotting cow dung, water hyacinth, farm wastes with 2.5-3 kg of eisenia foetida, a special species of earthworm in each bed of size 1.8mx1.2mx1m.
Each bed is expected to produce 100 kg of vermicompost in a single cycle of 60 days.
"Earlier, the farmers would burn the farm waste, causing pollution," Singhania tells rediff.com.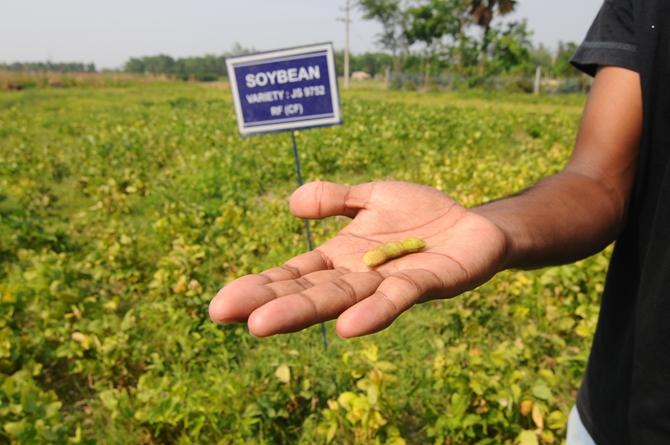 Image: An IIT team member shows a soyabean fruit.

"We taught them to convert the farm wastes into an environment-friendly vermicompost which will cause any pollution but will give them a tool to practice organic farming," he adds.
Singhania has his hands full making a sustainable farming-cum-marketing model so that once the IIT team leaves, the farmers can do everything on their own.
"We want to make them self-sufficient. They should grow their food, sell the extra produce to the retailers sans the middlemen and improve the condition of their land for sustenance," Singhania says.
Future looks bright
The IIT-Kharagpur initiative has drawn accolades from the Union Human Resource Development Ministry, which has awarded the institute a grant of Rs 26 crore (Rs 260 million) to replicate the experiment in nine other villages.
The project has also been made a part of the Narendra Modi government's Unnat Bharat Abhiyan.
The IIT has adopted surrounding villages of Polisa, Chakmakarampur, Paparara I and II, Sankua, Lachamapur, Kaliara-1 and 2 and Changual to replicate the experiment there.
IIT-Kharagpur director Partha P Chakrabarti couldn't have been happier.
"To focus on food security is an absolute must and we just can't afford to ignore agriculture," he tells rediff.com.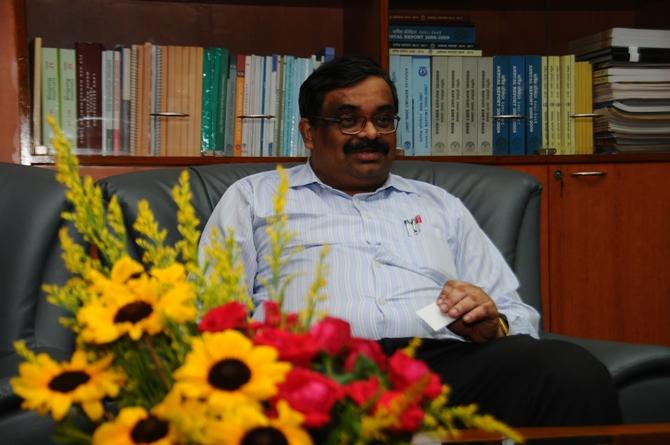 Image: IIT Kharagpur director Partha P Chakrabarti.
"We often see farmers falling preys to advertisements and other marketing gimmicks," says Chakrabarti.
"They have very little knowledge of technicalities of farming, quality of fertilisers and pesticides and end up paying for only those that are the most advertised.
"But as technical experts, we felt we should impart them the knowledge about farming.
"Since Kharagpur is surrounded by villages, we thought of starting the experiment here. "We are happy that our years' of research in agriculture laboratories has borne fruit", the director says.
Other Indian states like Bihar have approached the institute to start similar projects there.
Photographs: Dipak Chakraborty/Rediff.com