Srikanth Bolla, CEO of Bollant Industries, has set his sights on changing lives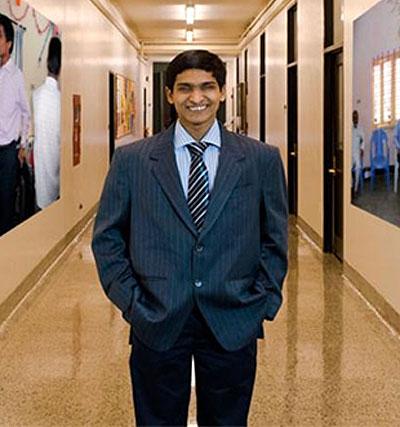 Get rid of him. That was the first thing that neighbours told Srikanth Bolla's parents when they came to see him soon after his birth in a remote village in the east coast of Andhra Pradesh 24 years ago. Bolla was born sightless.
That's what, he says, scores of parents ordinarily did and still do - abandon babies born with disabilities. Instead, Bolla's parents, who owned a small piece of land in the village and earned only about Rs 20,000 a year, chose to give him an education.
Today, Bolla is the CEO of Hyderabad-based Bollant Industries, a company with a turnover of around Rs 10 crore that employs uneducated and physically challenged people to manufacture eco-friendly, disposable consumer packaging solutions out of natural leaf and recycled paper.
Recently, Ratan Tata invested an undisclosed amount in the company. Other investors include Srini Raju of Peepul Capital, Satish Reddy of Dr Reddy's Laboratories and Ravi Mantha, one of India's more prolific angel investors.
Bolla started out by accompanying his father to the farm but found he could not be of much help. So his father decided to send him to school, which was some 5 km away from home. For two years, he says, nobody acknowledged his presence in school and he was made to sit on the last bench. Fellow students did not accept him during physical training periods.
For the first time in his life, he says, he felt he was the poorest child in the world because he was so lonely.
His father then moved him to a school for special children in Hyderabad, where he started topping his class and also played chess and cricket. Later, he worked with former president APJ Abdul Kalam on the Lead India project, a movement to empower the youth through value-based education.
However, despite scoring 90 per cent in Class X, he was not allowed to take up the science stream because, he claims, he was blind. "I was made blind by the perception of people," he says. With the option of science refused to him, everybody thought he would settle for the commerce stream. Instead, Bolla sued the state government. "Moving away from the problem is not in my blood," he says.
After six months of fighting it out, he was allowed to take up science with the rider that he was doing so "at his own risk". By this time, half of the academic year was over and Bolla did not have books or any other study material.
A mentor at the college he joined converted all lessons into audio books. Bolla passed with 98 per cent. But another hurdle followed. He says he was not allowed to apply for competitive exams because he was blind.
So, he started applying to universities in the United States and got admission in four of them, including the Massachusetts Institute of Technology (MIT) and Stanford University. He opted for MIT and was its first international blind student.
In 2012, after graduating from MIT, he launched Bollant Industries. The company now has around 450 employees, 60 per cent of whom are differently-abled.
The company, with five plants in Andhra Pradesh, Telangana and Karnataka, has started work to set up a larger facility at Sri City in Andhra Pradesh with an investment of Rs 10-15 crore. It currently exports 10-15 per cent of its produce to the US, Australia and Germany.
Life, he says, has taught him many lessons. Compassion is one of them. "Compassion," he says, "is not about giving a coin to a beggar at the traffic signal. It's showing somebody the way to live and giving them the opportunity to thrive."
The world looked at him and said you can do nothing, says Bolla. "But I look up at the world and say I can do anything."
Photograph, kind courtesy: Massachusetts Institute of Technology