Over the years, Mr Singh has got in and out of innumerable businesses, cutting across sectors. He is one businessman who I have always found to be in a start-up mode, says Bhupesh Bhandari.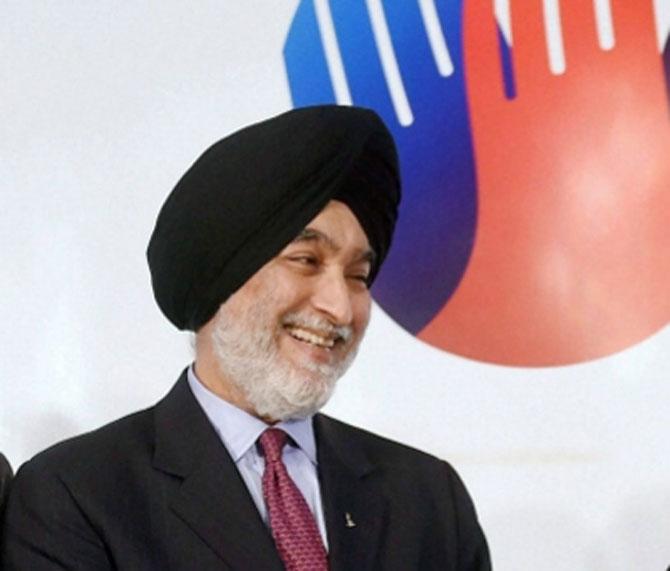 Analjit Singh will now become a shareholder in HDFC Life. He will also get richer by Rs 850 crore (Rs 8.5 billion), which is the non-compete fee he will receive for not floating a life insurance venture for the next four years. It is not clear what he will do with this money. Maybe he will invest it in his chain of hospitals, or maybe he will start something new.

The situation is not new to the urbane businessman. Over the years, Mr Singh has got in and out of innumerable businesses, cutting across sectors. He is one businessman who I have always found to be in a start-up mode.

Mr Singh's career in business started in 1982 when Bhai Mohan Singh, his father and the Ranbaxy patriarch, asked him to put up a project to make 6APA, the raw material for ampicillin. Ranbaxy's ampicillin was selling like hot cakes and backward integration was the best way to stay a step ahead of rivals.

The project cost was Rs 5 crore (Rs 50 million). The family gave him Rs 25 lakh (Rs 2.5 million) and Ranbaxy agreed to invest Rs 40 lakh (Rs 4 million) - Mr Singh had to arrange the rest of the money through personal debt, which he was repaying till 15 years back.
Nevertheless, he got the project off the ground and later also added a line to manufacture 7ADCA, the raw material for a range of cephalosporin antibiotics. Ranbaxy, run by his older brother, Parvinder Singh, was his main customer.

In 1991, Ranbaxy decided to set up its own 7ADCA plant, which plunged Mr Singh into some sort of a crisis.

Three years later, Gist-Brocades, the largest producer of 6APA and 7ADCA in the world, tied up with Mr Singh as it was on the lookout for inexpensive sources of supply. Max-GB was owned equally by the two partners.

To feed these lines, Mr Singh proposed to the government that he be allowed to take over the penicillin unit of state-owned Hindustan Antibiotics, which he would upgrade along with Gist-Brocades. Hindustan Antibiotics was aware that its penicillin was not up to the mark and this was a good opportunity to fix the problem. It supported the proposal and the government gave its nod. Max-GB and Hindustan Antibiotics signed the agreement in 1995.

All hell broke loose. Some pharmaceutical companies went to court that Hindustan Antibiotics, being a public sector unit, ought to have gone through the tender route to select a partner and had therefore violated the rules by cutting a private deal. Yet, Mr Singh held his ground and the courts gave their order in his favour.

Mr Singh had big plans for pharmaceuticals: He set up a formulations plant in Delhi and a bulk drugs unit in Karnataka and tied up with Upjohn to distribute its products in the country. Soon thereafter, he began to unwind his pharmaceutical portfolio. He ceded control in Max-GB to his Dutch partner, divested the formulations business in favour of Rhone Poulenc and sold the bulk drugs business to the Bhartiya brothers of Jubilant.

By now, consumer electronics were on his radar screen. In 1991, he tied up with Motorola to launch paging services. (It was the first case cleared by the newly-formed Foreign Investment Promotion Board.) But Mr Singh soon realised that while paging was a service business, he had tied up with an equipment manufacturer. His search for the right partner brought him in touch with Li Ka-shing of Hutchison Whampoa.

And when the Indian government in 1994 decided to hand out licences for cellular services, Mr Singh and Hutch together bid for the lucrative Mumbai circle - and bagged it. In April 1998, Mr Singh sold 41 per cent stake in the company to Hutch for Rs 549 crore. That was the end of his financial woes.

For six months, Mr Singh just relaxed. Then the question came up: What next? Mr Singh couldn't make up his mind till a consultant he had hired asked him to write his obituary. Then Mr Singh made up his mind that he wanted to pursue service excellence. He admired what Naresh Goyal had done in aviation and the Oberois had done in hotels.

It was then that he launched into hospitals and insurance. At least twice he tried to spread his wings but it came to naught. Some 15 years back, he had initiated talks to acquire Dr Lal's Path Labs for around Rs 25 crore, but the talks fell through. The chain of diagnostic labs is now valued at over Rs 7,500 crore (Rs 75 billion).

Then, a few years ago, he was in the running to become a white knight for the Oberois who were threatened after ITC had acquired a stake in their flagship, East India Hotels. But the Oberois finally chose Mukesh Ambani.
From what I understand, Mr Singh had told the Oberois that he would raise debt for the investment, which unsettled them: It meant he would forever keep a hawk's eye on the return on his investment, and this could spell trouble in a bad year. The two had even agreed to put up a hotel in Dehradun, but the partnership fell through.

The deal with HDFC Life is yet another twist in his eventful life.
Photograph: PTI Photos