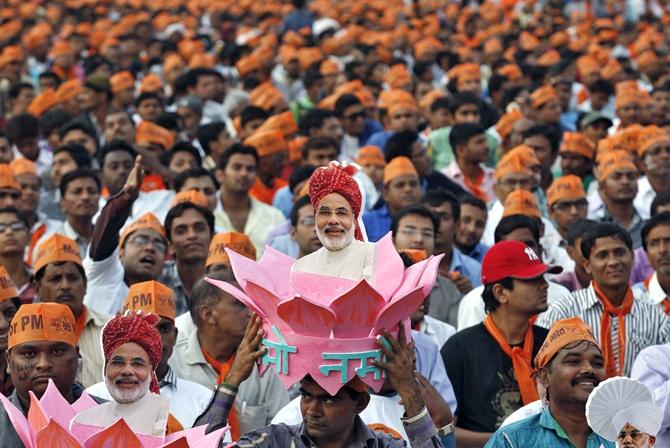 Could the Prime Minister's Office create an open forum for different kinds of businessmen and ask them in front of his ministers and officials about their long-pending issues and offer a clear direction, asks Debashis Basu
In 2011, on a flight out of Mumbai, I met an Indian executive based in Germany who told me a story about his experience of setting up a factory in Gujarat.
To a cut a long story short, after the German team visited the prospective factory location, one of the team members got a call from the Chief Minister's office.
Are they satisfied with the infrastructure, he asked? Do they need any help? If so, here was his mobile number; the German team members could call him anytime and he would be glad to help.
The visitors were floored.
Cut to the business district of central Mumbai where skyscrapers dot the skyline (having brazenly flouted all town planning norms) and restaurants, shops and offices stand cheek-by-jowl on the ground.
On Saturday, I was having lunch there with the owner of multiple businesses, including a furniture shop.
Business is sharply down this month, he lamented.
"No, it is not a seasonal issue," he explained.
"Revenues are down 50 per cent over March last year."
Indeed, he may end the month with the lowest ever revenues, since he opened shop five years ago.
Why is the situation so bad?
He does not know. He only knows people are not spending.
He has discovered that his competitors and similar businesses are doing no better.
Last week, a business paper reported that Coca-Cola has offered voluntary retirement to 65 employees at its bottling plant, Hindustan Coca-Cola Beverages, and has suspended operations at five plants.
The reason? Poor demand, even as it enters peak season sales!
It is quite astonishing that this popular, habit-forming consumption item that people buy on impulse, influenced by heavy advertising, is suffering so badly in the most promising consumer markets in the world.
Why is the demand so low that it has had to shut down production and let go of staff? We don't know.
These are two stories from the consumption side.
What about the capital expenditure and large projects?
When this paper asked Anil Sardana, chief of Tata Power, a week ago, what was stopping companies like Tata Power from investing more in power generation, he replied: "Investment is not going to come there just because someone is talking about it. Everyone wants to see the infrastructure on the ground."
What is 'happening on the ground' is captured in this story.
In a telling comment on how far redtape has stifled Indian business -- Cairn India has filed a suit against the government to 'help' the government make faster decisions!
It appears that Cairn sells Rajasthan crude oil at a discount of 25 per cent to the Brent benchmark crude oil price while 80 per cent of the revenue generated from oil sale is going to the government by way of taxes, royalty, cess and share of profit.
The company has been asking for parity with global prices for the past two years but having exhausted its options has gone to court.
There is no decision also on the extension of the Rajasthan oilfield licence beyond its current tenure ending 2019-20, although the licence stipulated that if there is a gas discovery in the block with reserves, a 10-year extension is given automatically.
Mr Agarwal says, "It is very difficult today to start a big company or project in India."

What is the government's reaction to all this, apart from mega events and shows? We don't know.
All we know are the remarkable few words of the Prime Minister to a national newspaper, a year ago.
"My government will make policies; if you fit into it, come on board, or stay where you are. My job is not to spoon-feed anyone."
It is unbelievable that the same Narendra Modi, who was pro-business as CM of Gujarat, spoke such adversarial words.
The PM surely knows that all serious businessmen want simple and transparent policies.
They have to battle capricious policy changes and daily extortions and needless litigation.
Only a few crony capitalists have built up massive bad loans and they are untouched.
Instead of condemning all businessmen, the PM may like to listen to some of them with an open mind.
Many people say that Rahul Gandhi's one comment (Suit boot ki sarkar) has put a pro-business Modi on the backfoot.
Here is a solution that could bridge the obvious gap between businessmen and Mr Modi, who both want the same outcome, in the end.
Could the Prime Minister's Office create an open forum for different kinds of businessmen and ask them in front of his ministers and officials about their long-pending issues and offer a clear direction?
To ensure that the Opposition does not get a chance to distort this initiative, it should be labelled as a job-creation initiative, not one that sorts out businessmen's problems or even improves the ease of doing business.
(And while drawing up the list, could the PMO exclude some of the dubious ones he had taken to France last year as part of his business delegation?)
Of course, the government needs to follow it up with actual action – the kind that I started my piece with.
I have heard dozens of such stories of proactive and fair action under Mr Modi, as Gujarat CM. It is time the old Narendra Modi returns to launch a new thrust to create what matters most: millions of much needed jobs.
The image is used for representational purpose only. Photograph: Reuters
Debashis Basu is the editor of www.moneylife.in