Can the country afford to have problems of such magnitude in the cities of Gurgaon, Bengaluru, Pune and Hyderabad, which not only are the major growth drivers but are also the biggest revenue contributors in their respective states?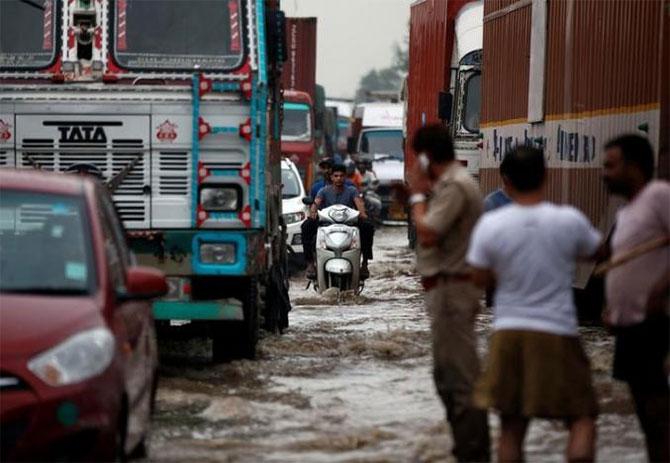 IMAGE: Vehicles wade through a waterlogged highway after heavy rains in Gurugram, previously known as Gurgaon. Photograph: Adnan Abidi/Reuters
On July 28, every single policeman in Gurgaon had to roll up his sleeves and get down to the flooded roads to clear hours-long traffic jams on National Highway 8 and sector roads that house offices of multinational companies. This was on the first of the three days when torrential rains had wrecked havoc in the so-called millennium city on the outskirts of the national capital.
Although the local police stopped short of explicitly blaming any civic agency or the National Highway Authority of India (NHAI) for the mess, its twitter account was clear about who should be blamed for the 15-km long traffic snarls. The police tweeted: "Smooth traffic management is function of Engineering (70%), Education (20%) and Enforcement (10%)."
The police department was hinting at the faulty design of the exit points on the NH8, poor quality of roads and missing drainage system in the city, besides the lack of civic sense among commuters.
While these problems could be common for other Indian cities as well, the question is whether the country can afford to have problems of such magnitude in the cities of Gurgaon, Bengaluru, Pune and Hyderabad, which not only are the major growth drivers but are also the biggest revenue contributors in their respective states.
Gurgaon, for instance, has 400 multinational companies, including half of the Fortune 500 companies such as Coca-Cola, GE and Google, and attracts 70 per cent of the total investment in the state. Its tax contribution is also the highest in Haryana.
According to an Assocham study of 2015, there is further scope of economic growth in the millennium city. The study, however, adds a caveat that the state government needs to immediately have a master plan for Gurgaon's growth.
The study notes that without a master plan in place, Gurgaon has grown haphazardly leaving its residents to deal with power outage, water shortage, poor sewage disposal, and dearth of public transport.
The activists blame the state government for allowing conversion of agricultural land to industrial and residential purposes after the mid-1990s. This led to rampant and unplanned construction destroying the natural drainage systems, including ponds, ravines, and bundhs.
Since it involved large companies and more revenue, successive governments in the state remained mute spectators to uncontrolled and illegal construction. The present government, which took charge last year, also failed in its duty to remove silt from the drains before the rains.
The late response from the district administration made the problem worse. The situation was so terrible that the local administration started advising outsiders not to come to Gurgaon. Schools were requested to close down for the next two days.
"The problem is with the vision. Gurgaon is a millennium city without a drainage system. The government should not give permission for construction unless the builders lay the drainage network," says Rajesh Kaul, chief executive officer of IT firm Triotech Solutions. Kaul has been working in Gurgaon since 1999.
Industry captains believe if the state government wants to keep generating revenues from this area, it must bring the road rationing system, increase the number of traffic policemen, work on the bottlenecks and make top builders, including DLF, Ansals and Unitech partly responsible for creating infrastructure in the so-called millennium city.
Till the time the Haryana government starts putting things in place, the industry in Gurgaon can take some lessons from India's leading information technology (IT) city Bengaluru, which contributes to a third of India's $100-billion software exports.
Although the city of Bengaluru is also crumbling under the weight of rapid urbanisation, industry has learnt to live with the traffic woes and made alternative arrangements.
"If there is something beyond human control, even we are not prepared for it. We have a lot of facilities that alert the employees in case of emergency," says Ramadas Kamath, executive vice-president and head, infrastructure and sustainability at Infosys. Infosys has 36,000 employees in Bengaluru.
"We have three roads connecting the campus; so, even if one is flooded, people can use any of the other two. We have an information system that gives employees area-specific SMS alerts, which basically means if a particular area is flooded, then employees of that area get an alert. We have stock in terms of food, UPS, power, etc, that can last up to two days. We have Flexi timings option, and employees have an option to work from home. With all this in place, we feel we are in a good position in case there is a disaster," Kamath adds.
After Bengaluru, the city that is most favoured among the IT firms to set up their delivery centres, is Pune in Maharashtra. The total software exports out of Maharashtra amount to Rs 51,760 crore (Rs 517.6 billion), compared to Karnataka's Rs 80,000 crore (Rs 800 billion).
Unlike Gurgaon and Bengaluru, Pune still has the scope to expand and promises better infrastructure. Its areas such as Kharadi, Magarpatta, Tathawade and Hinjewadi are said to be the emerging IT hubs.
"These areas may not have flood or water logging situation, but the traffic flood, if not controlled well in time, may seriously impact the growth prospects of Pune. Companies also need to consider shared bus, car pools, work from home to avoid such situation," says Prashant Pansare, Nasscom's Pune regional council member and managing director, Inteliment Technologies.
Close to 400,000 people commute to Hinjewadi every day from Pune and Pimpri Chinchwad areas to work in companies such as Tata Consultancy Services (TCS), Infosys, Wipro, Cognizant, Tech Mahindra, Atos, Capgemini, Persistent Systems and KPIT Technologies. One of the biggest problems at Hinjewadi is lack of public transport because of which companies in Pune need to run private buses and cabs for employees.
A few years ago, Hinjewadi Industries Association along with Pune Mahanagar Parivahan Mahamandal Limited had started a point-to-point shuttle services, but it failed to attract office goers.

Around 550 km from Pune, Hyderabad which is known for the presence of multinationals such as Apple Inc, Microsoft, TCS, Amazon and Wipro, is considered a safe place from the point of natural calamities such as earthquakes.

Many companies have chosen Hyderabad for their Business Continuity Plans. The city contributed Rs 75,000 crore (Rs 750 billion) to India's IT exports in FY16 and it employs around 400,000 software professionals. Although Hyderabad boasts of a new international airport, an elevated expressway to the airport and the 160-km Outer Ring Road that provides fast connectivity to all the existing and upcoming IT locations, experts warn of problems that arise with any expanding city.
V Rajanna, vice-chairman of Confederation of Indian Industry-Telangana, says the city's IT hub is unlikely to face the kind of situation witnessed in Gurgaon as Hitch-City and Gachibowli areas have got a network of good roads as well as elevated bridges to avoid choking of traffic.
"However, as the city is growing at a much faster pace, I strongly recommend the government should adopt the China model where the government builds all the necessary infrastructure first while development comes thereafter and the upcoming IT areas like Pocharam requires infrastructure similar to High-tech City," Rajanna adds.
Greater Hyderabad Municipal Corporation commissioner B Janardhan Reddy claims the city administration was ready with 113 emergency response teams and they have worked on reducing the reaction time in case of traffic jams or power disruptions caused due to heavy rains.
"The city's infrastructure can handle even if there is a 20 cm rain in a duration of 24 hours, but there will be problems when there is a sudden 3-4 cm rain in an hour or so. But, we are well prepared to tackle those situations," he says.