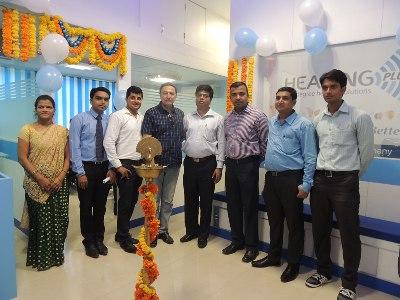 Image: Inauguration of Hearing Plus' Ghatkopar branch. Photograph: Kind Courtesy, Hearing plus

If you think hearing impairment treatment is too small to be considered an earning opportunity, listen up.

One in every 10 people has some hearing problem and nearly half of the sexagenarian population suffers from it.

Here's a venture exploring this fact, doing sound business, growing cent per cent, each year.

Hearing Plus, a Kolkata-based start-up, is doubling its revenue annually, competing with stand-alone clinics and international ventures present in the hearing impairment diagnosis segment in India.

Hearing Plus projects itself as a company that offers "high-quality service at low cost at your doorstep".

The chain of clinics offers diagnosis and subsequently recommend hearing-aid machines.

It is swiftly building its way up in this segment. Owned by Bengal Speech and Hearing Pvt. Ltd, it also offers speech diagnosis.
The start-up has registered a 100 per cent year-on-year growth.

Now, an investment made by Matrix Partners India in Hearing Plus have given the company a further boost for growth.

"We look for three things before partnering with companies -- strong leadership, deep markets and business model innovation.

Hearing Plus has all three," said Tarun Bhambra, investor representative, Matrix Partners India.

Industry sources estimate the investment by Matrix at $5 million.

"Without going into the details, I can confirm that Matrix Partners has picked up a significant minority stake in Hearing Plus," said Bhambra.


FACT BOX
Area of business: Hearing impairment diagnosis & sale of hearing-aid
Founders: Somenath Mukherjeewith college friends and brother Priyonath Mukherjee
Market size: About Rs 800 crore (Rs 8 billion)

Target: Expansion in form of 70 additional clinics in next three years
Funding: Personal savings, initially availed start-up capital and Matrix Partners India
Unlike the trendy information technolgy-based start-ups of recent times, where an idea immediately discovers a venture capitalist and makes a mark, Hearing Plus is a conventional brick-and-mortar model, inching up the traditional way.

As a student of a master's course in audiology and speech language pathology in 2006, Somenath Mukherjee was eyeing something bigger than bagging a job abroad.

Having worked with a hospital for six months, his ambitions were high.

In a hostel room, Somenath and his six friends from different batches thought of building a strong business.

"Abroad, the salary for audiologists or speech language pathologists is around $8,500 per month.

"But, we wanted to do something big, in our own country," he recollects.

The friends pooled in their savings.

They had Rs 72,000 in total -- insufficient to sustain the dream.

But, hope arrived from unexpected quarters.

Avishek Dutta, one of the members of the group, had applied for a job in a hearing-aid manufacturing company that was also looking for channel partners.

Instead of bagging a job, Avishek and the group got a start-up capital of Rs 300,000.

With Rs 3,72,000, Bengal Speech and Hearing Clinic (Hearing Plus) was established in a space of 700 square foot.

Priyonath Mukherjee, Somenath's brother and another member -- neither of whom were audiology or speech students -- were co-opted to shape the business.

"Equipment is costly. When the first clinic was opened, two of the instruments were bought second-hand.

"We opened a second clinic in 2007, the following year. A third in 2008 and a fourth clinic in 2009. All in different parts of Kolkata," said Priyonath, co-founder and now, a director of the company.

Business model

All the Hearing Plus clinics follow a two-step pattern of diagnosis followed by recommendation of a hearing-aid, if required.

A visitor pays a consultation fee. Then, as needed, opts for one of the branded hearing-aids, which are also sold by the clinic.

A trial period is offered for the devices that can be digitally adjusted in the future for better hearing.

While consultation fee is Rs 400, the devices can cost between Rs 7,500 and Rs 300,000.

The major chunk of revenue comes from sale of equipment.

"In 2006, we diagnosed three to five patients daily.

"At present, we get up to 200 patients a day.

"Seventy per cent of them are new patients," said Somenath.

The chain has 21 clinics in seven cities -- Kolkata, Mumbai, Guwahati, Bhubaneswar, Siliguri, Burdwan and Howrah.

Eight are in Kolkata and its vicinity.

Matrix Partners India has invested in seven companies in health care speciality services segment in the country.

This includes Hearing Plus that focuses on hearing problems. Industry estimates suggest the speech and hearing segment -- comprising diagnosis and hearing-aid machines -- can be valued at Rs 800 crore (Rs 8 billion).

"Currently, the market is fragmented.

"On one end of the spectrum, there are single stand-alone domestic players.

"On the other hand, there are international players such as Amplifon and Widex.

"We feel, Hearing Plus is in a unique position to offer quality service at affordable prices," said Bhambra.

Setting up of a new clinic can cost about Rs 30 lakh (Rs 3 million), says Somenath.

For investors, break-evens in the segment are indicators of the untapped potential.

"Hearing Plus has innovated to keep its business assets light.

"As a result, they achieve operating break-even in just three months and manage to recover the Capex within 18 months of starting a clinic," said Bhambra.

The demand in the segment seems still higher and there's enough scope for expansion.

Somenath is aiming at having 70 more clinics in next three years in metros and tier-II cities.

Revenue figures, as projected by the company, hint at a strong business model in practice.

For 2010-11, the company mopped up a revenue of Rs 1.2 crore (Rs 12 million).

For 2011-12 and 2012-13, figures stand at Rs 2.1 crore (Rs 21 million) and Rs 5.1 crore (Rs 51 million), respectively.

In 2013-14, this figure rose further to Rs 11 crore (Rs 110 million).

"We expect to generate revenue in the range of Rs 20-22 crore (Rs 200-220 million), in 2014-15," said Priyonath.

Challenges ahead
Besides competition, there are two major concerns -- quality of personnel and work culture. Recruitment of staff is aimed at 'talent' rather than persuing qualifications.

"When we recruit, we don't ask if you have an MBA or a CA. I ask: can you do such and such work? We are also recruiting 10+2 pass-outs, if they are talented," said Somenath.

"The key area to work in is building a large and competent team of professionals. Second, the challenge is to maintain parity in quality across clinics," added Bhambra.

The administrative office in a south Kolkata lane buzzes with hyperactivity.

Receptionists, recruitment staff and officers appeared to be completely engrossed.

Interviewees queued up in waiting chairs in the lobby, awaiting their turn.

"I heard they are doing well and recruiting people for different departments.

"They have campaigned for their brands well," an interviewee told the Business Standard.

The journey that began in a hostel room, is now a steady and competing business.

An idea, an urge to work in Bengal, at times blamed for its "work-shy population" and lack of "investor-friendly ambience", is giving many a reason to look up and take note of a company, once a one-clinic start-up.

EXPERT TAKE: Hari Balasubramanian

India has probably the largest number of people in the world (6.6 crore or 66 million) with hearing impairment.
The market size for hearing impairment solutions here is rapidly growing.
With increased awareness, social stigma associated with the use of hearing aids is waning away.
The market is expected to reach $1 billion in the next three to four years.
Hearing Plus has an early lead in the market and they have a good team of audiologists who form the founding team.
The key challenges for the firm is in identifying and retaining professionals, who can help the company scale and run operations across multiple locations with the quality of services kept consistent across all locations.
If the company has to lead and dominate the marketplace, they will have to take initiatives in research with patients who have hearing impairment and how to prevent hearing loss in young people who are used to mobile phones, earphones, televisions and other devices.
They will also need to improvise on the latest technology, which millions of hearing-impaired Indians can afford. The company must look at inorganic growth in the hearing solutions market place, which is fragmented and scattered across towns.

Mr Balasubramanian is mentor, Indian Angel Network