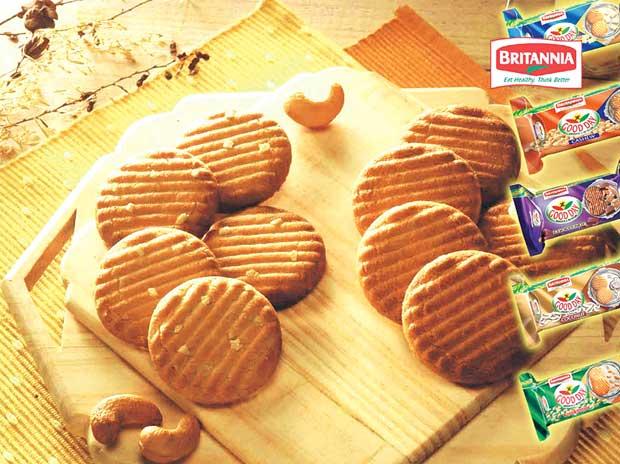 Biscuit maker Britannia has had at least seven owners since its inception in 1892 in a house in Kolkata, but a riveting ownership battle in the 1990s has come to define the company today.

No one knows who the initial promoters of the company were or what it was called initially.
The name Britannia was given 26 years after its formation, in 1918, when its then owners, the Gupta brothers who acquired the company in 1897, brought on board an Englishman, C H Holmes, as a partner. By 1924, the Britannia Biscuit Company became a subsidiary of the UK-based biscuit major Peek, Frean & Co. It was also the first company east of the Suez to use imported gas ovens to bake biscuits.

In World War II, Britannia started supplying biscuits to the British army. By then it had factories in Mumbai and Kolkata. Besides biscuits, Britannia was making bread. The company took over distribution of biscuits from Parry's in 1975, taking control of both manufacturing and marketing.
When Britannia came out with its public issue in 1978 in response to the Foreign Exchange Regulation Act, its Indian shareholding had increased to 62 per cent. The 38 per cent foreign stake was held by the UK-based Associated Biscuits International.
By 1979, Britannia had become Britannia Industries Ltd and what ensued was a fierce battle for its ownership.

Enter Rajan Pillai, who in 1981 was selling potato chips under the Ole brand in Singapore. He bought around five per cent in Britannia. Pillai also bought Associated Biscuits International Ltd within a decade for $44 million, making him the major shareholder in Britannia.

None of this would have been possible if Pillai did not have the support of F Ross Johnson and Groupe Danone (then known as Groupe BSN).
Johnson in the 1970s headed Standard Brands, competing against Pillai's 20th Century Foods in Singapore. Sensing the strength of the global major, Pillai merged his company with Standard Brands and became a close ally of Johnson.
American food company Nabisco acquired Standard Brands in 1981 and Johnson became the chief executive of the company.

Around this time textile tycoon Nusli Wadia wanted to get into the biscuits business.
The owner of Bombay Dyeing began talking to Associated Biscuits for a tie-up in India. Associated Biscuits, too, was acquired by Nabisco in 1981-82. Nabisco now controlled 38 per cent of Britannia. Wadia continued his talks with Nabisco through Pillai, his partner in a cashew company.

But Nabisco put Pillai in charge of the Indian and Asian operations of the company.
This meant Pillai would head Britannia, not Wadia. In 1985, Nabisco merged with tobacco firm RJ Reynolds, and the 38 per cent stake in Britannia was now in the hands of the merged entity RJR Nabisco. Then in 1988, RJR Nabisco was acquired by private equity major Kohlberg Kravis Roberts, sealing its fate as an independent entity forever.

Pillai would go on to help Johnson reclaim parts of the Nabisco business from KKR in the Asia-Pacific region, ensuring the two were in control of operations in India, Pakistan, Singapore, Malaysia, Hong Kong and New Zealand.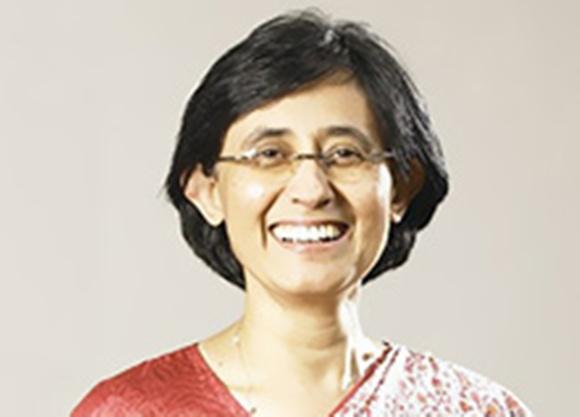 Image:

Vinita Bali

. Photograph: Kind Courtesy,

Piramal Group



Pillai then established links with Boussois-Souchon-Neuvesel, a former avatar of French food company Danone, and by 1989 controlled six Asian companies worth over $400m. Pillai had become the "Biscuit King".

Fall guy Wadia, however, struck back in the 1990s, when Pillai fell out with both Johnson and Groupe Danone. With Danone's help, Wadia became chairman of Britannia in 1993 after a hostile takeover.
Pillai had brought Danone as an equal partner into Britannia towards the end of the 1980s, with the firm holding a 38 per cent stake.
But the French company began feeling that Pillai was defrauding Britannia. Pillai's lieutenant, Sunil Alagh, who was chief executive of Britannia, also switched sides.
Danone, along with Wadia, wrested Pillai's 38 per cent stake in the company, forcing him to cede control of Britannia.

Pillai was dead two years later, having succumbed to liver cirrhosis in Delhi's Tihar Jail while awaiting extradition to Singapore on charges of cheating. Wadia and Danone, formed two equal joint ventures, Wadia BSN and the UK-based ABIL.
Wadia BSN was meant for exploring investment opportunities in India. ABIL, on the other hand, was the holding company of the two partners that owned 50.96 per cent of Britannia and through which Danone and Wadia controlled 25.48 per cent each.

Danone and Wadia, however, shared an uneasy relationship and it began to wilt after Wadia sacked Sunil Alagh, then managing director of Britannia, in June 2003, for allegedly misusing company money.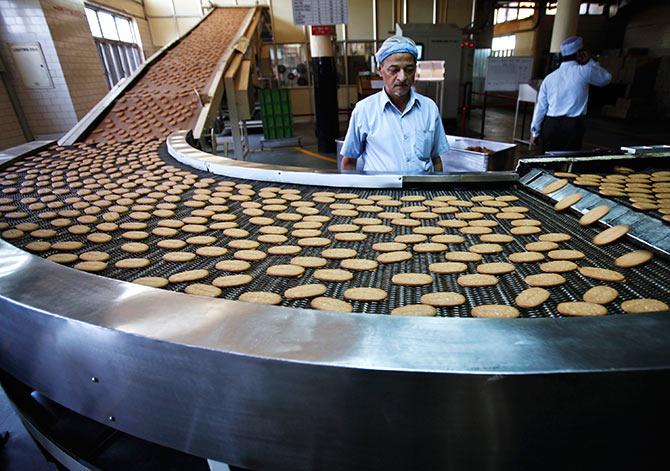 Image:

A worker stands next to a production line at the Britannia biscuit factory in New Delhi.

Photograph:

Adnan Abidi/Reuters
The relationship soured further on Wadia's accusation in 2006 that Danone had registered the Tiger biscuit brand, developed in India, in 70 countries without Britannia's consent.
In 2007, Wadia complained to the government that Danone had invested in a Bangalore-based neutraceutical firm Avesthagen violating rules that required foreign companies to obtain consent of their Indian partners before pursuing independent businesses in similar areas.

Danone argued the rule did not apply to it because it did not have a technology transfer or trademark agreement with Avesthagen, and that its 25.48 per cent holding in Britannia was indirect because it was held through ABIL Wadia also sued Danone for breach of a non-compete agreement.
The court ordered Danone not to sell shares of Avesthagen.

In April 2009 Danone agreed to sell its 25.48 per cent stake in Britannia to Wadia. Wadia owns 50.96 per cent of Britannia, making him the key shareholder in the company. Since Danone's exit, Britannia has consolidated its position in biscuits, which account for 70 per cent of its Rs 6,307-crore (Rs 63.07 billion) turnover.
The rest of the revenue comes from breads, cakes and dairy products. Britannia is now taking control of manufacturing that was outsourced earlier.
Three plants have been set up in Bihar, Odisha and Gujarat and another one is coming up in Tamil Nadu.
Britannia now manufactures half its production requirements in-house.